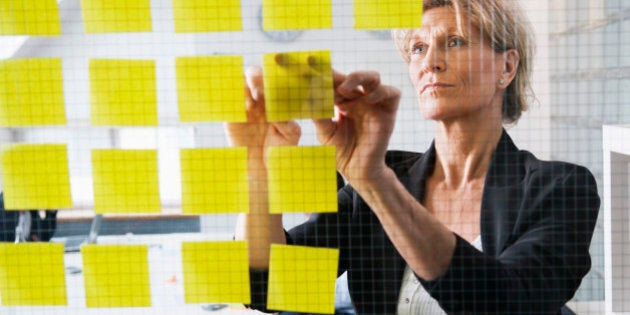 Time is a precious commodity. Everyone wants more of it but there are only 24 hours in a day. And every company wants to be seen as innovative but it is not something you can always book a meeting to accomplish. Innovation usually requires an investment of time and resources.
Considered to be the heart of every successful company, innovation gives a company a competitive edge. In a study by PricewaterhouseCoopers, about half of the executives interviewed said innovation is a key driver of organic growth for all companies.
What happens when employees are given time to innovate as part of their job? In 1974, the Post-It Note was developed by scientist Art Frye at 3M during what is referred to as "15 per cent time", a program that allowed employees to use part of their paid time to pursue new ideas and products. Using a low-tack adhesive created by his colleague Spencer Silver, Frye tried using it on small notes resulting in an idea that stuck and created Post-It Notes.
The idea of fostering innovation on the job is not unique to 3M. Under BMW's Skunkworks program, a small team of engineers and designers are brought together to collectively create an innovative product in a short period of time. At Google, employees are encouraged to spend 20 per cent of their time working on what they think will benefit the company. The results are impressive as Google News, Gmail and AdSense have come from this program.
We have adopted a similar concept at Aercoustics Engineering. It is not unusual when you put a bunch of engineers together that great ideas will be generated. We wanted to find a way to harness these thoughts and put them to good use. The result was what we call "Rogue Days".
Drawing inspiration other companies, we shut down operations on a Thursday afternoon for 24 hours once a quarter. There is no checking email or voicemail. Everyone in the office is encouraged to work on a project of their choice. It doesn't have to be work related. The only stipulation is that on Friday, everyone must share their learnings with the rest of the group.
By giving employees 24 hours to explore their ideas, they have the freedom to pursue interests while still contributing to the business. Though they do not have to work on company-related ideas, Rogue Days have led to new tools and software, new technology and an internal solutions implementation group that works exclusively to develop and support tools used by our consulting engineering practice.
How do you get started in fostering innovation and cultivating creative ideas from within? Here are some tips to get started:
Embrace diversity: Today, many companies hire for culture to ensure new employees are the right fit for the company's style and objectives. While employees with similar qualifications, experience and personalities would help create a good working relationship, a very homogeneous group may limit the variety of ideas that come forward so embrace diversity of employees.
Set guidelines: When you're designing a workplace program to foster innovation, you will need to establish clear guidelines for employees about the purpose behind giving them this "free time" but ensure the rules are relaxed enough to not hinder their creativity.
Show support: If you're going to encourage employees to look at news ways of doing things and coming up with new ideas, create a supportive environment where their ideas are encouraged and implemented wherever possible.
Accept failure: Not every idea is going to be a winner. In the case of the Post-It Notes, it was a year after the adhesive was developed that Frye found a use for it when he wanted to create a bookmark that could be repositioned without ruining the pages. For every great idea, there will probably be many more that don't work but you want to make sure you consider all the creative ideas generated. Like any brainstorm, there are no bad ideas. Recognize not only the ideas that work but individuals who work hard to constantly offer up news ideas and suggestions.
Do it regularly: Coming up with innovative ideas should not be a one-time project. Set up regularly scheduled opportunities for the company to work together or individually to brainstorm, experiment and cultivate ideas that could take your business to the next level.
No matter how you choose to encourage innovation in the workplace, it will require an investment of time but if you set-up a program that captures and encourages ideas, the business should reap the rewards. There is a cost of closing down your business for a few days every year but driving innovation from within can lead to new opportunities and great ideas.
For our company, dedicating time on the job to innovation has helped us build better solutions that we use on our client's behalf to bring their projects to life. For Google, it has resulted in the creation some of its most widely used products. For 3M, it has resulted in a new product that now generates some $1 billion annually and dominates the self-stick note market -- a pretty healthy return on their investment. Fostering innovation is worth the time.
Follow HuffPost Canada Blogs on Facebook