A Liberal MP stood in the House of Commons Thursday and read a list of racial slurs and threats she's received over her motion calling on Parliament to condemn Islamophobia and all forms of racism.
Khalid began her remarks by reading a transcript of a video posted by a YouTube user, threatening to record her — a "little girl" — while others shot her.
"I'm going to be there to film you on the ground crying. Yeah, I'll be there writing my story with a big fat smile on my face. Ha ha ha ha. The member got shot by a Canadian patriot."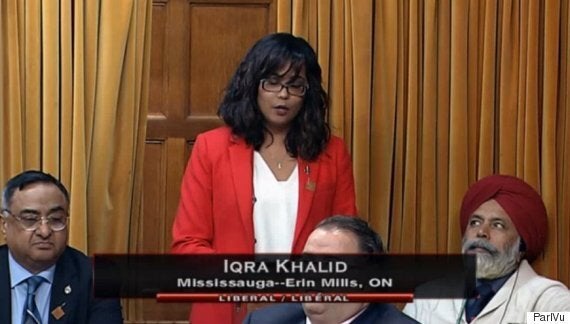 She chastised Conservatives for countering the motion with their own, wielding the argument that using the word Islamophobia would deter free speech. Those concerns have been amplified by some right-wing bloggers.
The Tory motion is worded to "condemn all forms of systemic racism, religious intolerance, and discrimination of Muslims, Jews, Christians, Sikhs, Hindus, and other religious communities."
Khalid said she agreed with 98 percent of the opposition motion — because she wrote it.
"I am appalled by the cynical, divisive tactics on the Conservative side to try to start a fake frenzy around the word Islamophobia instead of tackling the issue at hand," she said.
"Why don't you get out of my country?"
Replacing expletives with the word "blank," Khalid read out more examples of hateful comments and threats she's received, including:
"Real Canadians will rise up and get rid of the nasty blank Muzzie stench in Ottawa. They should all go the blank back to your blank hole where you belong. We will burn down your mosques draper head Muslim"
"Why did Canadians let her in? Ship her back"
"Why don't you get out of my country? You're a disgusting piece of trash and you are definitely not wanted here by the majority of actual Canadians"
"You're a cultural Marxist. Inclusivity blank trying to ruin Canada. Blank you gently with a chainsaw, you camel-humping terrorist incubator blank"
"Shoot this blank"
Watch her full remarks in the video above.
Conservative opposition, Chong support
Conservative leadership candidate Michael Chong issued a press release earlier in the week, announcing his support of M-103, stating he intended to vote in its favour.
"In light of the mass shooting at the Quebec Islamic Cultural Centre in Quebec City last month, where six Muslims were killed and 19 injured while they prayed in their mosque, it is appropriate and important that Canadian Parliamentarians study the issue of anti- Muslim and anti-Islamic prejudice and discrimination," the release read.
Chong's stance differs from the one held by Interim Conservative Leader Rona Ambrose.
While she said she condemns "all acts committed against religious communities," Ambrose explained in a Facebook post on Wednesday that her vote is no on Khalid's motion "as it is currently worded."
Former Liberal justice minister Irwin Cotler called Islamophobia a word that is misunderstood, susceptible to knee-jerk reactions. He said one way to ensure the motion's passage is to replace the term with "anti-Muslim bigotry."
Ambrose debunked the concerns circulating among somecxonservative bloggers that M-103 would "introduce Sharia law" and "ban freedom of speech."
"To be clear, this is not a 'bill' nor a 'law,'" wrote the interim Tory leader, repeating comments made by Khalid earlier on Wednesday.
At a press conference with Heritage Minister Melanie Joly, Khalid reiterated: "This is a motion. This is not legislation and I would be the first person to oppose anything that infringes on our Charter of Rights and Freedoms."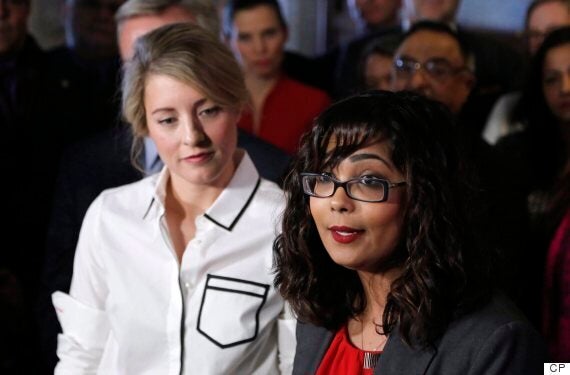 If passed, M-103 would open a heritage committee study to address ways to tackle issues of systemic racism and religious discrimination.
Joly supported her colleague's remarks, adding Islamophobia, racism, and discrimination are issues "we need to deal with in Canada."
With a file from The Canadian Press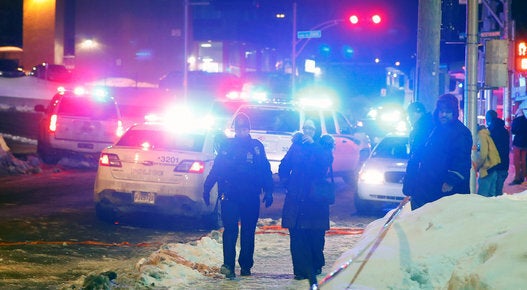 Terrorist Attack Shooting At Quebec City Mosque