OTTAWA — As Prime Minister Stephen Harper prepares to announce Canada's combat mission against the Islamic State of Iraq and the Levant (ISIL) Friday, his caucus made it clear Wednesday they are ready and willing to make the case for more aggressive action in Iraq.
Conservative MP after Conservative MP said Canada itself is under threat from the terrorist group and the public would understand the need to fight ISIL in the Middle East before the fight occurs at home.
The Huffington Post Canada has learned a Commons debate is expected Monday.
Canada has a responsibility to step up, said Costas Menegakis, the MP for Richmond Hill, Ont.
"I think that my constituents, like all Canadians, will be pleased that something is being done against those monsters that are beheading people, mutilating women, killing children," he said. "These are atrocities in the world, and we can't stand by and say, 'Oh, it's so far away, it doesn't belong to us,' if you will, because there is a real live threat to Canadians of that happening."
Manitoba MP Steven Fletcher said the civilized world needs to stop ISIL as soon as possible. He let it slip that Canada is planning "an air campaign" in addition to the humanitarian aid and the 26 special operations troops on the ground serving as advisors.
"If the opposition doesn't feel that Canada should join the civilized world and defeat these barbarians, these terrorists, shame on the opposition," he said.
There were few, if any, signs of dissent within the Tory fold Wednesday. Several MPs described the Tory backbench in caucus as "almost unanimous."
"I didn't see anybody that was in opposition," Edmonton MP Laurie Hawn told reporters. "Obviously, we don't take a straw poll on the floor of caucus."
Mississauga–Streetsville MP Brad Butt, who told HuffPost Tuesday he wasn't sure a combat mission is needed right now and that he would prefer to see Canada invest in humanitarian assistance, tried to duck reporters as he headed towards the washroom.
The case for a combat mission might be easy, but the the public has little appetite for war, Daryl Kramp, the chair of the Commons Public Safety and National Security committee, told HuffPost.
Kramp, the MP for the Ontario riding of Prince Edward–Hastings, said his constituents understand that "we live in a dangerous world and you are damned if you do and damned if you don't, on something like this."
"This is not a question of going to war, quite frankly. I think I would refer to it more as damage control," he said. "We don't just live in our own backyards anymore, the globe has just shrunk to such an extent that everytime there is a hiccup here, there is a burp there," he said.
Canada needs to respond in an intelligent, measured manner in concert with a broad international coalition, he added. "Do we want to see another 9/11?" he asked.
"There is no doubt that the Canadian public doesn't have an appetite for a full-out offensive," he said, so Canada will not go down that road "right now."
"We will have to deal with it, day by day, step by step, week by week" he said.
In question period Wednesday, NDP Leader Thomas Mulcair and Liberal Leader Justin Trudeau tried to reinforce the idea that Canada was embarking in a long drawn-out conflict with no end in sight by describing the potential airstrikes as "war."
"How much will Canadians pay for the Prime Minister's war in Iraq," Mulcair asked, while Trudeau told the Commons Harper was "intent on going to war in Iraq."
Harper said it is a "a very serious issue to throw around terms" like that. The mission in Iraq is a "counterterrorism military operation undertaken by the United States in close consultation with our NATO allies, with Arab allies and with the international community," the prime minister said.
"This is being done because ISIL represents an extremely serious threat to the globe," he continued. "If it is allowed to continue to fester, it represents a very serious danger to the national security of this country and to Canadians."
NDP Foreign Affairs critic Paul Dewar said his leader's choice of words was deliberate. Not only did it remind the public that Harper wanted Canada to enter former U.S. president George W. Bush's war in Iraq in 2003, but it also reinforced the message that war is open-ended and deadly.
"I'm in favour of clear language," he said. "When you have soldiers and you have airstrikes, that's combat, that's war."
Harper told the Commons that the government was not considering a large-scale ground deployment – since Canada's allies have ruled it out. Tuesday, he told the Commons he had no interest in getting stuck in a quagmire.
Hawn, a former air force commander, said airstrikes would be easy to carry out and easy to stop. "Turning off the air operation would be extremely quick, if it came to that."
Two relatively senior Tories, Minister of State, Small Business and Tourism Maxime Bernier and International Trade parliamentary secretary Erin O'Toole told reporters that, whatever mission is decided on in the days to come, the government would return to the Commons for a review and decision on possible renewals.
Some Tory MPs were unsure whether a combat mission in Iraq would plunge Canada into a war.
Brampton West MP Kyle Seeback said he didn't have the facts to make that determination. "We need to play a role," he said. When you look at the atrocities, "I don't know how you are against that."
O'Toole, a former air navigator with the Royal Canadian Navy, said he thought Canada should take on a "warfighting role" by joining the airstrikes against ISIL targets.
"If you take hostile act from the air or from the ground or from the sea, I call it warfighting, some people [call it] combat," he said. "War is different. War is prolonged – like if we are doing strategic strikes or if there was some sort of intervention that may not equate to war."
Unlike the Taliban, which controlled Afghanistan, ISIL is a non-state actor, O'Toole said, so war is not the right term to use either.
O'Toole said he thought Mulcair was calling the airstrikes 'war' to sow opposition within the Canadian public.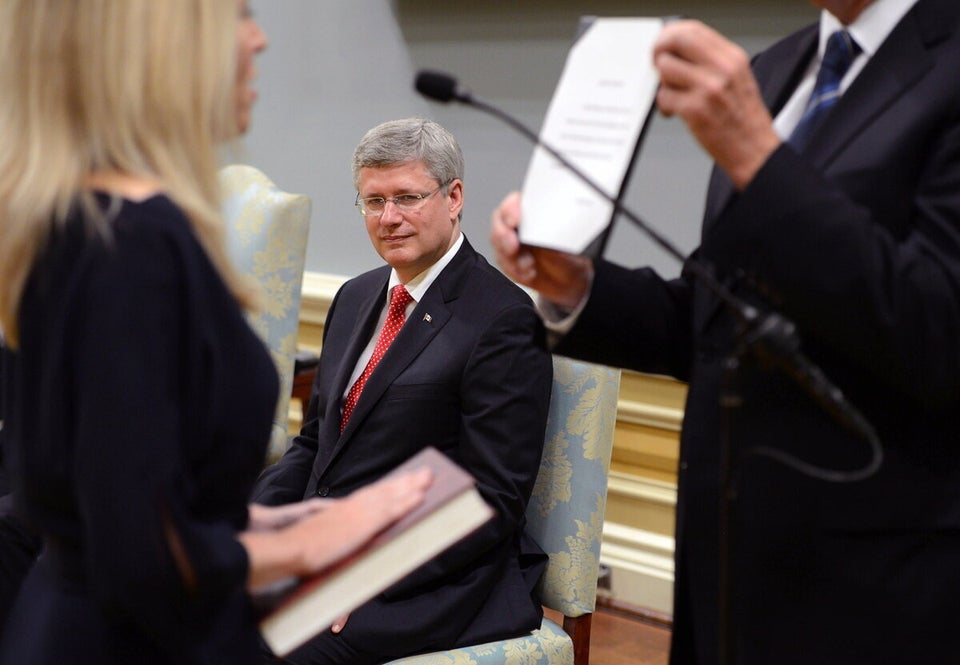 How Big Are Cabinets Across Canada?
Burlington MP Mike Wallace would not say whether he thinks his constituents would support the idea of going to war.
"We will see what the prime minister announces we are going to do, then you can ask me," he responded.
Glengarry–Prescott–Russell MP Pierre Lemieux said that whatever the mission was called, he believes the public would get behind it. Canadians are concerned about safety and security, and they know it is the responsibility of the government to protect them, he said.
"It doesn't matter what the terminology is. What's important is what is actually happening there," he said. "ISIL poses a threat to the region, it poses a threat to religious denominations living in the region and it poses a threat to Canada. … ISIL itself has said so," Lemieux added.
At least one Tory MP, however, was clear that Canada would be engaged in war.
"Well, what do you call it when they are moving in and chopping off kids head? Little children, Christians kids, Yazidis, what do you call that? What are they waging over there?" Nanaimo–Alberni MP James Lunney said.
"Why are you playing word games when people are being massacred. Get over it."
University of Ottawa public and international affairs professor Philip Lagassé said the opposition's use of the word "war" is deliberate.
Canada's potential combat mission or intervention in Iraq would not be a war in a legal sense, he said. But using the word "war" distinguishes it from a peaceful operation.
"It links the idea of war and war-waging with one party as opposed to a peace-support type of operation. And it feeds into a general dichotomy that you are trying to build between parties that are seeking a more peaceful solution to things, and parties that seem intent on using armed force," he said.
Carleton–Mississippi Mills MP Gordon O'Connor said he didn't think much of a sales job would be needed to get the public onside for a combat mission, but "it depends what we are going to sell."
The opposition sat on the sidelines Wednesday, telling reporters they didn't have enough information to make a decision on supporting a combat mission.
"The Conservative government has yet to make the case for any sort of mission in Iraq, including a combat mission," Mulcair told reporters.
The NDP believes Canada should join the international coalition but focus on providing humanitarian assistance.
Trudeau said he was disappointed with the government's secrecy and lack of forthrightness.
Both Trudeau and Mulcair said they had not been briefed by government officials about the potential combat mission. The Prime Minister's Office did not respond to questions about whether other party leaders would briefed before the Commons vote.
Both NDP and Liberal leaders at the time of the mission in Libya had been briefed by the government. That has left some in the opposition benches to speculate that the PMO is starving the opposition of critical information needed to make a serious policy decision in order to score political points.
"I'm not going to try to guess what the prime minister might be is thinking," Trudeau responded when asked.
Hawn, however told reporters the government had not made a decision yet because it needs time to assess the whole situation.
"We want to discuss it with our allies, [the] U.S. and all the other allies that are involved, to know where we are going to fit, that we are going to do so something that is going to actually contribute, that it is going to be in the best interest of Canada and Canadian values," he said.
Trudeau told reporters Thursday, after outlining reasons why he may not support the combat mission, that Canada should be speaking with one voice. When asked if he thought ISIL poses a threat to Canada, Trudeau said that was one more piece of information the government should be sharing with different political parties.
"I find that there is a threat from this region to Western countries, that is certain and it's one of the reasons why we need to get involved," he said in French. "But we have seen that this prime minister and this government are not trying to justify a lot of their domestic concerns."