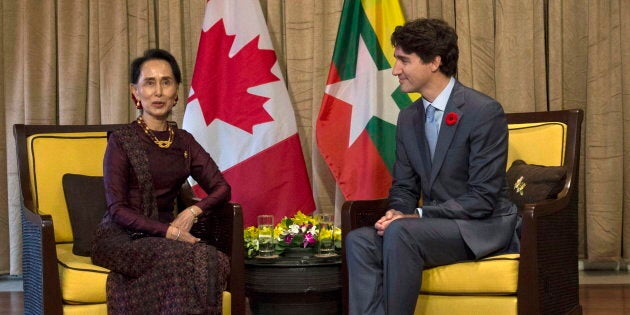 A former Liberal cabinet minister and prominent human rights lawyer says the federal government must revoke the honourary citizenship given to Myanmar's embattled leader.
Irwin Cotler's remarks to The Globe and Mail come days come after a critical UN report concluded that the country's military carried out mass killings and rapes of Rohingya minority Muslims with "genocidal intent."
UN investigators blamed Myanmar's civilian leader Aung San Suu Kyi for failing to use her "moral authority" to protect civilians and permitting her government to contribute to the "commission of atrocity crimes" against them.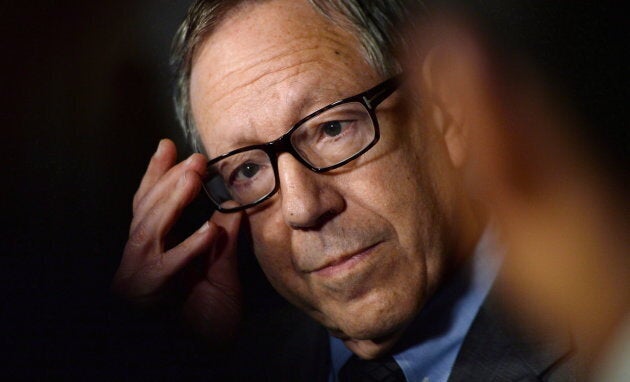 "In my view, as a result of this report, she does not belong in that pantheon of heroes," Cotler, who was a Quebec MP until 2015, told the Globe.
"Would we have appointed her to be an honorary citizen if that issue were now to arise? I am sure the answer would be no. In fact, I don't believe there could now be a nomination for an honorary citizenship."
The UN estimates that since August 2017, more than 720,000 Rohingya Muslims have fled violence in Myanmar's Rakhine State to neighbouring Bangladesh after a vicious military crackdown in response to attacks by Rohingya fighters. Hundreds of thousands retreated to refugees camps in the city of Cox's Bazaar, where they lack proper nutrition, shelter or treatment.
...she does not belong in that pantheon of heroes.Former Liberal minister Irwin Cotler on Aung San Suu Kyi's honorary Canadian citizenship
Suu Kyi has denied allegations of ethnic cleansing against Rohingya Muslims by various human rights organizations. Last year, she dismissed reports of widespread violence against the ethnic minority as "misinformation."
The Nobel Peace Prize winner was made an honorary citizen in 2007 by the previous Conservative government led by Stephen Harper. At the time, Suu Kyi — who had spent more than a decade under house arrest by the country's former military rulers — was widely praised and recognized for her dogged efforts to promote democracy in Myanmar.
Other public figures given honorary citizenship include Nelson Mandela, Malala Yousafzai and the Dalai Lama.
In 2012, former foreign affairs minister John Baird presented Suu Kyi with a certificate of honorary Canadian citizenship at the same home she spent years under house arrest.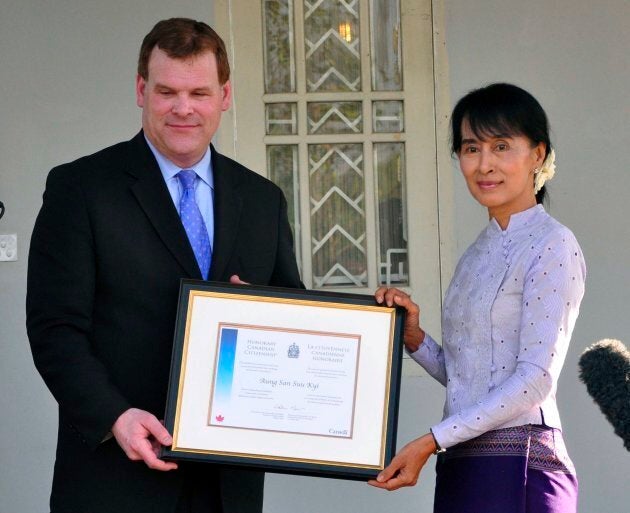 Since then, the refugee crisis has dealt a major blow to Suu Kyi's reputation.
Groups have called for the Nobel Peace Prize committee to revoke the award she received in 1991, accusing her of failing to condemn or mitigate the atrocities being committed against Rohingya Muslims. However, the organization told CNN Wednesday that won't be possible as there is no "provision" to strip winners of their prize.
So far, Suu Kyi has lost several awards in the fallout over her response to the Rohingya crisis. In March, the U.S. Holocaust Museum rescinded the Elie Wiesel Award — the organization's highest honour — it gave Suu Kyi in 2012. Earlier this month, the Canadian Museum for Human Rights announced it would be removing a display dedicated to Suu Kyi.
Though the Liberal government has condemned the violence and persecution of Rohingya Muslims and pledged millions in aid for refugees and displaced groups, it has so far refused to heed calls to revoke Suu Kyi's honorary citizenship.
A few months after the crisis was ignited, Prime Minister Justin Trudeau appointed former Ontario premier Bob Rae as the government's special envoy to Myanmar. He was sent to the country to gather facts from officials and find ways Canada could contribute to alleviating the humanitarian crisis.
In April, Rae concluded in his official report that there is "clear evidence to support the charge that crimes against humanity have been committed" in Myanmar.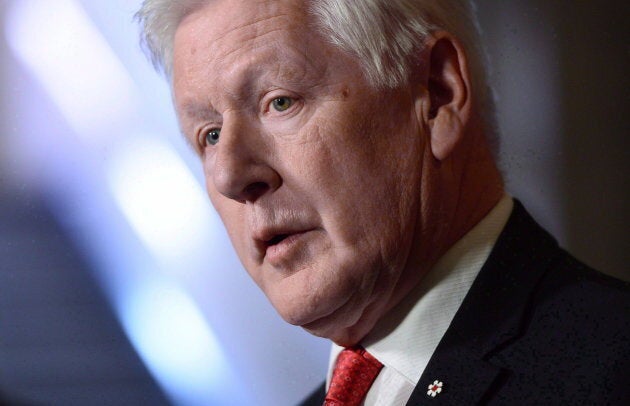 Rae welcomed the UN's latest report on Monday, and cast more blame on Suu Kyi.
"The civilian government failed to protect the Rohingya population," Rae told CBC's The Current on Tuesday.
"She leads that government, so yeah I think she bears some real responsibility for what's happened."
In a press release Wednesday, the government said it backs the UN investigators' findings in their latest scathing report and supports the call to prosecute six military generals for genocide.
"We and the international community have a grave responsibility to respond to the acute needs of the persecuted Rohingya. We cannot be silent. We must hold perpetrators of violence to account and support all efforts toward building lasting peace and reconciliation in Myanmar," the statement read.