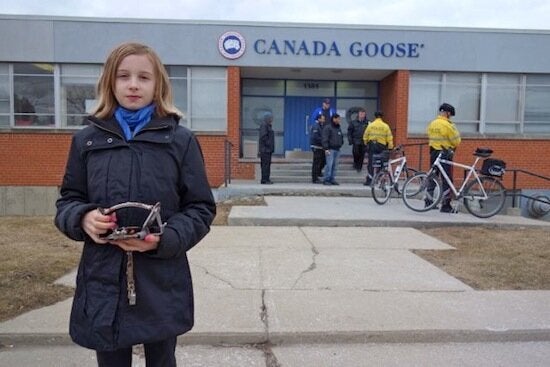 11-year-old Jasmine Polsinelli had one objective when she showed up at Canada Goose headquarters in York this past Thursday: "I was hoping I could go in and talk to Dani [Reiss, CEO] and maybe give him alternatives that he could use instead of fur."
Instead of Dani, Jasmine was met by security, who jumped in front of her as she approached the front door and blocked her from entering the office. "We called several times to let them know Jasmine was waiting outside," said Joseph Pace, one of the event organizers, "but they didn't seem interested in sending anyone to meet her."
Jasmine was one of about 40 people who gathered at Canada Goose headquarters to hand-deliver 5,000 signed postcards collected in more than 25 LUSH Cosmetics stores across the country over the winter. The postcards, addressed to Dani Reiss, implore him to stop using real real coyote fur on Canada Goose jackets and hats, pointing out that trapping these animals is not only unnecessary but extremely cruel.
"I think the reason why Dani wouldn't let me in is because he was scared a kid like me might shut down his business," Jasmine said.
Why is Jasmine so concerned about this trend?
According to her mother Kelli, who rehabilitates wildlife in the Durham Region, it's because "Jasmine has seen wild animals being nursed back to health. She understands the importance they play in nature, that they have families and homes. When Jasmine looks at a coyote, she sees more than just fur. She sees an animal capable of fear and suffering, an animal who wants to be free just like she does."
And while Jasmine is passionate about animals, standing up for them isn't her only past-time. She also enjoys swimming, reading Archie comics, and hanging out with her friends. "She is a typical 11-year-old," her mother says. "She can go out to a protest and come home and go read a book, or go play with her friends. She doesn't think any of this is abnormal, she doesn't separate it. Jasmine feels like defending animals is a natural part of her life, that she should be going out and protecting them. And it doesn't take away from her; it builds confidence knowing she has a voice, that she can speak and be heard."
But apparently Mr. Reiss doesn't want to hear what Jasmine has to say. Because despite Canada Goose's claim that they are committed to "the humane treatment of animals" and use fur "only as absolutely necessary," the reality is that trapping coyotes is a barbaric practice that I believe most potential customers would object to if given the chance.
"The only reason Canada Goose is so popular is because they've managed to hide the fact that fur is extremely cruel," says Joseph Pace, who serves as campaign director for The Association for the Protection of Fur-Bearing Animals. "But Jasmine isn't letting them get away with it. She's going to keep on speaking up until Canada Goose listens."
And Jasmine isn't the only young person in southern Ontario standing up for animals. In Burlington, seven-year-old Vijay Radul is working to break a Guiness World Record by folding 1,000 origami whales to help free the animals at Marineland. And in Oakville, nine-year-old Vienna Del Mastro recently asked friends and family to donate to the Oakville and Milton Humane Society instead of buying her birthday presents, raising more than $500. "I don't want to hurt [animals], eat them or wear their skin," Vienna said. "I used to wear a Canada Goose coat, but now that I know how they're made, I can't ever wear one again."
"It's pretty humbling," says Jasmine's mother Kelli. "The way she thinks, the way she acts. There are no complications with money or politics or ego. She just wants people and animals to be safe and happy. I wish everyone saw the world the same way."
If Dani Reiss agrees to meet Jasmine, he just might.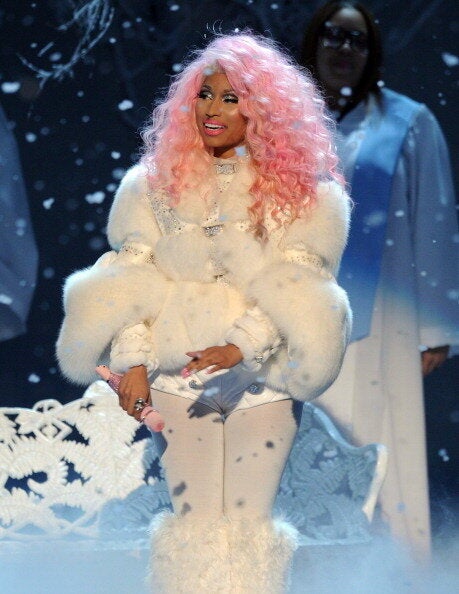 Celebs In Fur & Faux Fur