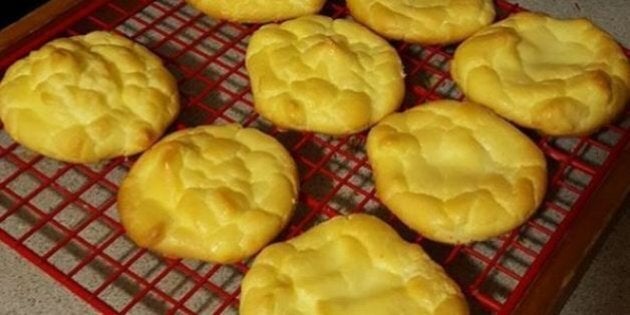 Cloud bread isn't your traditional bread — in fact, it's not made with any dough. It's a combination of three to four base ingredients (eggs, full fat cream cheese, baking soda or cream of tartar and a sweetener) and additional ingredients like herbs or spices.
Named after a cloud for obvious reasons (just look at that fluff), recipe makers agree it's pretty tasty as well. According to food blog Kirbie's Cravings, the process is similar to making a meringue and for the most part if you keep the recipe simple, it will taste like eggs and cheese.
Kiran Bains, owner and registered dietitian of Edo Vivo says nutrition wise, it may be a good idea to switch out some ingredients. "If you switch out the full fat cream cheese for cottage cheese, you'll have a nice high protein 'bread'," she tells the Huffington Post Canada.
"Cream cheese is a highly processed food and not one that I recommend. It's also not a great source of vitamins or minerals," she says.
But if you are still up for the cloud bread making challenge, Tirmandi suggests sticking with a natural sweetener like maple syrup or honey.
Have you tried making this bread yet? Let us know in the comments below:
UPDATE: A previous version of this article incorrectly stated Michelle Tirmandi's title.
Popular in the Community