The darker girl's mantra: stay out of the sun, don't tan, and use this homemade concoction to fade your skin colour. Unless you're born fair like Aishwarya Rai, you've likely been subject to some version of this growing up -- but the Dark is Beautiful campaign is working to change this.
I've heard the stray dig "for a Punjabi, you're quite dark" or jokingly mentioned, "are you sure you haven't been adopted from Kerala?" or even the infamous, "wow, you are like so exotic," -- all standard fare for me as the darker blip in family photos. Having your identity reduced to skin tone can be crushing, particularly when it doesn't fit with the more fairer ideal admired by most cultures.
In India, ads by Enami and 'Fair & Lovely' have often seemed laughable and pompous to me, with grandfathers sanctioning the use of skin lightening creams to ensure the success and subsequent beauty of their dusky daughters. The pervasive appeal of these creams shows with a $432 million market that shows no signs of stopping. While companies now tend to cloak their intentions with the health benefits of zit clearing, sun control and dark circle control, they all but leave their key focus, fairness, until the very end, as if it's a minor addendum.
The preoccupation with fair skin is not a new phenomenon, but the messages of inferiority and insecurity have found strong opponents with the Dark Is Beautiful campaign by the Women of Worth Foundation.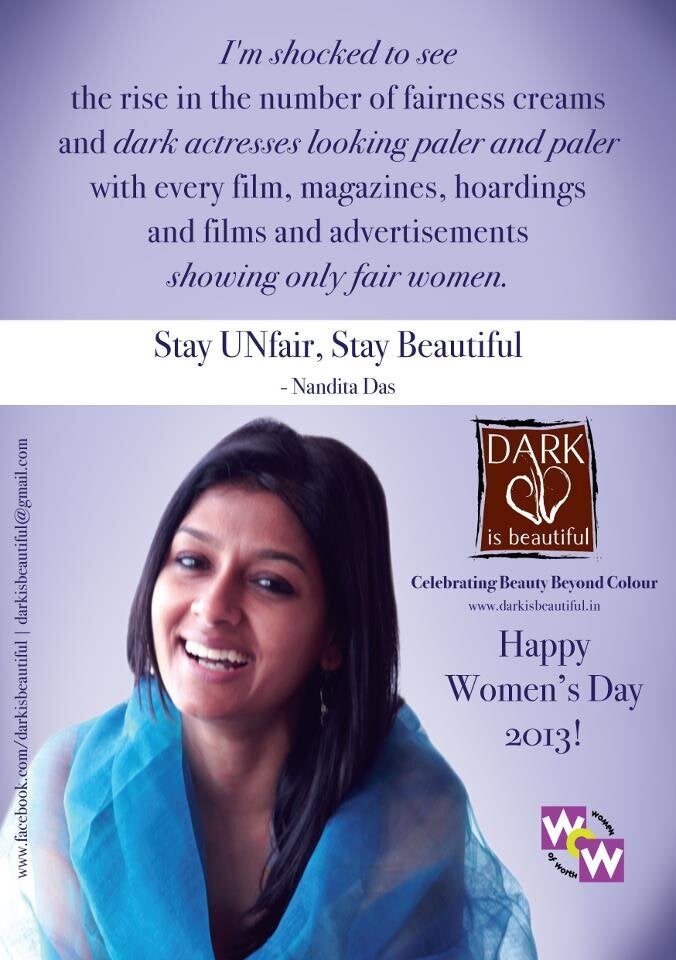 This heartening project has a key advocate in actress, Nandita Das (Earth, Fire, Firak), who has spoken openly about dealing with the pressures of lightening her skin for film roles and its demoralizing effects on the self-esteem of South Asian women. Das notes in an interview with The Guardian: "Indians are very racist. It's deeply ingrained. But there is so much pressure by peer groups, magazines, billboards and TV adverts that perpetuate this idea that fair is the ideal...I want people to be comfortable in their own skin and realise that there is more to life than skin colour."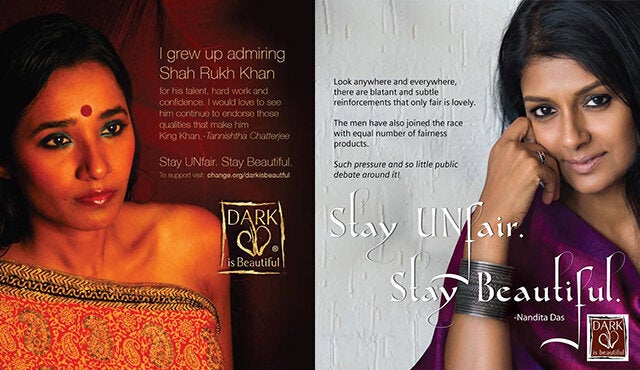 The obsession with fairness creams is largely entrenched in societal attitudes and colonial hangups. However, this problem has been amplified by an image-saturated industry that is awash with lighter skinned models and stars promoting the latest creams and products. The overwhelming lack of representation of darker-skinned actors, models, advocates and brand sponsors is appalling. The Dark is Beautiful campaign has tried to alter this with an ad that features Nandita Das urging women and men to put down fairness creams and take up the debate for a responsible media that doesn't attribute success and beauty to skin colour.
It certainly is a brave and encouraging ad -- one that made me raise my fist up with a "YES!" -- since consciousness-raising efforts like these are the first way to making a small impact in starting a dialogue and finding solutions. The ad does have to compete with the pretentious Emami ad that features Shah Rukh Khan retelling his success story of aspiring for "zyada" (more) fans, friends and a lighter face, all with the help of Emami. He tosses a tube of the Fair And Handsome cream to a fan, which turns his frown upside down and likely gives him zyada happiness offscreen.
Dark is Beautiful has created a petition to Emami to remove the offensive ad, and has received over 10,000 signatures from supporters. What is novel and effective about this campaign is that they are exposing the complicity of stars and celebrities for advertising these products with such a lack of engagement in their detrimental effects on self-esteem and the psyche.
"Feeling So Exotic": When Dark is Beautiful, Sometimes
One of these problematic icons is Priyanka Chopra, whose recent crossover success with her hits "In My City", her role in "Planes", and her musical gem "Exotic", has made quite the splash on the international scene. Exotic is designed to be an accessible summer jam, with high production values by RedOne and Pitbull chiming in for rap interludes. In between doing the "I Dream of Jeannie" hand moves and shamefacedly knowing the words to chorus off by heart, I'm deeply unsettled to see the exotic posturing by Priyanka.
If we brush the aside Edward Said and theory decrying the stereotypical impacts of the exotic label, it is rather reductive and slightly audacious that Priyanka emphasizes her dark mysterious exoticness in such a superficial manner. She seems caught in a double bind or the-having-your-cake and-eating-it-too syndrome, where her years as spokesperson for Garnier Light Ultra cream are largely evaded for a quick cashing in of her dark skin for a successful pop music career. From the Zumba dance move in the jungle in the Exotic video, to the insipid name -dropping the word exotic during her press junket for "Planes" -- Chopra seems to comprehend exotic as mixing her pop music aesthetic with copious nodding to her Indianness through her skin colour, hybrid accent and desi beats.
The Dark is Beautiful campaign has pushed people towards demanding more from their icons (Shah Rukh Khan, Sonam Kapoor, Deepika Padukone, John Abraham -- are you listening?), and it wouldn't hurt her chances to engage with the material that she sends out on both sides of the ocean.
While I may shamefully jam along to "Exotic", it is discouraging to know that when this all fades away Priyanka may just go back to promoting fairness creams for Garnier and we'll be left with yet another remnant of empty exoticism, ready to catch the next singer looking looking to break into the international pop market.
Story By: Rumnique Nannar; Photographs Courtesy Dark is Beautiful Campaign.