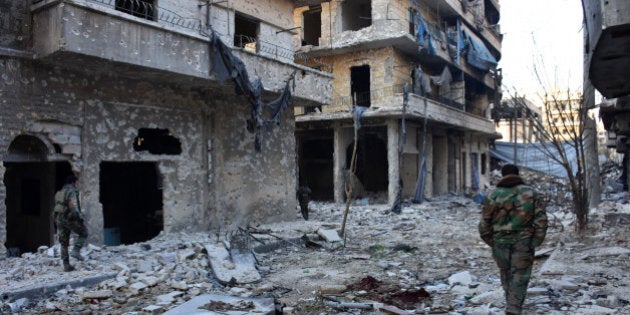 Recently I muttered something -- to a British television correspondent -- that I've never said before: 'There's a temptation to say that we are screwed as humanity.'
We'd just attended a session at the annual Halifax International Security Forum on Syria that included as speakers Sen. John McCain, retired General John Allen and Jean-Yves Le Drian, the French Minister of Defence. Their prognosis was as bad as it gets -- news just came in that all hospitals in eastern Aleppo had been knocked out of action by air strikes.
Hours earlier Médecins Sans Frontières, reacting with outrage that East Aleppo's only specialized paediatric hospital had been bombed out of service, declared "a dark day for East Aleppo." During just a five-day period this month, 300 people had been killed and 950 injured.
I'd also told the assembled that late last month the UNICEF executive director, Anthony Lake, used unprecedentedly strong language that the Syrian regime may be guilty of war crimes for targeting schools. No UNICEF chief has ever used such words against a UN member state.
Despite the outrage, there is no end in sight to the humanitarian crisis unfolding in Syria. As the war grinds on, very few people have any workable solutions. Even a temporary ceasefire, for which the UN is begging all sides to adhere to in order to allow humanitarian aid in, is almost impossible to achieve -- and looks more distant after Syrian Government forces began closing in on rebel-held territory in East Aleppo over the weekend.
Whether it is Syria, Yemen or eastern Ukraine, where pro-Russian rebels have occupied large swaths of Luhansk and Donetsk, it is a fact that crises are lasting far longer, and are becoming more immune to convention diplomatic intervention. Case in point is that despite an agreement signed by all sides called the Minsk Accords, the conflict in eastern Ukraine rages on into its third year.
Extensive diplomatic engagement by Germany and France, coupled with pressure on the Russian Federation, has failed to stop the violence which has claimed almost 10,000 lives. Indeed, the diplomatic toolbox looks very empty at the moment.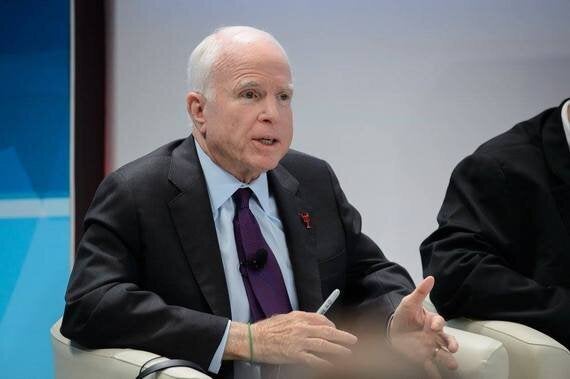 Sen. John McCain at the Halifax International Security Forum. Credit: HISF
What is striking is that, no matter how gruesome the images -- whether from the rubble of east Aleppo or the shores of the Mediterranean -- and no matter how egregious the violations of international law, today's political leaders are failing to end the bloodshed.
In Halifax, ashen-faced, McCain recounted a conversation in 2013 with President Barack Obama around the time Syrian President Assad had used chemical weapons on his own people. According to McCain, Obama said a "red line" had been crossed and that action needed to be taken.
Still none of his demands -- a no-fly zone, safe haven areas or the provision of weapons to the opposition -- had been met by the administration. "We will never know how the destiny of Syria would have been had Barack Obama not abandoned the idea of punishing Damascus when it crossed the 'red line' on chemical weapons in August 2013," writes Isabelle Lasserre, deputy editor of Le Figaro.
This raises the question, what is humanity's 'red line?' How many images of dead children will it take before men and women of high morale values intervene? How many school teachers need to be murdered before we say 'enough is enough?'
In Halifax there was plenty of discussion and hand-wringing of how the incoming Trump Administration will deal with hotspots, including Syria and Ukraine. Plenty of talk too among spies and diplomats alike on whether we can expect Russia to be more heavily involved in flash-points around the globe -- and whether a 'red line' exists where the West counters Russian President Vladimir Putin.
The big fear? Eager to execute a 'reset' in relations with Russia, Trump, the ultimate deal-maker, will, with the apparatus of the state at his disposal, rush a through a flawed deal that will grant Putin a guaranteed sphere of influence in exchange for a peace deal with Syria. Remember it is Trump that said a few days ago that if the US attacks Assad, "We end up fighting Russia".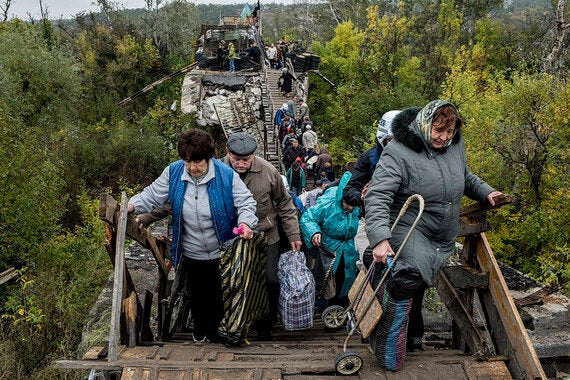 Internally displaced people crossing the frontline in eastern Ukraine. Credit: Evgeniy Maloletka/OSCE SMM
There are indications that the president-elect is contemplating a solution to bring peace to Syria. According to the Wall Street Journal, his son has already met with a Syrian politician with strong ties to Moscow. Could this signal that a peace deal that Russia would find palatable is in the making?
I don't know if the younger Donald Trump discussed the renewal of sanctions against Russia during his visit to Paris. What I do know is that support for such punitive actions is weakening among some prominent politicians in Rome and Paris. Even the European Union's foreign policy chief Federica Mogherini is sounding more weak-kneed these days on sanctions.
But not all is doom and gloom. There's some evidence now that the bright American minds that had openly opposed Trump during the campaign agree that sitting out the next four years on the sidelines would be the wrong thing to do. That staying actively engaged with the new administration could bring about positive change.
Follow HuffPost Canada Blogs on Facebook