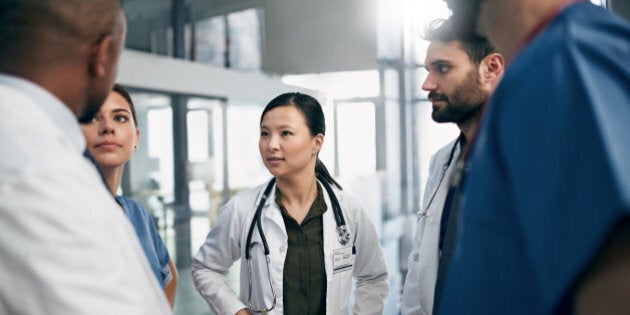 A breakthrough in negotiations has Premier Kathleen Wynne sounding optimistic about an eventual deal with doctors. Yet doctors in Ontario remain thoughtful and wary after a hard-fought battle for Binding Arbitration (BA).
Late last week, the Ontario Medical Association Board analyzed and debated the proposed BA framework for hours before voting. In a surprise twist, all 26 voted yes to unanimously endorse the proposal.
Now Ontario's physicians face an important decision. So important, that the OMA Board called for a General Members Meeting (GMoM) where every doctor will choose whether or not to ratify the BA proposal: one member, one vote, and a choice that will impact all future labour negotiations between doctor and government. It will be the third GMoM in the 137-year history of this organization.
More importantly, after a four-year impasse, this is movement.
Look around. The health-care system is broken. We need a well-planned, well-executed strategy to lean out bureaucracy with funds redirected to frontline care by doctors, nurses, hospitals and home care. As a country, as a province, we pay an extraordinary amount in taxes, yet we have too few doctors, too few nurses and too few hospitals. So where did the money go?
We need province-wide digital records accessible within each patient's circle of care; in an era of self-driving cars, it is stupid that Ontario doesn't have this technology when other provinces do. We need to throw wide the doors to family doctors in team-based clinics; it makes no sense that the Liberals restricted them in 2012. And with seniors now outnumbering children, we need a plan for the silver tsunami hitting our shores. Our seniors have paid a lifetime of taxes into a health-care system whose cupboards are bare -- right when they need it. It's completely unfair to them.
More than anything we need a culture change that refocuses all funding, all management, all efforts at one thing: a guarantee of patient care and service delivery. And we must marry it with accountability. If a project doesn't add patient services, then scrap it. It's that simple.
To get there, government must work with doctors.
So binding arbitration is totally a step in the right direction... but it's one step of many to bridge the divide between boots-on-the-ground doctors and Queen's Park politicians. Winning back our trust will take many more shows of good faith -- not just in negotiations but in health system reform.
The reasons why are obvious. None of us have forgotten the past four years. The Ontario government cut frontline physician funding. The health minister himself scapegoated physicians in the media. Ill-advised government regulations have made it a nightmare for new family doctors to set up shop, for addiction specialists to keep small-town clinics open, for medical specialists to manage chronic diseases, for ophthalmologists to pay equipment costs to keep pace with the need for cataract surgeries, for psychiatrists to manage suicidal teens and so on.
Add to this the pressure of making do in a health-care system where years of drought have shrunk resources, and it's no surprise that we're no longer buying promises of good behaviour. We need action. Government decisions have created waitlists that spiral out of control: specialists, ORs, hospital beds, nursing homes, family doctors, home care. Finding the resources patients need is a desperate juggling act. Doctors practice way beyond their usual scope to cover gaps in care. Nurses scramble in overcrowded hospitals and backlogged emergency departments. Gaps in services appear like sinkholes. Surgeries are cancelled each week. And while we frantically tend the super-sick patients, the less-sick patients wait until their own illnesses reach a crisis point.
I became a doctor to care for the sick. It's bloody frustrating when I cannot do my job because the tools I need are gone. It's worse knowing that the people that can help and should help -- the government -- have ignored my voice and thousands like mine up until now. Andre Picard is right: second-rate health care is now the norm. Waitlists are the new black.
With elections around the corner and terrible polling results, the Ontario Liberals have announced "new" funding for hospitals. And that is a good thing, a necessary thing. But I want to know: is it enough?
I worry it may not be. This funding is half of what hospitals asked; it matches inflation and that's about it. So it will maintain status quo, this status quo with its jam-packed hospitals and emergency departments, its cancelled surgeries, its shortage of family doctors and home care, its long line-ups for specialists and so on. You tell me: is the status quo good enough?
All that's wrong with our health-care system cannot be fixed with election-time funding, improvised programs and bandaid solutions.
So yeah, doctors have not forgotten. But while we will try to rebuild bridges, we are also realistic enough to know that Ontario needs more. It's past time the government stopped improvising care and instead, simply improved it.
And the people best-positioned to do this sit in the offices at Queen's Park.
Follow HuffPost Canada Blogs on Facebook