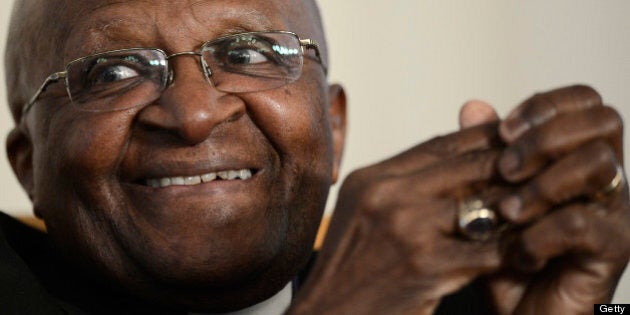 Desmond Tutu, retired Anglican Bishop from South Africa, a Nobel Laureate, a man of distinction, is a leader, someone who affects public opinion. As a Christian leader one would think he would not want to repeat the behaviour of Christian leaders during the reign of the Nazis. One would think.
Desmond Tutu had called for a change in venue for the European "Under 21" soccer competition being held in Israel. Something about discrimination against Palestinian sportsmen and women by Israel. Yet, the Israeli team was composed of Arab and Jewish Israelis as well as Ethiopian and Russian Jews.
It's a good thing his wishes were not fulfilled.The tournament was a smashing success.
UEFA President Michel Platini paid tribute to all who had made the June tournament a success. He said:
"The co-operation between UEFA and the Israel Football Association was fantastic and everything went very smoothly and, as I said previously, the four stadiums are superb. I also would like to thank the 450 volunteers that were here...Everybody here in Israel can be very proud of hosting this EURO Under-21 championship."
Instead of spending his time speaking on behalf of Christians around the world who are under attack; in Gaza, the West Bank, Syria, Egypt, this revered Christian leader prefers to incite hatred toward Israel and the Jews.
"Whether Jews like it or not, they are a peculiar people. They can't ever hope to be judged by the same standards which are used for other people."
Can you imagine the uproar if he spoke about blacks or gays or Muslims that way?
He added, "the Jews thought they had a monopoly of God: Jesus was angry that they could shut out other human beings."
Yet, he has no difficulty in shutting out and attacking the Jews. He condemns Jews for being "un-Christian." What does that mean? I suppose he judges Muslims, Hindus, Sikhs, and Buddhists as un-Christian as well. I suggest he recuse himself from interfaith dialogue. His attitude doesn't augur well for mutual understanding and empathy.
He is revered for advocating for social justice and equality across the globe. After these comments, how is that possible? As he himself put it, "You get the Nobel Peace Prize and you say the same thing that you said before you got the prize and now everybody thinks, 'Oh, dear, the oracle has spoken.'" And that's the problem. He must not be viewed as an oracle, anymore. He has lost that right.
His behaviour is beneath that of a true Christian. His systemic, endemic anti-Semitism, so clearly expressed by calling Jews a peculiar people should lead churches all over the world to condemn him just as we ask moderate Muslims to denounce Islamic extremists.
He's watched Hutus and Tutsis kill each other, and tribes in the Congo, Somalia and Mauritania (where the minority Arab Muslims apply ethnic cleansing, torture against black Christians) take revenge on each other. He's witnessed genocide in Cambodia and tribal warfare now in Syria.
In 1989 in Israel at Yad Vashem, the memorial to the 6 million Jews murdered during the Holocaust he said: "We pray for those who made it happen, help us to forgive them and help us so that we in our turn will not make others suffer." Was he worried that the Jewish people would extract "an eye for an eye"?
Like so many others,unable to accept the fact that the Jews don't counter horror with horror, he comes up with fantasy history that distorts both the past and the present. And now he gives new life to the old canards, to pernicious propaganda, that originally spread through Europe in the 19th and 20th centuries; propaganda that made it possible for the world to turn away while Nazi's attempted to annihilate the Jews.
He joins others who find ways to rewrite history in order to equate the Jewish people with Nazis, with White Supremacists, with the perpetrators of South African apartheid, with hate mongers. It isn't difficult in a world where Jew hatred, unlike hatred toward people of colour, gays, and lesbians, is acceptable.
A group of left-wing intellectuals from the United Kingdom researched the behaviour of those who champion practices that go against their best interests and published a document called the Euston Manifesto.
"The left became so consumed by anti-Israeli and anti-Western sentiments that they started to support tyrannical regimes that suppress human rights and democracy while being sympathetic to terrorism and accepting of racism and bigotry."
It was Edward Said who warned against building a thesis on a false assumption by "generalizing the attributes they associated" with a people, "creating a certain image" that "infused a bias" through "scientific reports, literary work, and other media sources."
Modern day anti-Semites start with an assumption that Jews are genocidal maniacs who want to rule the world and then re-invent history to fit their malicious propaganda. Desmond Tutu is one of them.
Popular in the Community