OTTAWA — It looked like an engagement party, it sounded like an engagement party, but Jagmeet Singh's spokesman said the NDP leader is avoiding any labels to describe a weekend celebration.
Public posts on social media pointed to a jubilant party on Sunday featuring Singh, 38, and Gurkiran Kaur Sidhu, 27, as guests of honour in traditional Punjabi outfits.
When first asked if the photos were of an engagement or a wedding party, James Smith, Singh's press secretary, said, "This is not an engagement and we have no further comment." He also offered no comment when asked if it was a roka ceremony, a traditional Sikh commitment that marks the first step toward marriage.
But on Monday, Smith offered a more fulsome response to explain the festivities documented on social media.
"I can confirm that this was a celebration of two families meeting and the celebration of that couple," he told HuffPost Canada.
"You know what the equivalent would be is the first time a couple's parents sit down and have dinner together," Smith said. He joked that in western culture, such a relationship milestone is usually marked with "less colourful clothes."
They were just having a lot of fun, saying funny things. And yeah, they're really happy.Gagandeep Singh, photographer
A roka ceremony usually marks the first meeting of a couple's families before an official engagement. Singh and Sidhu's attire, party, and a photo shoot resembled such a tradition, but Smith was reluctant to call the celebration a roka.
He said Singh and Sidhu don't want to use traditional labels and are instead "trying to just take their own meaning from it."
However, professional wedding photographer Gagandeep Singh told HuffPost that he was hired to document the couple's roka ceremony. He also took photos of them outside the bride-to-be's Brampton, Ont. home.
"They were just having a lot of fun, saying funny things. And yeah, they're really happy," he said in an interview. "It was a happy environment because the families met each other for the first time."
He described the atmosphere as "really positive." The two families hugged and danced, while the NDP leader and Sidhu joked with each other in between shots.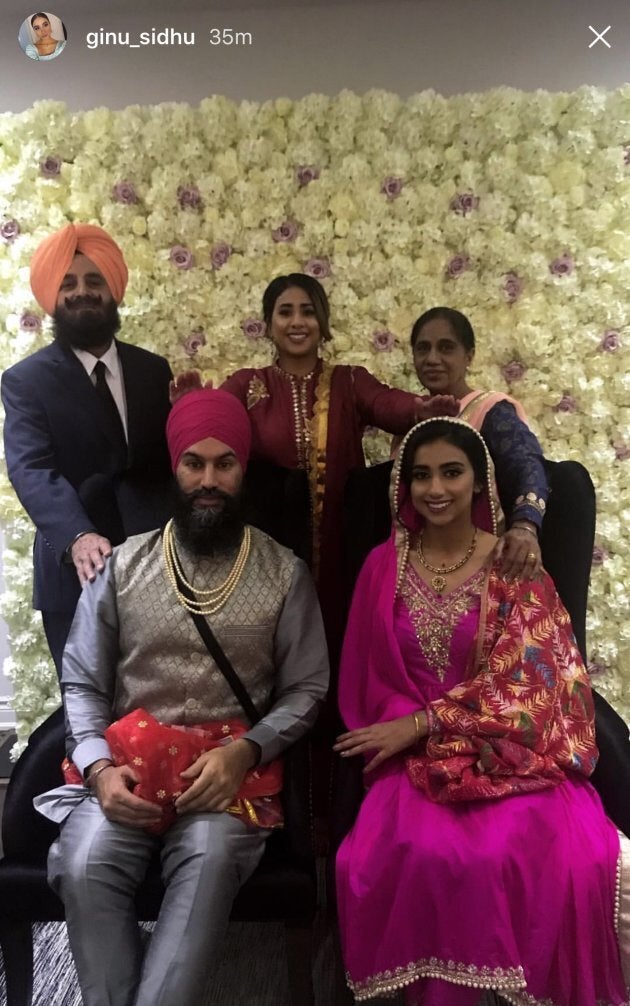 Sidhu is co-founder of Jangiiro, a customized "new age Punjabi clothing line" that she runs with her sister. Jangiiro's Instagram account posted images and video of the Sunday festivities, including the pair dancing to bhangra music and Singh thanking the DJs for flying in for the "special occasion."
One of them, DJ K Square, published a Boomerang video of the couple entering the room, with the caption: "We've done house parties before but this one is definitely special. Another Engagement tonight alongside @djssquared@djksquare for @jagmeetsingh and @ginu_sidhu."
Singh described himself as a bachelor in a HuffPost Canada profile in January, but had a steady girlfriend by the time he won the NDP leadership this fall.
With files from Althia Raj