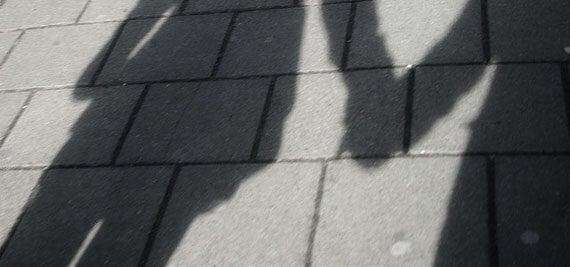 Monogamy is a tricky topic that has continued to pop up in conversation with friends over the years. In my early 20s, it didn't seem feasible. Who wanted to slam the door shut on all sorts of interesting potential partners at such a young age? Weren't we encouraged to date and explore without the pretense of a monogamous relationship? Quite often, as a 20-something, I was encouraged to date around and avoid settling down. Hadn't I all the time in the world to become someone's significant other?
I think back to those wine-induced evenings with my girlfriends trying to piece together the mysteries around our personal lives and solve some of our most pressing issues. Issues like deciding whether or not to be exclusive with someone or determining when it's too early to use the word l-o-v-e. Truly, these were some of the most important conversations I would have in my 20s. Sharing each other's experiences helped shape my own definition of a relationship and what that means to me.
It wasn't so much that I was interested in having multiple partners. I landed in a series of relationships throughout my 20s, albeit not all of them were monogamous or meaningful. Yet as my network of friends and colleagues grew and the conversation around monogamy continued, I eventually met people who participated in open relationships. In some cases it was strictly sexual, where the couple would invite other partners to join them in the bedroom. This seemed to be the most common scenario. With other couples, they would open their relationship right up, both sexually and emotionally.
I have nothing but respect for people who choose to conduct their personal life this way, but it does make me curious. Doesn't anyone get jealous? Is it really healthy to watch your lover carry on with another partner? Are humans truly capable of letting go and making this kind of relationship work?
A friend of mine has been in a committed, open relationship for nearly a decade. He and his partner share a loving bond, but they're both open to the other pursuing sexual relationships outside of their own. I blatantly asked my friend how he could stand it.
Didn't it bother him when his partner would pair up with another man right in front of him? He said that he could either drive himself crazy over it, or he could choose to evolve and be open — both he and his partner — to being with other people in an open, trusted environment. He chose the latter.
In another case, a friend of mine, who married at 23, and her husband decided to switch partners with another married couple. I wouldn't label them as swingers, but rather a couple exploring the boundaries of their marriage and sexual relationship. She doesn't recall feeling jealous or hurt, but in retrospect didn't feel like they had a solid marriage. They divorced a few years later.
Whether you're up for an open relationship or prefer one partner, I don't think we'll ever really know if human beings were built for monogamy or meant to mate for life. Monogamy, to me, is an ongoing conversation you have with yourself and more importantly, with your partner.
Having recently married, I can't tell you if we'll remain monogamous forever. As it stands today, I certainly intend to try. But I think that's a lot of pressure to put on any relationship. Monogamy has to be a lifelong dialogue that takes place as you grow and evolve.
Have you entered into an open relationship? Are you open to trying it out? Or is monogamy the only way you can exist in a relationship? Post a comment, I'd love to hear your thoughts!
Popular in the Community