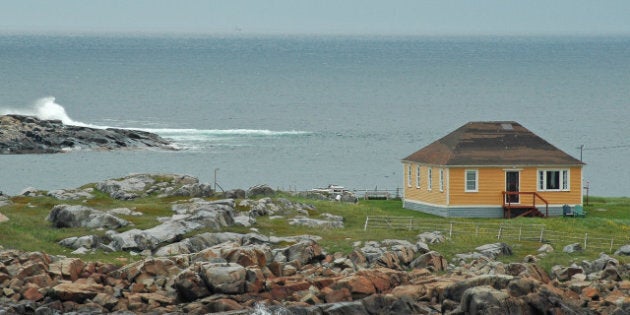 If you have only a week to travel in Newfoundland, you must explore the Viking Trail.
(What I'm really thinking:Silly you. Why go all the way to Newfoundland and only stay a week?)
The Viking Trail begins and ends with UNESCO World Heritage sites a day's drive apart. Now I ask you, where else in the world can you see that? And in between, you can sample a unique culture and cuisine as well as eerily beautiful landscapes that were literally formed in the bowels of the earth.
You might even hit a moose, since there are a lot of them, and they like to graze along roadsides.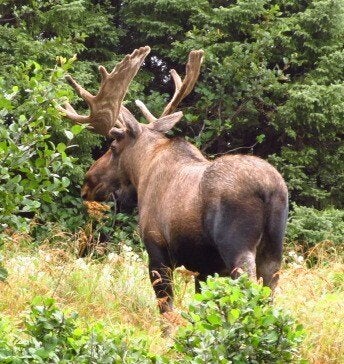 The Viking Trail begins at Gros Morne National Park. You will have already spent half a day driving there from the ferry landing in Port aux Basques -- unless the road is closed along the infamous Wreck House section of the highway due to winds so ferocious they've been known to derail trains. But don't worry. This doesn't happen often.
Gros Morne is a World Heritage site because of its geology and its natural beauty. Now, I'm not totally down with rocks myself, but Gros Morne has some of the oldest, most exposed, and best examples of ancient earth formations in the world. In fact, the rocks here helped confirm the science of plate tectonics, since this is the spot where continents collided and split apart thousands of millions of years ago. To be exact.
Even if you aren't into rocks, you'll be able to appreciate the stark contrast between the Tablelands -- the uplifted floor of an ancient ocean -- and the surrounding fir-clad mountainsides. The Tablelands look like high desert in Utah. Nothing grows there except scrubby bush and Newfoundland's provincial flower -- the carnivorous pitcher plant.
Rocks that were spewed from the Earth's mantle litter the place. They look like this.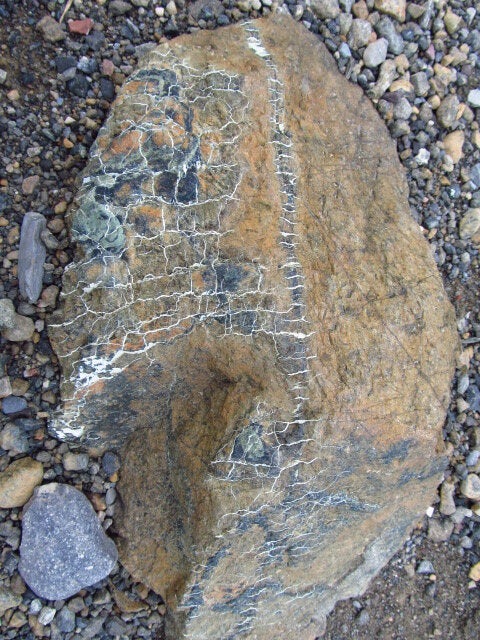 OK, so the place has rocks. But it also has food -- fresh, local, and served up in no-nonsense style. Some items you won't find anywhere else (bakeapple and cod cheeks) and some you may not be able to pronounce. Touton, for example, is fried bread that you dip in molasses. Newfies pronounce it TOW-tin.
Don't go expecting someone to allow you to sniff the cork or see if the wine has legs. Don't go expecting silver and china. Those accoutrements may exist somewhere in Newfoundland, but when I dined in Woody Point, the town was under a "boil order," and you couldn't even get a glass of tap water.
The haddock, however, was superb.
Likewise, don't go looking for rugged, snowcapped mountains with rushing glacier-fed streams. Landscapes here are spectacular in an eerie, otherworldly way. They are also vast and pristine.
As you drive north along the Viking Trail, you will have the ocean to your left and the Long Range Mountains to your right. The mountains are rounded, misty lumps. The ocean can be bright, dancing blue, or it can be surly gray. You will drive through towns with names like River of Ponds and Deadman's Cove. Nothing is gussied up for the tourist.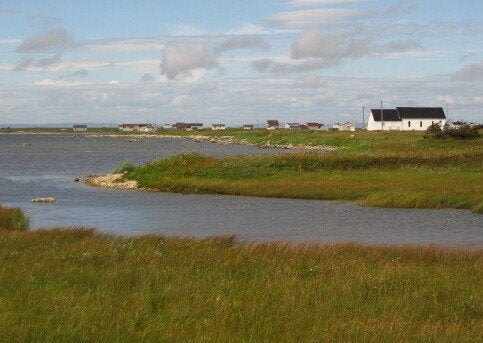 This is hardscrabble life, and you will see that in the weathered faces and in the "ditch gardens" along the road and in the piles of firewood in various stages of readiness for winter.
Remote and strange as this part of the world is, it has been inhabited for a long time. When you finally reach the tip of the Great Northern Peninsula, where icebergs float by every spring and whales play in the coves and bays throughout the summer, you will have reached, not only the end of the land, but also the second UNESCO site -- the only authenticated landing site of the Vikings in North America.
This is L'anse aux Meadows. Five-hundred years before Columbus, several expeditions of the hardy Norse set up camp in this odd and desolate place to refresh, retool, and repair their boats. They built snug sod structures, smelted iron, repaired sails -- and moved on, kindly leaving behind their stone spindles and their cloak pins for us to dig up 1,000 years later.
The actual Norse dwellings are little more than lumps in the earth, but Parks Canada has done a phenomenal job recreating life at that time. And often, the guides who lead tourists around the site come from generations of equally hardy Newfoundlanders, who still live at the end of the world.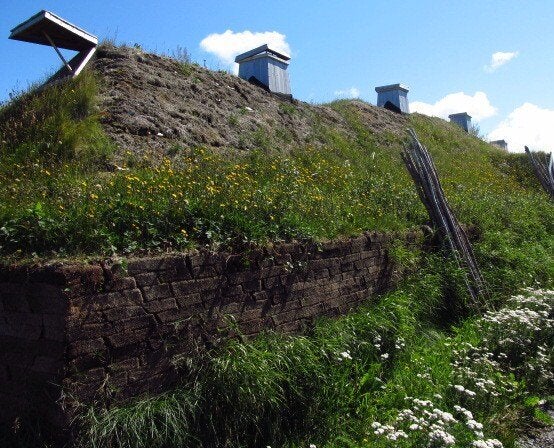 Clayton Colbourne, our interpreter, played on those mounds as a child. There were 100 people living in L'anse aux Meadows then. Now there are 25. "It's only a matter of time before this community ceases to exist," he said.
Such is life on this windblown marsh where the snow can drift to 30 feet.
It was late August, and rain was falling almost every day. Wind sweeps across the northern tip of the peninsula. Unless you have marsh and salt water in your veins, it's time to leave. It took me three days to return to Port aux Basques to catch the ferry. I had been in Newfoundland for a month.
I watched the mist-shrouded land disappear, and I was as sorry as I have ever been to leave a place.