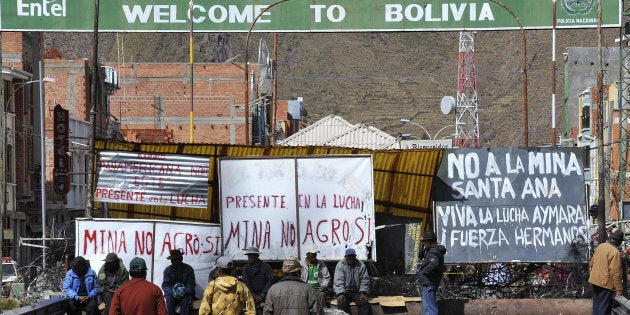 Canadian corporations are using Canada's network of trade and investment agreements to "bully" governments around the world into compromising environmental laws, a new study says.
The study from the Canadian Centre for Policy Alternatives found the problem is concentrated in one particular industry — mining — and the governments the Canadian firms target are primarily in developing countries.
As of the end of 2018, Canadian businesses had launched 43 claims against governments outside of North America, under the auspices of trade agreements Canada is party to, the CCPA study found. Of those, 70 per cent were launched by mining companies, and 86 per cent of those cases targeted the government of a developing country.
Watch: America's "deep political divide" could spell trouble for the new North American free trade deal. Story continues below.
In nearly a quarter of those cases, Canadian companies challenged environmental protections, and in nearly 44 per cent of cases they challenged resource management policies.
Canadian companies have extracted $5.9 billion from governments through these trade deal claims, and another $6 billion is at stake in ongoing cases, the report found.
Although this mechanism hasn't yet been used to stop climate-change policies like carbon pricing, it "could be a real threat to climate action," said Hadrian Mertins-Kirkwood, a senior researcher at the CCPA and co-author of the study.
"Environmental policy is the fastest-growing trigger for these disputes."
Investors profit from lawsuits
What's more, the study found that outside investors are using these lawsuits as a source of profit. Typically, an investor will pay the suing company's legal costs in exchange for a percentage of the settlement.
In some cases, the suing companies are bankrupt and no longer operating, but are still taking action against a foreign government using investors' money, Mertins-Kirkwood told HuffPost Canada by phone.
These lawsuits aren't tied to the markets, so investors see it as "a safe investment to protect against market volatility," he said.
The rise of ISDS
Over the past several decades, Canada has signed on to at least a dozen free trade deals with various countries or regions. It has also signed "foreign investment promotion and protection" agreements with at least 37 countries, including China and Russia.
These deals typically contain an "investor-state dispute settlement mechanism," or ISDS for short. Typically, the trade agreement calls for the creation of a tribunal where businesses from inside the trade pact area can sue governments over policies that they believe violate the deal.
Critics argue these ISDS clauses effectively put business' rights above the rights of others, essentially turning these trade deals into "corporate rights pacts."
"Rather than acting as a remedy of last resort, ISDS is widely and increasingly being used by Canadian firms to bully developing countries acting in the public interest," the CCPA report concluded.
And while Canada has been pushing for these types of mechanisms in its trade pacts, ISDS has largely worked against the country. Earlier CCPA research showed Canada is the most-sued country under NAFTA, which came into force in 1994 with one of the first-ever ISDS clauses.
Freeland hailed the removal of ISDS from the newly renegotiated NAFTA last fall, saying the move "strengthened our government's right to regulate in the public interest, to protect public health and the environment, for example."
However, according to news reports, it was the Trump administration that wanted to eliminate ISDS, while Canadian negotiators fought to keep it in the trade deal. The new NAFTA, or USMCA as the U.S. government is calling it, has yet to be ratified by the U.S. Congress.
ISDS is widely and increasingly being used by Canadian firms to bully developing countries acting in the public interest.Canadian Centre for Policy Alternatives
ISDS remains a part of many of Canada's trade pacts, including the investor protection trade pact the previous Harper government signed with China in 2014. Under the deal with China, lawsuits against governments are to be kept secret, Mertins-Kirkwood noted.
The CCPA report's authors are calling on the federal government to remove ISDS from all its trade deals.
Mertins-Kirkwood said these ISDS provisions are largely in these trade deals at Canada's insistence.
"The only reason we have ISDS in a deal with Ecaudor or Venezeuela is (that) Canada demanded it," he said. "These countries gain nothing from it. There's only been one case of a foreign investor outside NAFTA who has used ISDS."
Popular in the Community