On that day, Michael Zehaf-Bibeau, son of a Libyan immigrant, who had only recently embraced Islam committed an act of jihadist terror, killing unarmed Cpl. Nathan Cirillo, who was standing in guard at the National War Memorial. He then stormed the parliament and was killed in a shootout. There are strong suggestions that Zehaf-Bibeau was influenced by the Jihadist ideology that may have become even more potent by addiction to drugs and other factors.
While these incidents resulted in deep grief and anguish for all Canadians, various Muslim leaders raised alarms that any association of these terrorists with Muslims will give rise to Islampohobia.
As if the death of a terrorist during a shootout, completes the investigative and judicial process, without finding out who else has been involved, and what other risks are there that need to be explored.
At a CBC program, lawyer Faisal Kutty suggested that glorification of violence, in the society, was one of the causes of the terrorist violence. His focus was on Islamophobia.
It seems that the Muslim leaders have not learnt any lessons from the acts or conspiracies of violence committed by Canadian Muslims within and without Canada. The have forgotten that Toronto 18 was a reality.
"Long after the sensational news broke, many Canadians remained skeptical that there was a serious threat from home-grown terrorists.....Canadians were inclined to dismiss the group as 'a bunch of bravado-filled but bumbling incompetents who were not capable of carrying out their plans.... slowly but surely, however, as the remaining 11 either pleaded guilty or were convicted, and as the findings of the court cases, in particular the "Agreed Statements of Fact", became public, the reason for doubt dwindled. It became clear that a catastrophe was narrowly averted."
Contrary to what Muslim pundits keep pushing, Canada is not indulging in Islamophobia, but it justifiably reacts to real acts and threats of terrorism by Muslim Canadians.
The Canadian spirit of inclusiveness is evident everywhere. That hijab-clad Muslim women work safely from Tim Hortons to public and private offices without any fear of intimidation and harassment, is itself proof that the leadership of Islamic organizations is the one spreading false fears in an effort to trivialize the enormity of the jihadist challenge.
It is Jihadi rhetoric and conspiracy theories that poison the minds of Muslims.
The U.K. Telegraph reports:
Such rhetoric and conspiracy theories can also be found at the videos of North America Muslim Foundation (NAMF)'s TV program The Free Radicals, in Canada. In an episode titled Tehrik-i-Taliban Pakistan's Letter to Malala Yousafzai, Imam Sheheryar Shaikh and other participants suggest that, the shooting of Malala was a western conspiracy, that Taliban are losing a PR war, and that their struggle is against Imperialism, and for liberating their land from the foreigners.
At a recent seminar, "Caliphate as a Political System? Myth or Reality" Imam Shaikh asserted that the Islamic Caliphate is a divine promise, and will materialize. Only a few weeks ago the same Imam and Farooq Khan the president of NAMF at a TV program hosted by Rawal TV, suggested that the beheading of western men by ISIS may also be a conspiracy, since one cannot determine as to who the masked executioners are?
These conspiracy theories and Jihadi rhetoric have so clouded the Muslim mindset in Canada that they rarely come out to denounce Muslim terrorism with a united voice. And if they do, they refrain from renouncing the doctrine of armed Jihad.
We Muslims should realize that if we need to save Canada from threats of terrorism, then we should shun the ruse of Islamophobia, and Jihadi conspiracy theories. We are living in Canada as a pampered minority, where the society accepts all our demands of exclusion, meets our request of providing prayers areas in private and public spaces, and lets us pull our children out of many secular programs. If we fail to reciprocate and keep yelling 'Islamophobia' to silence genuine debate, then the host society has an absolute right to act in revulsion towards us.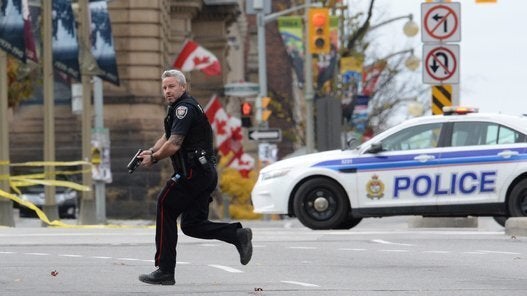 In Photos: Ottawa Shooting
Popular in the Community