For those who have yet to hear, the Israeli Defence Forces (IDF) have killed 29 unarmed protesters in the Gaza Strip over the past 12 days. Their crime? Protesting for their right to return to lands they have been dispossessed from since 1948. Refugees constitute around 75 per cent of the population of the Gaza Strip.
The absurd in this: Palestinians are being shot on the Palestinian side of the border. That is, Israel is shooting across an internationally recognized border at unarmed protesters. A few days ago, the IDF shot and killed a reporter wearing the internationally recognized blue "PRESS" vest, making him the seventh journalist to be shot. Video has also captured Israeli snipers shooting a retreating protester in the back.
Canada's government remains silent, occupying itself with more important tasks like kicking out Russian diplomats in solidarity with the United Kingdom. Perhaps, it's paying the same service of "solidarity" to Israel by staying quiet.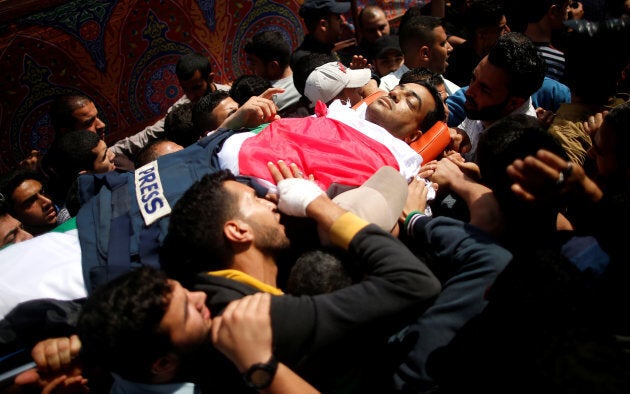 The media has also been largely silent. News channels that have decided to report on the killings are doing so through a narrative that mimics the official one of the IDF.
Headlines present the non-violent protests and the shooting of their participants as "clashes" or "confrontations,"and the Associated Press tweets that Israeli troops are "firing back" at billowing smoke heading their way from burning tires.
More extreme coverage tries to link protest participants to Hamas. This view is promoted by Israel's Defense Minister, who claims no one in the Gaza strip in innocent. As such,according to his logic, there are no innocent victims, as those shot by the IDF are enemy combatants. But even unarmed enemy combatants have rights under international law, making even that justification an admission of summary executions.
Illegal border crossings are dealt with as civil matters with police interventions, not a sniper's bullet
Israeli media has also covered the event in the context of its sovereignty. We are told that the IDF is doing nothing but protecting its citizen. But the IDF maintains a buffer zone around the Gaza Strip, which it monitors with strangling efficiency. This zone has also been reinforced with more soldiers, snipers and tanks. To suggest that any Israeli citizen, or even embattled IDF soldiers, were under threat due to billowing smoke, rocks or even Molotov cocktails, is preposterous. If that threat was real, then how would Israeli settlers be able to put up an "observation deck" to watch the IDF shoot at Palestinians?
Even if we were to take the IDF's narrative that protesters were "attempting to harm or destroy Israel's security infrastructure," that is not a justification for an automatic death sentence. Illegal border crossings are dealt with as civil matters with police interventions, not a sniper's bullet.
In the midst of all this, it's important to remember the context in which this is happening. Gaza has been under a suffocating blockade imposed by Israel (with the help of Egypt) since 2007,controlling all of Gaza's land borders, airspace and waterways. Israel has used the cover of the blockade to continuously harass Gazans across the years, shooting at, and killing, fishermen and farmers. Presumably, they too posed a threat to Israeli sovereignty.
Needless to say, the blockade has decimated Gaza's economy, leaving citizens with limited access to drinking water, electricity and no infrastructure, as building materials continue to be turned back. This has meant that Gazans have been unable to reconstruct after any of Israel's wars on the small territory. To counter this, Gazans have turned to building what Israel deems as "illegal tunnels" under their border with Egypt, to smuggle in necessary supplies, including concrete, food and medicine.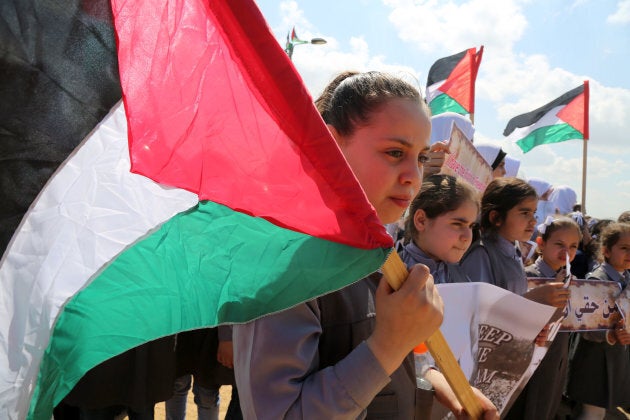 All of this has converted Gaza into what is often referred to as the largest open-air prison. Knowing all this, it's strange to hear the IDF go on about Hamas "controlling Gaza with an iron fist," for if anyone is controlling Gaza, it's Israel and not Hamas.
Instead of acting in the spirit of the peace-promoting country it boasts to be, the Canadian government has chosen a deafening silence, abandoning the very values it claims to live by. Canada must reassess its relationship with the Israeli government immediately. Russian diplomats were automatically dismissed for violating the U.K.'s sovereignty, so what of Palestine's sovereignty? What of the universal right of peaceful protest?
More from HuffPost Canada:

Pro-Palestinian Groups Are The Real Victims Of Campus Censorship

7 Palestinians Killed By Israeli Forces In Gaza At 'Land Day' Protest

Pro-Israel Government Policies Don't Speak For Most Canadians
In the days to come, the government may choose to finally break its silence, and if it does it will be to provide empty words of "concern," shock or dismay in fear of damaging a relationship with an ally. None of this, though, will do anything to help stop what the United Nations deems as illegal blockades and occupations of the Palestinian people. In fact, they will only work to reinforce the hegemonic narrative that has allowed Israel to take such oppressive actions to begin with.
In its silence, Canada has chosen complicity with violations of human rights and international law, violence over peace, and shady friendships instead of justice.