Visitors to a newly opened McDonald's in Italy can get an incredible glimpse of history alongside their Happy Meal.
When the fast food chain began construction on a restaurant in Frattocchie, just south of Rome, they discovered a 45-metre-long stretch of ancient cobblestones lined with three tombs.
The road was a branch off of the Appian Way — a highway built 2,300 years ago that Romans like Julius Caesar and Spartacus travelled.
McDonald's Italia spent €300,00 (about CAD$422,000) to excavate and preserve the archaeological site. The restaurant and museum opened on Feb. 21. Diners can access the museum and walk the road underneath the McDonald's, or head upstairs for a Big Mac where they can view the site through a glass floor.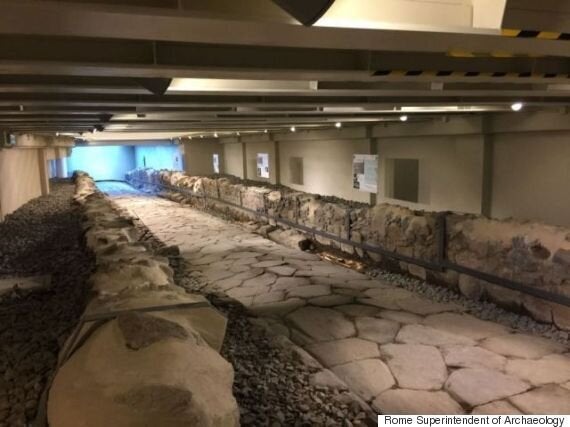 Archaeologists said in a release that the road was likely a side street, with drainage gutters, that was used for a few hundred years before being abandoned. It was likely buried for 1,500 years, the release noted.
Roman ruins discoveries are often reburied because they're too costly to excavate and maintain once they are unearthed. If left underground, the ruin is protected from further deterioration.
The Ludus Magnus, an ancient gladiatorial training ground next to the Colosseum in Rome, has been left mostly buried for this reason. The small portion of the ancient school is in poor condition, while the majority of the complex and tunnels lies hidden under nearby businesses. The same goes for the Circus Maximus, the world's largest ever stadium for chariot racing, which now lies almost entirely under a public park.
"Archaeology is constantly bringing to light testimonies of the past that have to be documented in an exacting manner but can't always be properly preserved," Alfonsina Russo, the region's archaeological superintendent, told The New York Times.
"We decided with McDonald's to protect and promote this important site, which would have otherwise fallen again into oblivion."
McDonald's Italia paid not only for the excavation of the roadway, but has promised to fund all future upkeep and offer the museum to visitors for free, no purchases required.
"The project is a good example of how the public and private sectors can collaborate effectively on reclaiming cultural heritage," said Mario Federico, the head of McDonald's Italia, according to The Telegraph.
However, McDonald's and Italy have a complicated relationship. In 2016, the company sued the city of Florence for €18 million when the city blocked the opening of a restaurant on one of its historic piazzas.
"We protect the historic Piazza del Duomo from the 'yellow archway' and its insatiable appetite," read a petition signed by over 24,000 Florentians.