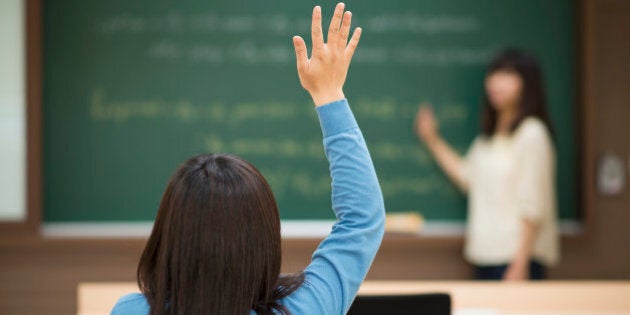 We confess: we've forgotten how to calculate the circumference of a circle. We don't know which elements go where on the periodic table, and we can't remember any Governor General from before we were born except the guy who donated the Stanley Cup.
But we do remember Mr. Fedrigoni and Coach Rogers -- pivotal teachers who left a permanent imprint on our lives. We recall the encouragement they gave and the life lessons they taught, as much or (far) more than the details of the curriculum. So as students count down the remaining days to summer vacation, it's a good time for each of us to thank a special teacher from our recent or distant past.
Almost two decades ago, 12-year-old Craig sheepishly approached his social studies teacher with a clipped-out newspaper article in hand. He wanted a moment of class time to tell the story of Iqbal Masih, the former child labourer from Pakistan who had been recently killed after speaking out. Mr. Fedrigoni not only said yes, but also gave Craig the pep talk he needed to overcome his nervousness. That seventh-grade speech launched Free The Children, and Craig isn't as nervous in front of crowds any more.
Fourteen-year-old Marc was an intimidated freshman in a big new high school when the rugby coach inexplicably pulled him aside and challenged him to try out for the team. Marc started lifting weights in his bedroom and running laps in the rain, but it was more than just tackling technique that his new mentor had in mind. Lifelong lessons in sportsmanship and leadership would flow over the following four years on the rugby pitch and in the school community.
When Coach Rogers asked Marc and his fellow seniors to help mentor a group of intimidated freshmen, the jocks defied their stereotype and leapt into the project, befriending the younger boys and smoothing their transition to high school. They leveraged their athlete star status to lead school fundraisers for a local youth shelter, and Marc embarked on a life dedicated to helping others. He still tries to coax our co-workers at Free The Children into rugby games at staff retreats.
Among the next generation in Battleford, Sask., many will remember Kelly Waters and Lamarr Oksasikewiyin. The teachers from St. Vital Catholic School and Mosquito Reserve School brought their students together this year to tackle the historic tension between non-aboriginals and First Nations in their region. After a day of team-building activities broke down barriers and prejudices, the students drafted and signed a "treaty" committing to honor and respect one another. Now these young people are standing up for each other against the racism and bullying they face, and the solidarity they sow will benefit Battleford for decades.
For the record, we remember Canada's provincial capitals and the difference between it's and its. We actually use the Pythagorean Theorem when building the foundation for a new school in Kenya without a framing square. But the reason we use that knowledge the way we do is because of Mr. Fedrigoni, Coach Rogers and all the other teachers who generously gave their time and energy to educating us in the extracurricular skills of life.
Think back to the people who most shaped your interests, worldview and career path, and you'll likely list a couple teachers who made their subject and their message resonate. So as our kids bring homemade cookies, gift cards for spa treatments, and even the traditional apple to their teachers' desks this June, let's all reach out to those special teachers in our lives. Track down an old favorite by email or phone, and give the greatest gift a teacher can receive: the knowledge of their long-term impact, and where all their hours of extra care and effort got you.
Craig and Marc Kielburger are co-founders of international charity and educational partner, Free The Children. Its youth empowerment event, We Day, is in 11 cities across North America this year, inspiring more than 160,000 attendees from over 4,000 schools. For more information, visit www.weday.com.