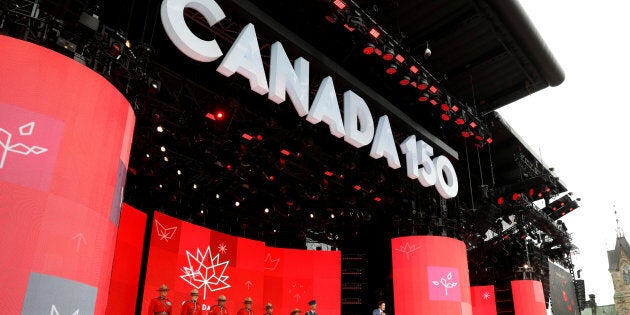 Festivities will continue for months yet, but the focal point for this country's 150 birthday culminated last week in birthday celebrations across the country and even with expat Canadians situated around the world. Though Shakespeare noted that, "With mirth and laughter let old wrinkles come," there is yet through the land a sense that we are vibrant enough to chart a more enhanced future for ourselves.
Call it 150+, the opportunity to see ourselves with all our potential, challenges, and opportunities to have a larger effect in a world more chaotic than at any time in recent memory.
Can we become more? To answer that question we require a good understanding of who we are and what our world has become. If we were honest, most Canadians would profess to being thankful to live in a comparatively quiet corner of the world that is as beautiful as it is vast, that is compassionate and smart, and that is seen as a civil nation capable of housing countless agendas. On top of that, however, we would have to admit that we have been too comfortably slow at respecting our natural environment enough to fight for its future or of finding the adequate healing mechanism for moving forward with our indigenous citizens.
So, it could be true that our vast country is bigger than our ability to manage it properly. It is likely true that, despite Vimy, Stanley Cups, Nobel prizes, Olympic medals, generosity to the world's poor, and an enduring peaceful federalism, that we are not yet what we can be. We would have to admit that underlying all that compliance and moderation we harbour those subtle prejudices and bigotries that have eventually unravelled other nations in different times. We are known for how many times we say "sorry," but have yet to develop the urgency that make our collective apologies effective enough to move on together with those we have failed or offended in the past.
Yet for all these challenges, there is a sense in the country that we are perhaps viewing ourselves differently. There has been more of a commitment to fight for gender equality, an improved willingness globally to struggle for an international development program that focuses on the advancement of women and girls to a degree unprecedented in our history. We have recommitted ourselves to a new era of peacekeeping that, though oblique at the moment, is a good match for our willingness to take a larger role in global military responsibility.
There was a time when pop star Bono declared that the world needed more Canada. We smiled, offered ourselves kudos, and then went about our business as though it didn't matter. Now it does and there is a growing understanding among Canadians that this country could well have an expanded role as the world moves into the challenging decades ahead.
Not all that many years ago (1978), Saturday Night editor Robert Fulford said he had learned that Canadian culture remained virtually hidden in the broader world. It now seems likely that such a statement is no longer true. Yes, Justin Trudeau has captured much of the world's attention, as with Edinburgh University's announcement to honour him with an honourary degree for his work on gender equality. But Canada's new presence in the world is about much more than one person or one party. It's not just because this country has changed but that the world itself has entered a troubled era – a time in which Canada's peaceful domestic accomplishments stand out all the more and, in fact, become the envy of the world.
True, as a people we are 150 years old, but all indications seem to point a future of greater global influence – not of the superpower kind but of the humanizing variety. We contain multitudes, more diversity than ever in our history, and yet in the process of making our accommodations with one another we are forging our place in the world. We have not only endured but have matured at just the time a challenged international order is looking for models for survival. In fighting for over a century for civic peace and global moderation we have made a greater place for ourselves in the larger world. We might be 150, but the legacy of our struggles is now about to have greater effect.
Follow HuffPost Canada Blogs on Facebook