Canada prides itself on being a country that espouses the values of fairness and equality. We must recognize, however, that Canada's history is one of settler colonialism, a violent process by which settlers from foreign lands dispossessed the indigenous inhabitants of this land, and established a society against the interests and consent of the people who were already living here.
While Canada is beginning to come to terms with this reprehensible past through acknowledging these truths, and is beginning the long and difficult journey of reconciliation, the same cannot be said for Canada's close friend and ally, Israel, with whom Canada asserts it has "shared values."
Israel, too, prides itself on being a country that it claims is a beacon of fairness and equality. However, Israel was established as a state -- similarly to Canada -- through the violent dispossession of the people who were already there, and who already had a society rooted deeply in that land for generations. This violent process of dispossession is referred to by the people who were already living there--the Palestinians--as "the catastrophe," or in Arabic, the Nakba.
Annually, on May 15, Palestinians in countries all over the world commemorate the Nakba, including in Canada. This national day of commemoration is known as "Nakba Day." Israel, sadly, refuses to come to terms with its violent history of dispossession of those who were already living there. Rather than embrace difficult yet morally essential conversations about what took place, Israel chooses to vilify those who even speak about the Nakba, and alongside its unconditional supporters abroad, seeks to silence any commemoration of it.
The Nakba often refers to events occurring between 1947-1949, in which the Palestinians were violently displaced from their homes, and hundreds of their villages were destroyed. Many are beginning to see the Nakba as an ongoing process of dispossession, though, which continues to this day.
Palestinians attribute this process of dispossession to the ideology of political Zionism, which asserts that Jewish communities of diverse ethnic and linguistic backgrounds form a single nation that belongs in historic Palestine, and which has rights to the land of historic Palestine that must take priority over the rights of the Palestinians who were already living there.
Political Zionism is responsible for the violent dispossession of the Palestinian people, millions of whom have been barred from returning to their ancestral homeland for nearly seventy years. This ideology justifies the Palestinians' continued oppression under a far-right Israeli regime, and has been opposed by a growing number of Jews since its inception.
Israel's state-building project has meant the demolition of over five hundred Palestinian towns and villages, literally wiping them off the map. The once-thriving country of Palestine is now concealed by greenwashing parks and forests, or replaced by newcomers to the land. This process is continuing in the Occupied Palestinian Territory through Israel's ongoing project of dispossession.
Nakba Day, therefore, is a sorrowful yet crucial day for the Palestinian people in order to keep alive the memory of what happened between 1947-1949, and to repeat their demands for basic human dignity and a modicum of justice.
This day happens to fall around the same time each year as Israel's birthday, known as Yom Ha'atzmaut, the day in which Israel unilaterally declared its independence as a state.
For the fifth consecutive year, Prime Minister Justin Trudeau released a statement in celebration of Yom Ha'aztmaut, affirming: "On this Independence Day, I am proud to renew Canada's commitment to a safe and secure homeland for the Jewish people, and to a lasting peace between all peoples in the Middle East."
Trudeau included in this statement Canada's intention to "fight" anti-Zionism. This would appear to be a pronouncement against Palestinians--including many thousands of Palestinian Canadians--who have suffered immensely as a result of the Zionist project.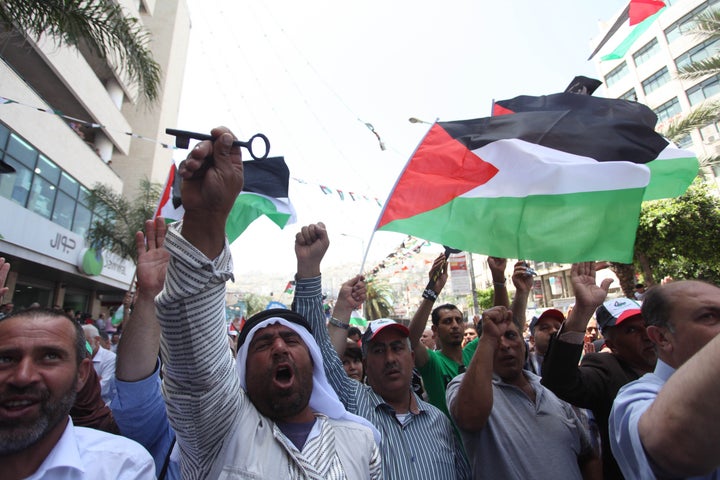 The release of this statement also happens to be the sixth consecutive year in which a Canadian Prime Minister has issued an official statement in commemoration of Israel's unilateral declaration of independence. Not once has a Canadian Prime Minister commemorated, let alone acknowledged, Nakba Day.
Efforts were made last year by Independent Jewish Voices Canada (IJV) to have our Prime Minster commemorate Nakba Day alongside Yom Ha'aztmaut. Such efforts did not succeed, despite over six hundred people sending a letter to the Prime Minister echoing this fair-minded appeal. IJV never received a response from Trudeau to our letter.
The Palestinian Canadian Congress (PCC) is now calling on Canadians to take up this issue. The PCC sent a letter to Trudeau referencing Canada's alleged commitment to playing the role of "honest broker" in the region. In the letter they state: "Celebrating Israel's narrative while ignoring that of the Palestinians' is not the impartial position one would expect from an honest broker, and is insulting and insensitive to thousands of Palestinians who now call Canada home."
As the results of a recent EKOS survey suggest, the majority of Canadians are sympathetic to the plight of the Palestinians. I believe most Canadians would also support such a reasonable request to our Prime Minister.
It's time for our Prime Minister to take the principled stand of commemorating Nakba Day.
Follow HuffPost Canada Blogs on Facebook