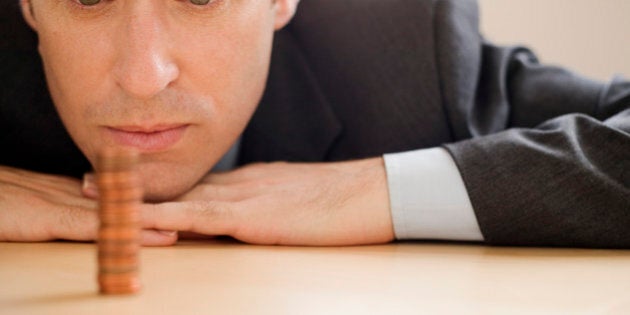 The fact many Canadians are living beyond their means and are vulnerable to economic shocks highlights the importance of Financial Literacy Month (FLM), which takes place each November in Canada.
A personal finance survey conducted for Chartered Professional Accountants of Canada (CPA Canada) about a year ago found that more than four in ten (42 per cent) of respondents are concerned about their personal debt. Not only that, 26 per cent of the respondents agreed that they sometimes purchase things that they cannot afford.
None of this should come as a surprise since the rate of debt to disposable income in Canada reached 164.6 per cent in the second quarter of this year. In short, for every after-tax dollar that Canadians earned, they owed $1.65.
Borrowing costs remain low but that won't last forever. So it is alarming when the personal finance survey reveals that almost half of the respondents (49 per cent) agreed that a significant rise in interest rates would make it challenging for them to keep up with mortgage and other payments.
Essentially, the strategy establishes a playbook reinforcing the fact that building financial literacy in Canada counts on the involvement and coordinated efforts of the public, private and non-profit sectors, all working towards a common goal.
This year, FLM aims to use the national strategy as a springboard to rally support across the country in the effort to help Canadians become better money managers.
The strategy sets out three goals for all Canadians:
1. Manage money and debt wisely
2. Plan and save for the future
3. Prevent and protect against fraud and financial abuse
Yes, FLM is a wonderful opportunity to raise awareness about the importance of financial literacy, but effective financial education programs and initiatives are happening year-round.
All Canadians should have access and the opportunity to become better informed about their finances. And Canada's accounting profession is making that happen!
More than 11,000 CPAs are trained and ready to conduct free financial education sessions in communities across the country through CPA Canada's financial literacy program.
No matter what day or month it is, it's never too late for all of us to sit back and take stock of where we are and figure out what we need to do to start down the path of financial wellness. We know from our research that Canadians view money management as an important life skill.
So, this November, look for opportunities to gain valuable financial knowledge to better position you to make informed decisions. On the flip side, if you have to the financial expertise to offer support, consider ways you can share that knowledge with others.
To "Count yourself in" visit FCAC's Canadian Financial Literacy Database to see the full range of financial education events taking place across the country. You can also check out CPA Canada's wealth of financial literacy resources on its website. Remember to join the financial literacy conversation online and stay connected via #FLM2015 and #CountMeInCA.