"As we sit here in these negotiations, even as we vacillate and procrastinate here, the death toll is rising. There is massive and widespread devastation. Hundreds of thousands of people have been rendered without homes. And the ordeal is far from over, as typhoon Bopha has regained some strength as it approaches another populated area in the western part of the Philippines."
Last December, while talks dragged on in the air conditioned halls of the 18th round of United Nations climate negotiations, Typhoon Bopha smashed through the Philippines and Philippine climate negotiator Naderev Saño delivered an impassioned plea for action. Today, on the eve the next round, history seems eerily doomed for a repeat.
"Madam chair, we have never had a typhoon like Bopha, which has wreaked havoc in a part of the country that has never seen a storm like this in half a century."
As I write this Supertyphoon Haiyan, the biggest storm in the world this year, is making landfall in the Philippines. With winds expected over 200 km per hour, and storm surges 3 meters high the storm is bearing down on an area of the Philippines already devastated this summer by a 7.1 magnitude earthquake.
It feels like I'm watching some sort of terrible, tragic cosmic joke as the climate talks in Warsaw prepare to open with a bleak prospect for any real action while Haiyan returns to make the point that the world seemed to miss with Bopha last year. The United Nations climate talks have devolved into what feels like a negotiated surrender. Year after year, somehow managing to get worse and worse in the face of undeniable facts and a global call to action not just from people, but from the storms, wildfires, droughts and floods that have become our norm.
This year, the head of the United Nations climate talks, Christina Figueres doomed this round of negotiations before it even began, rejecting the use of a "carbon budget" approach to a global climate deal because of the difficulty. Her unspoken admission is that the UN climate process has failed because it has no way of bringing renegade, historical polluters like Canada or the United States to bear. Giving up on the carbon budget because it would be too difficult to impose hard caps on the emissions of polluting nations, means giving up on the Copenhagen target of 2 degrees Celsius. More than that, it means that the United Nations climate process has accepted that thousands of lives will be lost and millions displaced because of the problem they are mandated to address.
Although this metaphor feels like beating a dead horse by now, the UNFCCC has truly become the fiddle while the empire burns.
Disasters like Supertyphoon Haiyan used to shock me, but now they just feed a slowly simmering anger. These events play out on our news feeds, but cost hundreds, if not thousands of lives and livelihoods while the fossil fuel industry and governments like my own pursue economic visions that would lock us into a 4-6 degree warmer world. The World Bank calls it catastrophe, others have called it a wake up call, I call it a threat. It is a threat leveled by the world's wealthiest corporations against our future, and its up to us to stand up and defend that.
The reality that we in Canada need to face is that the path we have allowed our government to chart makes us culpable for devastation around the globe. With the tar sands on track to grow over three times the size they can in a safe climate future, and a clear need to leave at least 80 per cent of our nations fossil fuel reserves in the ground, we are the potential triggermen of a worsening global climate crisis. Our government is committed to breaking our carbon budget, and its up to us to stop them.
"Please, let 2012 be remembered as the year the world found the courage to find the will to take responsibility for the future we want. I ask of all of us here, if not us, then who? If not now, then when? If not here, then where?"
We're a year late, and it's past time we found that courage.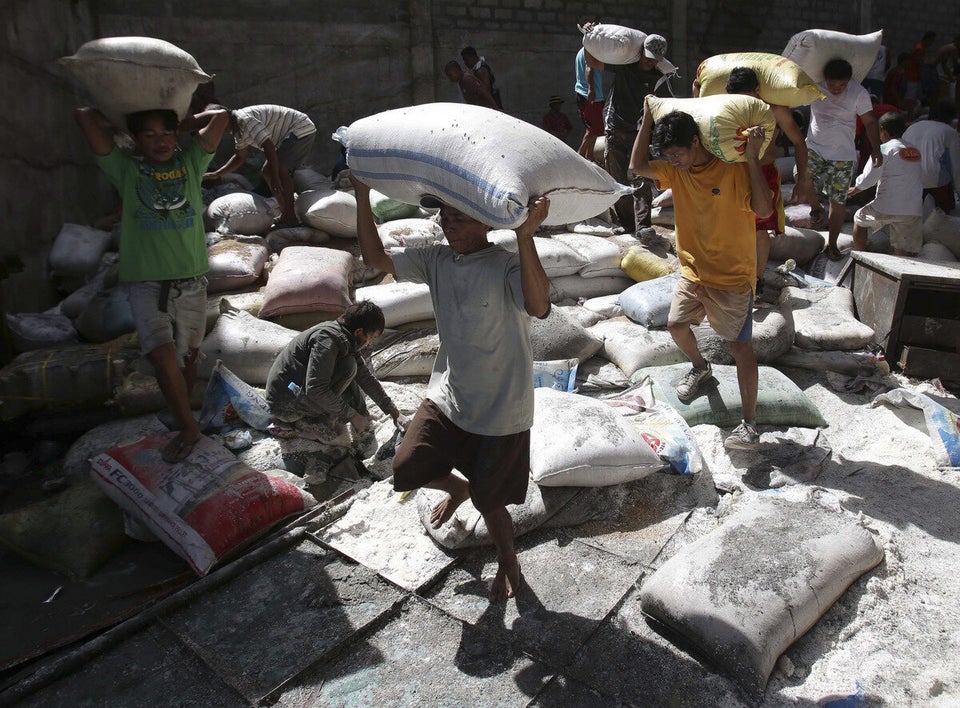 Typhoon Haiyan