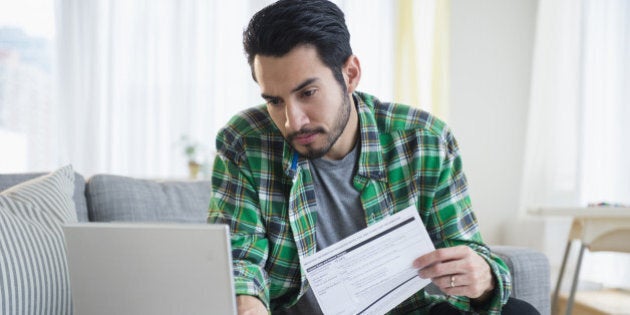 With economic conditions remaining challenging in Canada, we have seen several corporations looking at different ways to manage their profitability. From Bombardier, to Canada's Finning International Inc., the world's largest dealer of Caterpillar Inc. equipment, to several Canadian banks, reports of job layoffs is daily news. In January 2016 alone, Canada suffered 5,700 job losses, pushing the national unemployment rate to a two-year high of 7.2 per cent.
What do you do if you've unfortunately ended up on the wrong side of the pink slip and you do not have sufficient emergency funds to cover your expenses until you find your next job? Here are a eight tips to help you through the transition period.
1. Think budgeting. Disposable income goes first. This is the time to pick and choose what you spend money on. For example, eating out vs. eating in. Watching a movie at home might be better on your pocket than watching it at a movie theatre. You may be able to cut some expenses on cable bills, cell phone plans, and even your home & auto insurance.
2. Use your TFSA investments next. When thinking about where to withdraw your money from, it makes sense to use your TFSA account first, as the amount withdrawn, including any gains made on investments, is non-taxable. Remember, the contribution room is not lost because of the withdrawal. The amount withdrawn can be recontributed into your TFSA the following year or once you have found your new job and have sufficient income to top up your TFSA savings. TFSAs are efficient investment vehicles to keep your emergency funds in.
3. Use non-registered investments next. Taking money out of this type of account would not be considered income as the contributions made are from after-tax dollars. However, any realized gains at the time of sale of the investment would be taxable. So pick the investments to sell that have the least amount of tax implication.
4. Try not to use your credit card and avoid high interest debt. Credit card debt is one of the most expensive. Many institutions charge interest rates that are well above 20% per year. If you do have to borrow, consider other low interest debt options, such as any home equity lines of credit. Borrowing should be your very last option. If you are already carrying credit card debt, look to consolidate the debt with your cheaper home equity line of credit if you have one. Another option would be to switch to a different provider that might be offering lower interest rates for balance transfers.
5. Avoid withdrawing money from your RRSP. Your RRSP savings are meant for your retirement. This should be your very last option to withdraw money from, as the withdrawn amount would be treated as income for the year and taxed accordingly. Furthermore, the money withdrawn cannot be re-contributed subsequently into the RRSP, unlike a TFSA.
6. Don't stop paying your insurance premiums. Terminating a current policy and purchasing another one after you've got your next job could cost you a lot more, based on your age and health at the time. Your employer may give you an option to convert the existing insurance under their group plan, to an individual policy. Before you decide on those options, check on premiums with other providers on your own. You may be able to get coverage elsewhere at cheaper rates.
7. Consolidate your investment accounts. If you had a pension plan or group RRSP at your employer, move the balance into a locked-in RRSP or a regular RRSP held at another financial institution, as required by the plan. Many of the group plans charge you a monthly fee if your balances are not transferred out of the group plan by a certain date after your employment has ceased with the employer. Consolidating your investment accounts is a great way to save on costs associated with investing.
8. Review your investment portfolio and assess any changes that may be required. If you are working with a financial planner, give him/her a call and inform them about your job situation. Review the composition of your investments and determine if any changes are required. Discuss your withdrawal plans with your advisor to ensure you are making the right choices.
Getting a plan in place to help you through your transition period is one of the first steps you should take after a lay off. However, most importantly, keep calm and stay positive. This is perhaps a great opportunity to consider a career change, acquire a new skill-set, and take the time to spend on your hobbies that you did not get to pursue. Change is often challenging and scary. But in hindsight, you'll likely be glad that you went through it!
Pramod Udiaver is the Co-founder and Chief Executive Officer of Invisor Investment Management Inc., one of Canada's leading online financial advisors that provides personalized investment management services. Passionate about personal finance and a student of financial markets himself, Pramod & his team's mission at Invisor is to simplify investing and help Canadians reach their financial dreams sooner.
Follow Invisor on Facebook, Twitter or LinkedIn for insights into financial markets, personal finance tips and other educational content."
Follow HuffPost Canada Blogs on Facebook