Let me tell you a little bit about myself.
I'm 45 years old. I'm single. I've never been in a committed relationship. I don't have kids.
My parents both died when I was in my mid-30s. I've been estranged from my oldest sister for about 20 years.
I have profound hearing loss, due to deformed cochleas, and I identify as "hard of hearing" (HOH). I've also been diagnosed with Generalized Anxiety Disorder, and although I've never been formally diagnosed with depression (mainly because I am highly anxious about any kind of appointment), I strongly suspect I do have, at least, Seasonal Affective Disorder.
I am shy and introverted. Shy introverted HOHs manage social situations thusly: avoidance. This makes it difficult to maintain friendships.
I live in a small old house that, as with all old houses, seems to be in constant need of repairs. I do many of my own home repairs, as a way to save money. Because, let's face it, there is just never enough money.
I share my small old house with three elderly beagles, who have a myriad of age-related health issues as well as individual eccentricities that my heart often breaks over, like Archie's intense fear of thunderstorms.
There's lots of advice out there on how to be more joyful. Below are the things that work for me.
My job can be incredibly stressful. I work in a deadline-oriented environment, where clients depend on me to meet my deadlines so that they can succeed. I manage of staff of about 40, with the myriad issues that tend to pop up among a staff of that size. I also assist other people with disabilities, and I often end up flying by the seat of my pants to help during disability-related crises, like a panic attack, a seizure, or a wheelchair stuck in the snow.
Then there's this: I recently posted a new profile photo on Facebook, and the comments from my friends reflected one word: joy. "You're so cute Jacki and full of joy." "What a lovely picture!! You look so happy!!" "Best almost selfie ever! Lol Pets bring us so much JOY so you must be three times as happy and it shows."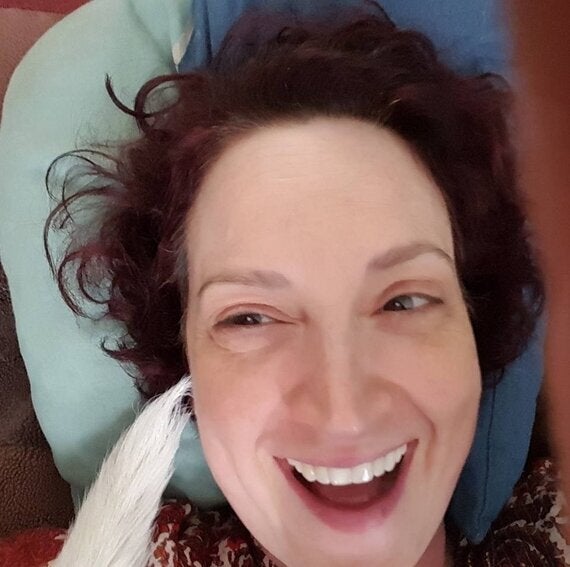 Should a person living a life like mine be full of joy? Well why not? Why can't we all live in joy?
There's lots of advice out there on how to be more joyful. Below are the things that work for me.
Happiness is a choice. Learn to see the silver lining in every cloud. True, I can't hear a baby cry or a bird sing, but I also can't hear the taps drip or my three dogs snore. At the same time. On my bed. At 2:00 a.m. (I know they snore because I can feel their little chests vibrate.) Sometimes you have to make a conscious effort to find joyful things to celebrate. It's worth it.
2 -- Set Boundaries and Ditch Toxicity
Born people-pleasers, many women have difficulty saying "no." I am one of them. But when something is making you deeply unhappy, you need to take care of yourself by setting boundaries and/or saying "no." It was extremely difficult emotionally, but that's why I let my sister go. Our personalities are not well suited to each other. She made me deeply unhappy--to the point where I sought counselling about our relationship. This unhappiness infected all areas of my life, and it was constant, even when I was not around her. Don't let toxic people steal your own happiness. That's how they "win"--by making other people as unhappy as they are. Do what you have to do to hold on tightly to your own joy.
3 -- Revel in Joyful Things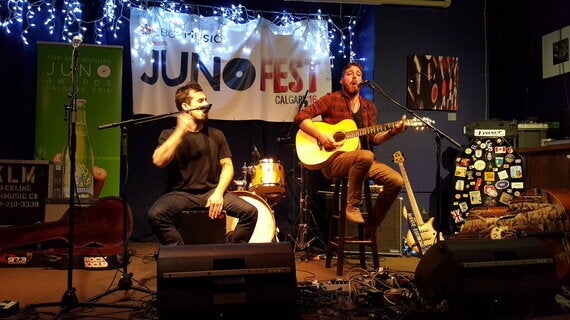 Jonathan Roy and Marky Beats performing at JunoFest in Calgary, AB on April 2, 2016 Let me tell you something: I may be HOH, I may be a shy introvert, but drop me into a concert full of music that I love and I turn into a raucous go-go dancer. I'm grateful to live a life that allows me to travel to other cities to see artists I enjoy. Again,there's a silver lining: I don't have a significant other who might frown on spending money this way instead of, say, saving for a boat. (I get motion sick easily and I certainly don't want a boat.) Make your best effort to do those activities that bring you joy.4 -- Use Positive Affirmations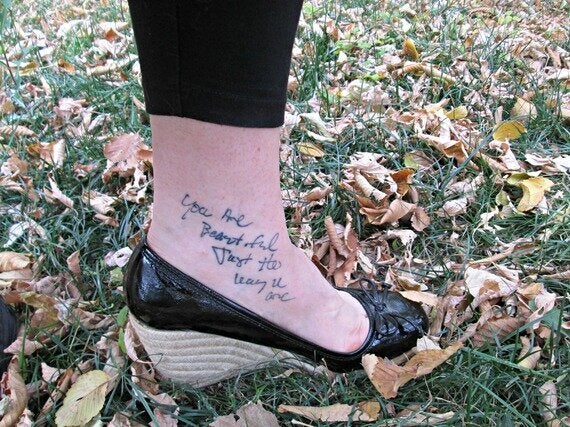 Tattoo (handwritten as part of an autograph by Corey Hart) reads: "You are beautiful just the way u are."Some people use sticky notes to affix positive affirmations to their bathroom mirrors. Other people (like me) tattoo affirmations on their bodies. Hey, whatever works! Wherever you put yours, you need to do more than write them out. You'll need to do a little work to put the power of positive affirmations into action, but it's work that's worth it.
According to Harvard Health Publications, studies show that "gratitude is strongly and consistently associated with greater happiness." When you actively seek to be grateful, you become attuned to positive things all around you. And, gratitude itself is a positive emotion. Gratitude journals get a lot of press, but offering up a silent prayer of thanks when something positive happens is all you need to do to tap into more joy.6 -- Practice Random Acts of Kindness
When I make other people happy, their happiness reflects back on me, and I soak that right up like a sponge. It's easy to add a little happiness to someone's day by doing something thoughtful and unexpected. Maybe it's sending a handwritten note to someone you haven't seen in years. Or maybe it's giving a homeless person a little more change than you normally do. It can be as simple as telling someone that you noticed their new hairstyle or covet their shoes. Whatever "it" is, just do it.
As Joseph Campbell said, "We cannot cure the world of sorrows but we can choose to live in joy." It's your choice to make.
Follow HuffPost Canada Blogs on Facebook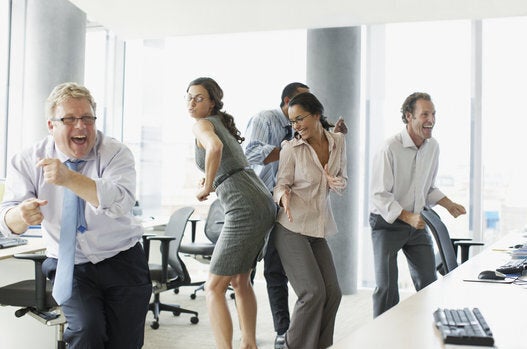 12 Tips For Happiness in 2016
Popular in the Community