OTTAWA — What were Canadian soldiers doing close to the front lines in Iraq after the Conservative government promised they would not be engaged in combat?
That's what NDP MP Jack Harris demanded to know Sunday after a Kurdish news agency reported that Canadians special forces members were mistaken for the enemy when they walked into an intense fighting area between the Kurdish Peshmerga and ISIL militants.
"We were all shocked yesterday to hear this, and the health of the three soldiers is obviously top of mind," Harris said, responding to Saturday's announcement that 31-year-old Sgt. Andrew Joseph Doiron from Moncton, N.B., was killed and three others wounded in a case of friendly fire in Iraq.
"But, you know, the real question was what were they doing there? We've got four soldiers… supposedly aiding and assisting, but the people they were supposedly aiding and assisting didn't seem to know they were there and ended up shooting at them," Harris said Sunday on CTV's "Question Period."
Kurdish Peshmerga commander Mosa Gardi told Basnews on Saturday that the three wounded Canadian soldiers might have also been killed if not for the Canadian special forces' driver, who warned the Peshmerga that the soldiers were not militants.
"On Friday night, there was intensive fighting between Peshmerga and IS militants, when the insurgents attacked our forces in Qapani village near Bashiqa, north of Mosul," Gardi is quoted as saying.
"During fighting," he said, "the Canadian advisers left their vehicle and walked to the area. They got very close to the fighting without our co-ordination and when the Peshmerga saw them, they asked who they were. The Canadians answered in Arabic, leading the Peshmerga to believe they were IS militants, and shot them."
Defence Minister Jason Kenney, also appearing on CTV, offered a different story and stressed that the Canadians were not in contact with the Islamic State of Iraq and the Levant – commonly referred to as ISIL or ISIS.
Kenney said the incident occurred about 11 p.m. Friday, close to Irbil in northern Iraq about 200 metres from the front line. He said the soldiers had been in the area earlier in the day and were returning to the observation post.
"Apparently it was a case of mistaken identity," Kenney said. "At least one of the Kurdish Peshmerga militia at the observation post opened fire on our Canadians, and, unfortunately, four of them were hit before their identity could be established."
Kenney said there would be an investigation to find out what exactly happened.
"These cases of so-called friendly fire are regrettably a reality of any kind of military deployment. There is always this inherent risk and this was not a combat operation," the defence minister said.
Harris, the NDP's national defence critic, said the government had misled Canadians "all along the way" about the mission. In September, Prime Minister Stephen Harper had promised that the special forces members would be serving in only an advisory capacity, he said.
"Now, we see that is not the case."
Harris was troubled that Kenney did not refer to Doiron's death as a combat death, when a 2002 friendly fire incident in Afghanistan that claimed four Canadian lives was called Canada's first combat deaths since Korea.
Harris said he is most concerned for the three wounded soldiers and Doiron's family.
"But, in the face of that, there is also a little bit of anger that this could happen when we were promised that it would not be happening."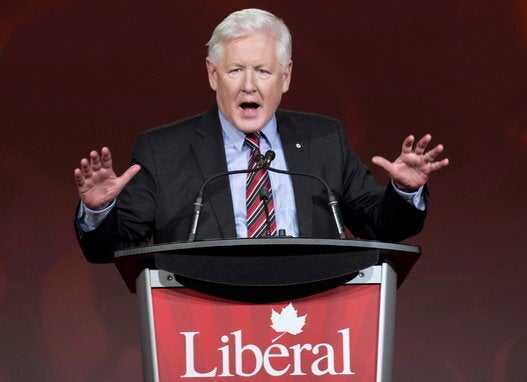 Liberal Stalwarts On ISIL, Iraq