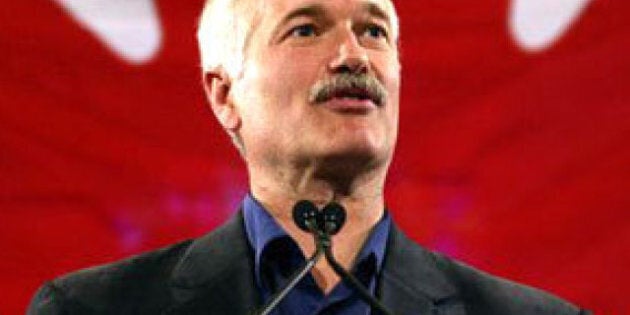 Jack Layton is one the Canadian politician I respected most, yet never had a chance to support.
The first time I met him was when he was a candidate for the leadership of the NDP in 2003. I was intrigued by him for having earned the endorsement of Barenaked Ladies' Steven Page as well as young people of all backgrounds. It seemed there was a movement of some sort in everything he had tried in public service.
In person , he was as colourful and interesting as he was on TV (yet much shorter). Years later, as I was considering joining the NDP, partly because of him, I was met with many challenges. Because I was coming from the Liberal Party, many in the party resisted me joining them and foolishly assumed I was a Liberal spy.
It was in a charity event in Quebec's Museum of Civilization where I had a moment with him.
In one dark corner of the magnificent building, I laid out my complaint with the NDP. He listened patiently and asked me to provide him with a napkin and took out a pen and wrote out his private cell phone number. He asked me to call him anytime I wanted so we could have a conversation.
In the coming years, I called him on many occasions. I phoned when I wanted him to come to an event and when I had an idea that I believed was worthy of his support. In all of these conversations, he made time for me and respected my points of view. I often felt like I was talking to Canada itself.
In an area of Danforth, where I was working to have the area declared as Little Ethiopia, was the last time I met him. I had invited him for a live interview with Toronto's newest immigrants and everyone was excited to meet a potential Prime Minister of Canada.
In a beautiful cozy Ethiopian restaurant named Wanza Restaurant, we conducted an interview with him for about 20 minutes.
He did not patronize nor discount the young and new immigrant faces that were in front of him. He never inquired about their ages or status of citizenship. He spoke of a Canada that was just, fair and accessible for all of us. He spoke of his grandfather who was once a Liberal blind activist as well as his own father who was a Brian Mulroney Progressive Conservative Cabinet Minister.
He spoke of the challenges of public service and his uncompromising stand when it comes to human rights. Knowing he had once kicked out an MP over the issue of equal rights, I asked him if that was the price he was willing to pay in substitute to being Prime Minister.
He quickly replied how he wished to not be Prime Minister if he had to compromise his stance on human rights.
At the end of the interview, the room stood up and gave him a standing ovation as he handed out a book he had written. Everyone surrounded him and shook his hands and one young person screamed how she wishes she had a chance to vote for him had she been old enough.
He grabbed her by the hand and reminded her that being involved in her communities was just as powerful.
A month before he died, as he was giving his final farewell, as he was struggling to speak I could not help but remember the night I was privileged to have interviewed him. The passion in his voice, the fire in his belly and the vigour he possessed were rare.
It has been a year since he died. What has not died is the spirit of the many people he has inspired. He was a rare Canadian! For Jack Layton, what mattered was we were involved.