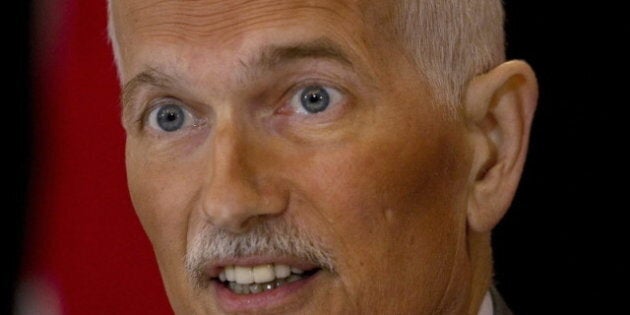 Jack Layton's surprise announcement Monday was particularly startling for Canadians who had closely watched the NDP leader's spectacular spring election.
Hobbled by a hip fracture and the early media questions about his prostate cancer, Layton appeared to get stronger each day of the campaign. His cane became more of a prop than a walking aide; his voice grew stronger, his step quicker.
It was as if the popular uprising that swept him into office as Leader of the Opposition had swept away the cancer as well, along with any question about his future capacity to lead.
In his obvious love of politics, Mr. Layton is a match for any other leader. It comes across as an expression of love of life, which is why, perhaps, Canadians feel they know Mr. Layton in a way they may not know other political leaders.
What is the immediate future of the NDP, so new to the role of official Opposition, with its caucus of neophytes? Layton's endorsement of veteran union leader and new MP Nycole Turmel as interim leader was lauded by political watchers. Ian Capstick, owner of Ottawa communications firm Mediastyle, told Postmedia that the choice evens the playing field for the NDP's two deputy leaders, Thomas Mulcair and Libby Davies, should a future leadership race take place:
"You don't put them (as the interim leader) because then you're accidentally elevating somebody, or you're upsetting that really delicate balance that's been created between east and west, left and right, English and French, urban and rural," Capstick said.
But as the National Post's Tasha Kheiriddin notes, Layton's step-down couldn't come at a worse time for a party struggling to balance its Quebec members and the rest of its caucus. It was "Layton's personal popularity that accounted for much of the NDP's sweep," Kheiriddin writes. "Losing 'le bon Jack' might well mean losing a considerable amount of appeal."
Don Martin of CTV's Power Play suggests the threat of Layton's absent is grave for the party, because "Jack Layton doesn't just LEAD the NDP. In most voter minds, he IS the party." As Martin notes:
With all due respect, neither of the deputy leaders -- Thomas Mulcair or Libby Davies -- are sufficiently in Layton's league to keep the NDP aloft at a record levels of popularity. So recover he must. And not just for the NDP's health.
Mr. Layton is the New Democrats' glue - partly because New Democrats have to defer to his popularity, and partly because he effortlessly straddles these different groups. But if he's all that's holding them together, then sooner or later they'll fall apart.