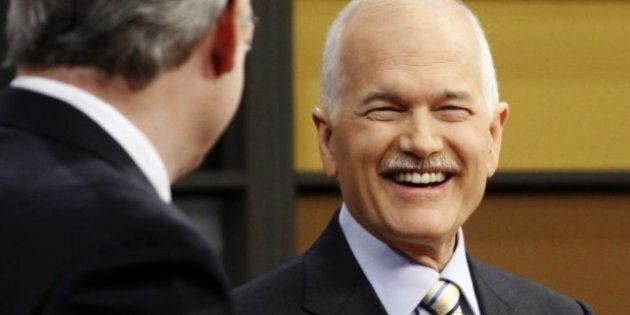 Canada lost a true and very charismatic political leader today. Jack Layton lost his battle with cancer. He will be remembered as a man who was extremely dedicated to his party, and who was a natural-born leader. Very few people actually follow their true calling in life. They fall into their careers, and somehow one day leads to another. Jack Layton was exactly where he needed to be. Although public life is not easy, his sense of commitment to better people's lives and his work ethic were some of the qualities that distinguished him from the pack.
Over the next few days, tributes will pour in from all regions of our country, and from people from all walks of life. In times like this anyone who has ever worked in politics, or who has been an elected official knows that regardless of our political stripes, we are one big family. We have lost one of our own.
But it is also times like this that cancer survivors are at their most vulnerable. When I heard of the news of Jack Layton's passing early this morning, I felt let down. As cancer survivors we are also part of one big family. Losing a member of this family is a painful and sad reminder that some of us heal and others just don't. News like this always seems to hit close to home.
A fighter until the very end, and more importantly, true to himself, Jack Layton left a letter with thoughts to his fellow caucus members and to all Canadians. In this letter were also a few additional thoughts. They were meant for his family of cancer patients and survivors. His message is as follows:
"To other Canadians who are on journeys to defeat cancer and to live their lives, I say this: please don't be discouraged that my own journey hasn't gone as well as I had hoped. You must not lose your own hope. Treatments and therapies have never been better in the face of this disease. You have every reason to be optimistic, determined, and focused on the future. My only other advice is to cherish every moment with those you love at every stage of your journey, as I have done this summer."
How appropriate that he would leave parting words for the very people who would find this news the hardest to handle. And he is right. We need to be optimistic, as it is an essential component on the road to healing. Having a positive mindset makes the road on your journey much smoother to go along. Each of us has so much to live for. I know that if I stopped for a minute and thought of the people and things in my life that I was grateful for, my list would be infinite. So I take the time daily to do so.
And I am grateful for the loved ones around me who are so supportive, understanding, and who constantly push me to be my best in all that I do. I am also grateful for the smaller, but nonetheless important things as well. It feels great to finish a good run. A run where you feel as if you can climb a mountain and shout out to the world "I feel great!" Sometimes I will see a beautiful flower, and find pleasure with that.
Early this morning I was on my rather long commute from my house to the office. As I was approaching the border from one province to the other, a huge rainbow appeared in the sky. It was the most beautiful rainbow I had ever seen. It wasn't the usual part or half rainbow. This was a full rainbow, with beautiful bright colours. I immediately made a wish, and thought it was going to be a special day. In fact the rainbow was going to be at the centre of my blog today.
And I guess in a way it is; in the message of this one last gift.