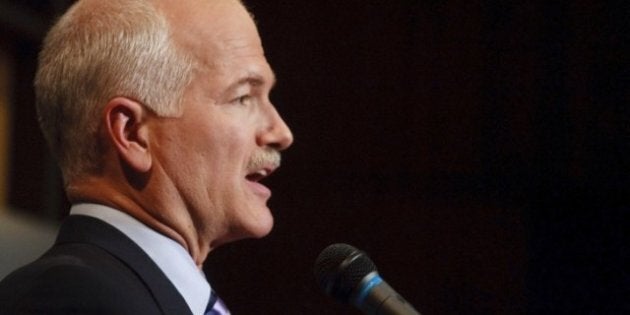 Even if you didn't agree with his politics, the news of Jack Layton's death this morning spurred thousands of mini-eulogies and condolences from Canadians across the country. Through Facebook, Twitter, and in the comments of our story this morning, many of you have expressed your grief and sadness for the loss of a Canadian icon.
Here's a roundup of what you had to say about Layton's legacy.
Robert Rickover: "A very sad day for his family, and for Canada. We'll miss you Jack!"

Awt Keral: "We aren't aware of what we have.... until it's gone."

GeoToronto: "You may not agree with his politics, but you have to commend him on his dedication to his country and party."

relentless63: "Dearest Olivia ... Our hearts are with you. The country will be even colder and less human without him."

Huzie: "A man of the people. A real loss for the working people of Canada. I wish we had more leaders like him in here the United States"

jachartrand: "He was a politician who people, regardless of party could look to. They are rare in policitics these days and their loss is a loss for all Canadians regardless of personal politics. A bright light has gone out and he will be missed."

farmerlady: "RIP Jack. May your successor come soon to carry on your ideals. Canada and all of North America needs them more than ever."
Liz Madgett: "That's very sad news. Jack, you are free and at peace now. You fought hard battles both politically and medically. You have left a strong foundation and all of your hard work was not in vain."

Dave Smartt: "RIP Jack Layton. Taken just as his political career was reaching its prime & before he could fulfil the promise he had."

Kristopher Dylan Jennings: "I cant believe it happened so soon.This is a sad day for Canada."

Chris Wilkie: "You were a mighty warrior. You will be missed. It is a sad day for Canada."

Peter Grevstad: "Rest in Peace, Mr Layton. Your political work remains an amazing gift to Canadians. We'll miss you."