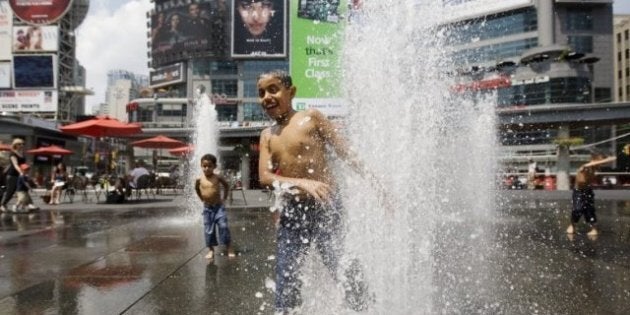 Few politicians could garner an impromptu memorial quite like Jack Layton has. His death has spurred gestures across the city, like the chalk murals at Nathan Phillips Square and the flowers and candles left in front of the home he shared with his wife, Olivia Chow. Even a fierce rainstorm couldn't wash all the messages for Layton away — Torontonians returned after the rain to write them again, leaving more flowers, and relighting the candles.
A new bid for a more permanent Layton memorial started this week. The Facebook group titled "Campaign to Create Jack Layton Square" was started in a bid to get Toronto's Yonge and Dundas Square, an icon of the city's downtown core, renamed in honour of Layton. After being online for only three days, it has already gained more than 2,400 likes.
Amy Lavender Harris, the creator of the group, says that changing the name of the square is a more lasting way to commemorate Layton's life and legacy in Toronto. "To say, 'I'll meet you at Layton Square' is a way to make it prominent in the city's identity," she says.
Harris also says that while a park may be another way to remember Layton, it doesn't encapsulate what he believed in. "[Parks] don't represent the totality of Layton. He was very much a populist," says Harris. "Tens or thousands of people move to [Dundas Square] every day. They're going to work, they're going to play, they're shopping, they're living. It's now the epicentre of the city."
Still, Yonge and Dundas is a highly commercialized piece of property within Toronto's downtown core, and effectively represents the city's attempts to have Times Square of their own. For a name change to pass, it needs to first be brought to the square's board of management, and then to City Council. Both the board and city councillors need to agree with the proposal.
"The square has some corporate sponsorship," says Councillor Wong-Tam. "Jack Layton may not want to be associated with the way the business model for the square works." When advertisers buy space in Dundas Square, they get to rebrand the area as they see fit. Yonge and Dundas is heavily commercialized and corporate, and while it may be a hub in downtown Toronto, it might not be what he wanted to be associated with.
"Jack Layton, of course, is deserving of a great honour," she says. "I've had a lot of people yell out to me that we should rename Nathan Phillips Square [after Layton]." While that name-change isn't feasible, there are other options, like renaming Queen's Park or a park at 11 Wellesley West.
"But knowing Jack the way I do as a friend, I don't know if [Dundas Square] would be his priority," she says, saying Layton would rather the city work on preserving social services, the arts, and bike lanes. "The square is a nice honour, but I think Jack would want us to work on the city."
Layton's public Toronto funeral will be held at Roy Thompson Hall Saturday at 2 p.m.
Popular in the Community