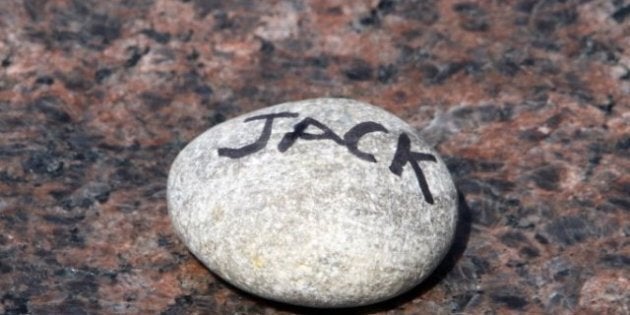 Going global is no easy feat, even for a much-loved Canadian politician who passed away after a battle with cancer before attaining his goal of being prime minister. Since early Monday morning and for the better part of Aug. 22, 2011, Jack Layton somehow became a worldwide trending topic as droves of international mourners took to social networks to tweet, blog and create art all in his memory.
As many as 1,000 individual tweets were shared per hour during that period, or so we were able to ascertain by using Topsy.com (a handy tool that extracts real time intelligence from the social web).
While most trending topics stick for an average of 11 minutes at a time, we were stunned that for over 11 hours, hashtags #JackLayton and #RIPJackLayton were popping up on Trendsmap.com from places as far away as India. While breaking news and politics often fair well as trending topics, it was the special timeliness of Jack Layton's final words that captured people's imagination the world over.
"Love is better than anger. Hope is better than fear. Optimism is better than despair. So let us be loving, hopeful and optimistic and we'll change the world," he wrote in a letter shared by his partner and NDP colleague, Olivia Chow on Monday.
These words, tweeted verbatim over 3,000 times on Monday, were also the status updates for thousands on Facebook. The words were immortalized in Twitpics as many Canadians attended impromptu memorials across the country and etched the sentiment in chalk over and over again.
The most shared image featuring chalk art, taken by MP and NDP Foreign Affairs Critic @PaulDewar, which shows an Ottawa sidewalk emblazoned with the famous quote, quickly became one of the most retweeted images of the day with close to 5,000 views. However, sidewalk art wasn't the only thing that Layton's words inspired. Enter Stuart Thursby, a Toronto Art Director who was inspired to create a series of 11X17 printable posters featuring many of Layton's final quotable moments. These images went viral almost immediately, appearing on Facebook, Twitter and everything in between as the commemorative profile picture of choice.
While a myriad of Canadian musicians came forward to share condolences, from Broken Social Scene to Barenaked Ladies, it was British singer/songwriter Billy Bragg who showed that Layton's passing had meaning even for those not originally from Canada. "A sad day, both for Canada and for those of us on the Left: Jack Layton, leader of the NDP has passed away" tweeted Bragg.
Images and tweets also emerged to document the immediate installation of a special Ghost Bike installed in front of Layton's office on Broadview Avenue in Toronto, Ontario. These bicycles are apart of an international art project, installed as "somber memorials for cyclists who are killed or hit on the street." In this case, the bicycle commemorates Layton's ongoing support of cyclists.
A day later, the memorials online are far from over. We were among the first to retweet Christiaan Rapcewicz's (@queerbeat) Twitter campaign to support the creation of a new trending topic. Rapcewicz is asking those with Twitter to sign an online petition and include the hashtag #PaintTheCNTowerOrange in their tweets in order to make it trend globally. As it has done so brilliantly for the past 24 hours, the social web can do what it does best to influence Toronto City Hall to change the LED lights of the CN Tower to Orange on Saturday to mark Layton's state funeral at Roy Thomson Hall. If not to commemorate Layton's legacy, then to globally embody his final words: "Don't let them tell you it can't be done."