In the early hours of Aug. 22, 2011, a man died of an unknown cancer. He wasn't a man well-known to most of the world. He wasn't a man that's going to be held up as one of the world's greatest philosophers, or someone that made a great contribution to science. He wasn't that kind of man, and if you're from a different part of the world, you probably don't know his name.
According to his family and friends, John Gilbert Layton preferred that you called him Jack. He was a die-hard Trekkie, and had his own custom-made Trekkie uniform that he wore at conventions. He was a musician, and loved to gather his friends and colleagues, singing songs from the 1960s. He would encourage everyone to sing, even if you didn't know the words. He wore funky glasses and blue jeans. He kept his hair long.
Today, a statue of Jack is being unveiled by Toronto's waterfront to celebrate his memory and what he meant to Canadians. And so I want to talk a little about Jack, about what he meant to me as someone who didn't know him, because it's been two years since he died -- but I still benefit from his political spirit daily in my quest to find my own voice and fight for injustice.
Jack became one of Canada's greatest politicians, his party reaching Official Opposition status in the 2011 election. Jack was the leader of the New Democratic Party, a party that reaches out to Canadians of every race, culture, socio-economic status and age. The NDP wants an end to poverty and hunger. It wants Aboriginal Canadians to have agency over their own lives and governments. It wants social and economic equality, and it wants those with the privilege of wealth to take the burden of taxes.
When I was a young 18-year-old back in Sarnia, Ont., I got to vote in my first election in the year 2000. I knew then what I stood for as a person -- someone who wanted equality and fairness across the country. I cast my first vote for the NDP, and in the 2004 election, I cast my first vote for the man I wanted to be Prime Minister: Jack Layton.
I never knew Jack Layton personally. I wish I had. He was a man who took no bullshit from anyone. He started in political science in university and quickly rose up through the ranks of politics to become a Toronto councillor. He championed the causes of AIDS sufferers and the homeless. He was one of the first to support equal marriage for GLBTQ people. And he was who he was -- he never wavered in his cause to make Canada a better place.
I'm writing this from the point of view of someone who admired Jack and the way he presented himself to the world. He was a professor at Ryerson University. I can only imagine what it must have been like to listen to Jack speak in person. On TV, he was compelling. Everyone in the room would stop what they were doing to listen to him.
The NDP was confirmed Official Opposition, going from a small party with a few seats in the House of Commons to being the next biggest party with the second largest amount of seats, in the summer of 2011. This was a result of one of the numerous elections we were having due to Parliamentary difficulties. And like every other time I voted in an election, I went to vote with my family. I took the hand of my girlfriend and we walked to the voting station on that hot summer day, where I carefully X-ed in my choice in deepest black - NDP. I wasn't voting necessarily for my local Member of Parliament. I was voting for Jack, because I knew this time, he would do it for Canada.
And he did. For the first time in history, Jack's party stood in direct opposition to the ruling party in Parliament. Without going into a lot of detail, this meant that the NDP had a lot more clout in Parliamentary doings than they ever had before.
And we were proud. He wasn't the same man with long hair and glasses, but he was still Jack - the man we trusted to represent us as a country.
Jack presided over his party in Parliament for exactly one month before he was diagnosed with an unknown cancer. Always the man who never gave up, he told Canada he'd be back in the saddle in no time, as soon as he was able to beat this new enemy in his life. Like he'd beaten the incumbent councillor he'd replaced in Toronto council. Like he'd ousted everyone in his path to become a federal party leader. And we believed him, because with Jack, you just knew he meant every word he said.
I was on the subway platform, waiting for the subway to take me to work, when the news flashed on the subway TV screens. "Jack Layton dead," it said. "4:45 am this morning."
The subway rattled to a stop beside me, but I didn't get on it. I just stared at the screen. Beside me, a young girl, about 18, burst into tears. Without thinking, I turned to her and started to cry, too. And we hugged, there under the TV screen at Dufferin Station, while the news of Jack's death kept flashing overhead.
It's been two years since Jack Layton died. Toronto mourned. Canada mourned. I think of him sometimes when I pass Nathan Phillips Square downtown, where thousands of mourners came to write chalk messages on the grey tiles beside the fountain under City Hall. They thanked Jack. They told him what he meant to them as Canadians.
Usually, opposition leaders are not afforded state funerals, but the Prime Minister offered one at his own discretion to Jack's wife. And so we watched that week as Jack was laid to rest, as all of his accomplishments and his memories were recounted to a country who loved him. People thronged the streets of Toronto, silent tears glittering on cheeks, heads upturned towards the huge screens piping the images of Jack's memorial down to us.
This essay is the first I've written about Jack Layton, simply because before, I didn't know what to say. What can I say? I didn't know him. He was a political leader. But he was so much more than that, too. He was a colleague to everyone. People say that to meet him was like meeting an old friend. He loved to talk, to laugh, to be with people. He loved Canada, and Canadians of all political stripes loved him back.
I will say it's odd to cry over someone you'll never meet in person. It's weird to feel like the hope of a country was dashed the day that Jack died. He was no angel. He seemed to be an asshole at times, actually. He wasn't afraid to tell people where to go and what to do. Watching him in Parliament was a treat, as he swelled up like a turkey, his face turning red from anger, as he yelled about Canada's various injustices. And the press loved to paint him as arrogant and uncaring, a smarmy used-car-salesman of a politician. There are people in Canada who agreed with that.
What Jack represented to Canadians was the hope that things would change. That those traditionally in the underdog role would rise above and be someone someday. That we'd be heard, not only in Parliament, but across Canada. And to some degree, that's been true. Jack gave Canadians the strength to protest against injustice. He told us that we needed to fight for what we needed from our government. And my one regret is that I'll never see Jack be Prime Minister. That was my dream.
Before Jack died, he penned an open letter to Canadians. And the last sentence of that letter is this:
"My friends, love is better than anger. Hope is better than fear. Optimism is better than despair. So let us be loving, hopeful and optimistic. And we'll change the world."
So maybe you'll never know who Jack Layton was to Canadians. Maybe you won't really understand what he meant to someone like me, a gay woman in the class of the working poor. Maybe you don't care. And that's cool. He wouldn't have wanted to be celebrated as a saint. He wanted to throw attention on the people who needed it most.
But that man -- that wonderful, just, political, caring, charismatic man -- is part of the reason why I found my strength to stand up for what's right. And he ignited a hope within a country, that though he's gone, we still have the strength he gave us to continue his work.
So he might not be a great world philosopher, no. But he was a great Canadian, and there isn't a day that goes by that I wonder what Canada would have been under him as Prime Minister.
Hope is better than fear. Love is better than anger. Stand up for what you believe in... and you can change the world.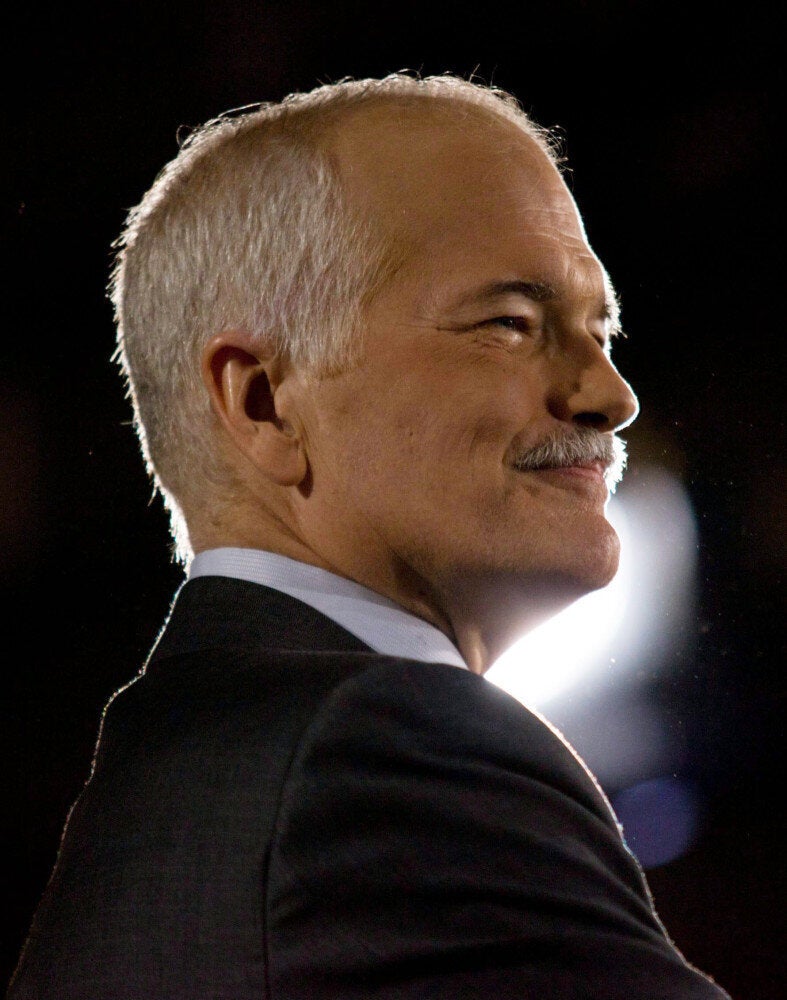 11 Surprising Facts About Jack Layton