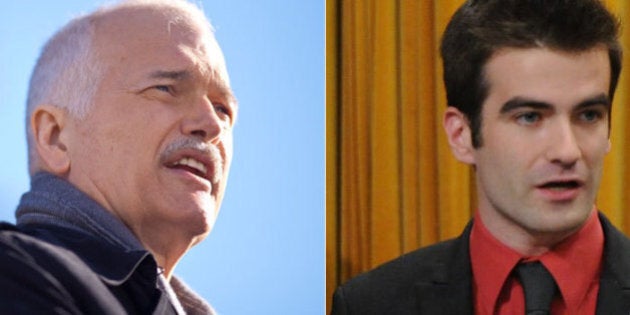 TORONTO — Former NDP leader Jack Layton's death made the party stronger, says a 2011 "orange wave" MP from Quebec.
Matthew Dubé, the MP for Chambly—Borduas, told a McGill university alumni crowd in Toronto Tuesday that Layton's unexpected death forced MPs band together as a team and work harder.
"It happened so quickly after the election, when we lost Jack, and I think, it made us stronger for it," Dubé said. "If anything, his absence pushes us to be better."
Dubé said he believes Layton's death motivates current leader Thomas Mulcair and all New Democrat MPs.
"When you lose someone like that at such as a critical moment — where we were when he passed [having achieved official opposition status and an unheard of 103 NDP seats, including 59 in Quebec] — there is two directions you can go in. You can sort of get lost in your negative energy or you can say he left us a great gift and we are hoping we can share that gift with Canadians come October."
Layton's legacy looms large for New Democrats. In October, the party released an online ad, titled "Our Story," that attempted to highlight links between Layton and Mulcair.
The three-minute video featured several clips of Layton addressing supporters during the 2011 election. Its ends with Mulcair saying: "We've started something special. Now let's get the job done."
Recently, an NDP candidate in Scarborough—Rouge Park, K. M. Shanthikumar, handed out campaign literature with a ghost-like Layton image smiling above Mulcair and the candidate. Shanthikumar told The Huffington Post Canada he put Layton's image on the handouts — with NDP headquarters' permission — because he wanted to remind voters that the former popular leader is still "watching over every one of us."
"He is watching over our activities and supporting us, and we haven't forgotten him," he explained.
Shanthikumar said people talk favourably about Mulcair but "there is more respect" for Layton.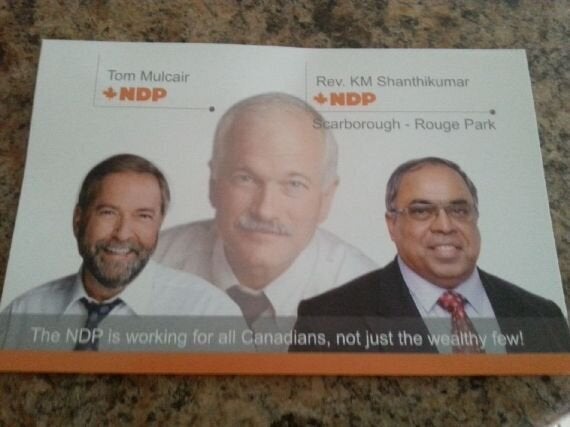 Dubé told HuffPost that the Scarborough—Rouge Park handout is a reflection of the NDP's heritage.
"Our history is our identity, I think there is no shame in showing people where we are," he said. "I think that the love that people have for Jack and everything that he was able to accomplish as leader takes nothing away from what a great leader Tom has been."
The federal election is slated for Oct. 19, 2015.
With files from Ryan Maloney