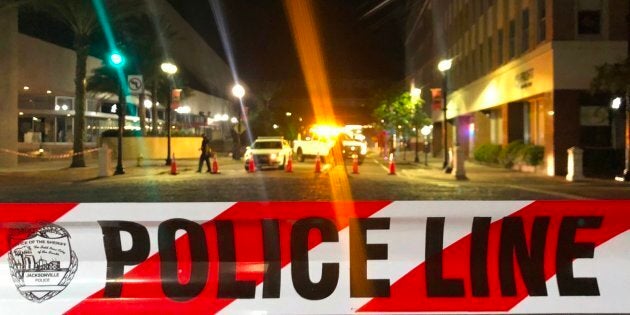 A gunman opened fire during a video game tournament in Jacksonville, Florida, on Sunday, killing two people and himself.
The Jacksonville Sheriff's Office confirmed Sunday that three people were killed and 11 were injured during the esports event at the Jacksonville Landing shopping mall, which is located in the city's downtown area. The shooting took place at the Chicago Pizza restaurant.
Authorities are working with the FBI to confirm the suspect as David Katz, 24, from Baltimore, Maryland. There are no other "outstanding suspects at this time," Jacksonville Sheriff Mike Williams said.
The sheriff told reporters the suspect used "at least one handgun" and had been competing in the event.
Williams reported that nine of the injured sustained gunshot wounds and that two others were hurt while fleeing the scene. He cautioned those numbers could change, as some people may have transported themselves to area hospitals.
American eSports organizations tweeted that the shooting occurred during the southern qualifier round of the "Madden 19" championship series, a football video game tournament.
The unconfirmed suspect was a frequent competitor at Madden gaming events and sometimes went by the names "Ravenschamp" and "Bread." At a "Madden 17" gaming event, an announcer described Katz as someone who "keeps to himself" and "is not here to make friends."
Authorities did not release any information about a potential motive and could not say whether Katz knew any of the victims.
"This is a horrible situation, and our deepest sympathies go out to all involved," tweeted video game company EA Sports, which organized the tournament.
A livestream of the tournament appeared to capture the shooting in real time. The video, hosted on livestreaming platform Twitch, appears to show players participating in the tournament before 12 gunshots are fired.
WARNING: The video below contains graphic footage and audio. HuffPost has not been able to independently verify its authenticity.
Viewers were quick to point out that a red laser dot seemed to appear on the chest of a player wearing a red sweatshirt and white headphones moments before gunshots rang out.
Jacksonville Landing tweeted it was "fully cooperating" with law enforcement officials and ongoing investigations. The shopping mall is located roughly 300 miles north of Parkland, Florida, where a gunman killed 17 people at Marjory Stoneman Douglas High School in February.
Six patients had been transported to University of Florida Health Shands Hospital, a spokesman for the hospital told HuffPost. One patient was in serious condition and five others were in good condition, he said.
"Three patients were shot once, three patients were shot more than once," Marie Crandall, a doctor at the hospital, told WJXT-TV. "They are all alert. They are all speaking with investigators."
Three patients were transported to Memorial Hospital in Jacksonville and were in stable condition, a spokesman for the hospital told The New York Times.
CompLexity Gaming, which represents player Drini Gjoka, tweeted that he had been "grazed in the hand" during the shooting.
"We're obviously shocked and saddened by this afternoon's events," CompLexity CEO and founder Jason Lake told HuffPost in a statement. "Our player, Drini, was hit in the thumb but is going to be fine. He managed to escape and run down the street to a nearby gym. He's currently cooperating with the authorities and we will be flying him out of Jacksonville as soon as we are given the green light from the officials on the ground."
Sujeil Lopez told the Times her 25-year-old son, Timothy Anselimo, was among those injured. Anselimo, who goes by Larry, was shot three times, according to his mother.
Lopez posted a photo of her son in his hospital bed surrounded by friends, captioning the tweet, "God was with these guys today."
President Donald Trump has been briefed on the incident, White House press secretary Sarah Huckabee Sanders said in a statement. Trump held a rally at the Jacksonville Landing in October 2015, an early stop in his presidential campaign.
Sen. Bill Nelson (D-Fla.) expressed "shock and outrage" over the shooting.
"Law enforcement are doing their jobs under horrific circumstances and it's important that people in the Jacksonville area heed their warnings," Nelson tweeted.
Jacksonville Jaguars owner Shad Khan released a statement following the shooting, saying he was heartbroken by the news.
"This tragedy will ask the best of all of us, but I know we will respond," he wrote.
Nina Golgowski, Andy McDonald, Rebecca Shapiro and Samantha Tomaszewski contributed reporting.