Another male voice can be heard saying, "take it in the a**."
She asked the men whether they thought they were funny. One responded, "I think that it was funny but I think that it was commentary."
Bernstien then asked whether they wanted to be on TV because she was filming them as she spoke.
"For who?" one asked. One of them then displayed a surprised expression and said, "wait," as Bernstien explained why "FHRITP" is offensive.
"It's about women, it's not funny," she said.
The man with the surprised expression then said, "You haven't heard it? You haven't heard it as a joke ..."
Bernstien then responded that she has heard the joke many times, and that it's "really rude. You're making fun of rape, and I'd appreciate it if you don't do it again."
One of the males can be heard saying, "sorry" on the video, and the final shot shows one man covering his face with his hand, while the surprised man waves to the camera.
Bernstien explained on Facebook that the incident occurred while she was VJing — that is, reporting and handling a camera by herself.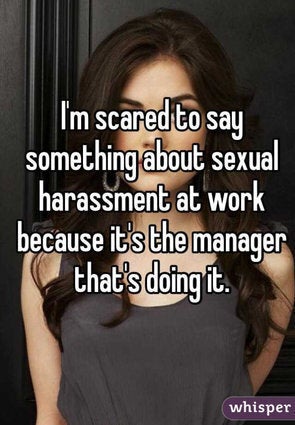 Tales Of Sexual Harassment At Work
Popular in the Community