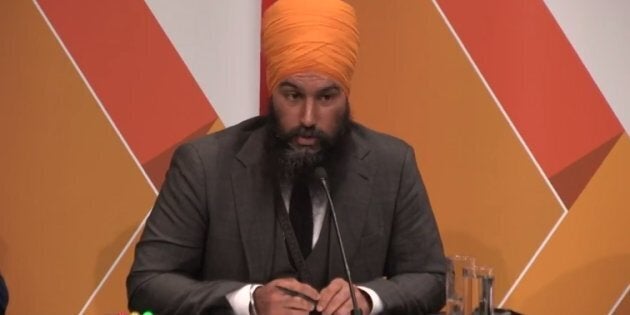 Ontario MPP Jagmeet Singh pitched himself Tuesday as the only candidate in the NDP leadership race who could help the party grow, but he left himself vulnerable to accusations of being the least likely to champion party policy.
"I'm the growth candidate in this race," the 38-year-old declared in his opening remarks at the debate in Saskatoon. "I'm connecting with people and bringing them to our home with the NDP. This is our path to victory."
"We need to build a movement, that grows our membership, that adds new volunteers and members. I can do that for us," he later added.
Angus lobs worst NDP insult of all
Other challengers — federal MPs Niki Ashton and Guy Caron — mostly ignored Singh's assertion and didn't dispute his claims.
But Charlie Angus lobbed the worst NDP insult of all — saying that Singh was behaving like a Liberal.
While mentioning working with the NDP's late leader, Jack Layton, and touching on a sensitive point for many rank and file members — the sense that party headquarters in Ottawa ignored them during the last campaign — Angus said the path to victory lies with having field workers in every region of the country.
"We've won by putting the organizers on the ground, not by having someone come in and say I can do this all by myself," Angus argued. "That's been the problem with that central theme, that little group in Ottawa that says, 'You know what, we are going to get a big image, we are going to get a big spin and we are all going to win.' That's what Liberals do; that's not what New Democrats do."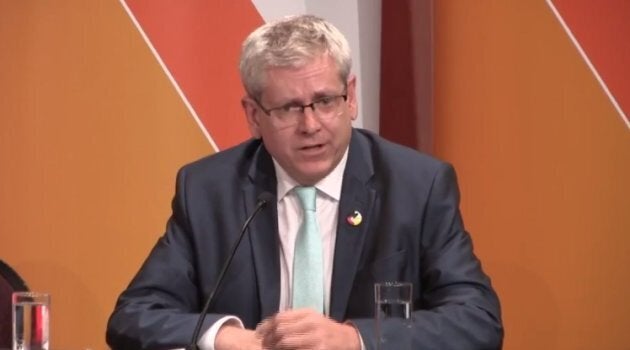 A question about the influence of candidates' faith on their political agenda allowed him to explain why he wears a turban and to allay any fears that his Sikh religion might make him less than rock solid on issues such as same-sex marriage and abortion rights.
"We believe that there is an energy that we all share, one energy between all of us, he said. "That energy connects us to each one another but also connects us to the planet."
He told the crowd that "a lot of these values were exactly what drew me to the New Democratic party, to social democracy, to justice." The idea "that we need to stand up for the rights of all people, we need to see the connection between all of us, and if we hurt the planet, we hurt ourselves."
We've won by putting the organizers on the ground, not by having someone come in and say I can do this all by myself.Charlie Angus
Singh's statements Tuesday suggested he is more flexible on an issue in which the NDP has always been unanimous, namely abolition of the Senate. While Singh expressed his disgust with the current appointed upper chamber as "an affront to democracy," he suggested a "potential solution" might include "making it an elected position instead."
"Having a second body might have made sense if it was elected, if it was democratically elected and if it was proportionally representational to the will of the people," he said.
When candidates were asked if they would bring back the long-gun registry, Angus and Caron quickly said "no." Singh's answer: "It's a difficult question, absolutely. I know that's why it is asked.
"I also think it's important that we acknowledge regional differences, the fact that there is a different culture between the way things are treated in different regions."
Ashton accuses Singh of 'divisive language'
On climate, Singh also tried to have it both ways. Where Angus called for hard caps on emissions, Singh said it is important to acknowledge that "one size doesn't fit all when it comes to a carbon plan.... We need to also know that every province is different, so we need to approach that differently."
During the debate, Ashton told Singh she was taken aback by his comments that the pipeline debate too often descends into Alberta-bashing and demanded to know which New Democrats he was talking about. Singh responded "people in general" were knocking NDP Alberta Premier Rachel Notley and pitting "workers against environmentalists."
She accused him of using "divisive language" that would pit one region of the country against the other and hurt the party. He lashed back, noting that Ashton doesn't have a climate change plan.
Singh also accused Caron, a Quebec MP since 2011 and the party's former finance critic, of being "inconsistent" on his plan to eliminate poverty. Caron has proposed a basic annual income to address poverty.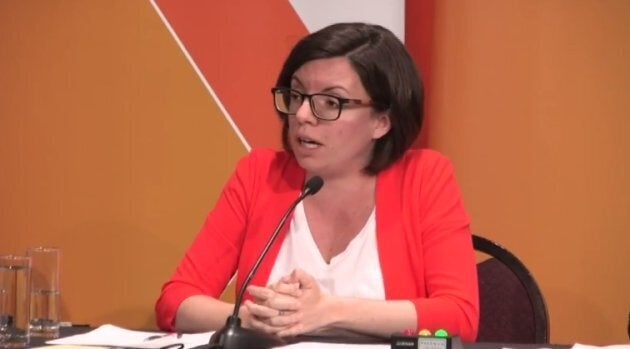 "I think you're confusing two things here," the MP told Singh. "It's not income-tested as you are saying, it is income-based to ensure that the objective to eliminate poverty is addressed through the tax system."
Singh's face seemed to acknowledge that his effort to poke holes in his challenger's policies had fallen flat.
But the harshest criticism came from from Angus, who, a Mainstreet Research poll suggests, is leading the race, with Ashton in second place and Singh in third.
'You need to do some research'
Angus, who pitched himself as a party stalwart and non-politician who oozes authenticity, attacked Singh for wanting to weaken NDP ideals of universality of basic social programs.
"Universality of old age pensions is one of our fundamental principles.... Why would you take position that Liberals and Conservatives would have liked?"
"Old Age Security is not universal right now. So you need to do some research," Singh shot back. "Right now, if you earn more than $70,000, it is already clawed back. So I guess you need to double check your facts."
People with wealth "need to give that wealth to those" living in poverty, Singh said. While he believes in universal health care, pharmacare and daycare, Singh said, he also believes in income transfers.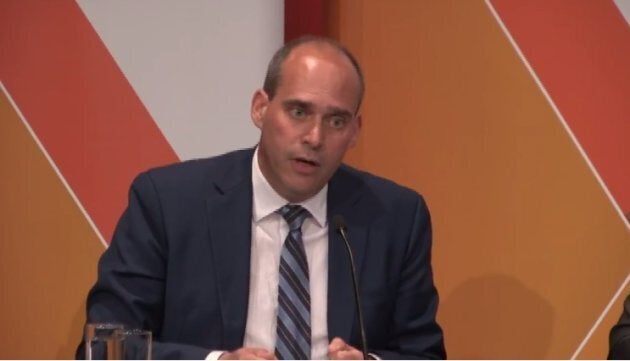 "If someone is earning a million dollars a year, they don't need a thousand dollars a month [from the government]," he said.
"You're talking about people who make a million dollars when I am talking about widows, who are going to be having their savings clawed back because they have to cash bonds to pay for a funeral," Angus responded. "It's the indignity of [how seniors are] treated ... and you, my friend, when you make it seem like it is a great progressive idea, well, where I come from that is not progressive," he added, in an unfriendly tone.
"Seniors fought for that. Seniors should have that protected. And that to me is the fundamental principle of New Democratic party values in this country," Angus said.