SURREY, B.C. — If the Conservatives win the most seats on election night without obtaining a majority, NDP Leader Jagmeet Singh says he will ask Liberal Leader Justin Trudeau and other parties to form a coalition government.
"Oh absolutely, because we are not going to support a Conservative government. We are going to fight a Conservative government. We are going to fight it all the way," Singh said Sunday at a rally in Surrey in response to a question from HuffPost Canada about working with the Liberals, Greens and the Bloc Québécois.
Singh said that while it's a "hypothetical situation," he is "ready to do whatever it takes" to keep the Tories from power.
The NDP leader did not draw a distinction between working with the Bloc or not. "I'm ready to work with anyone," he said in French.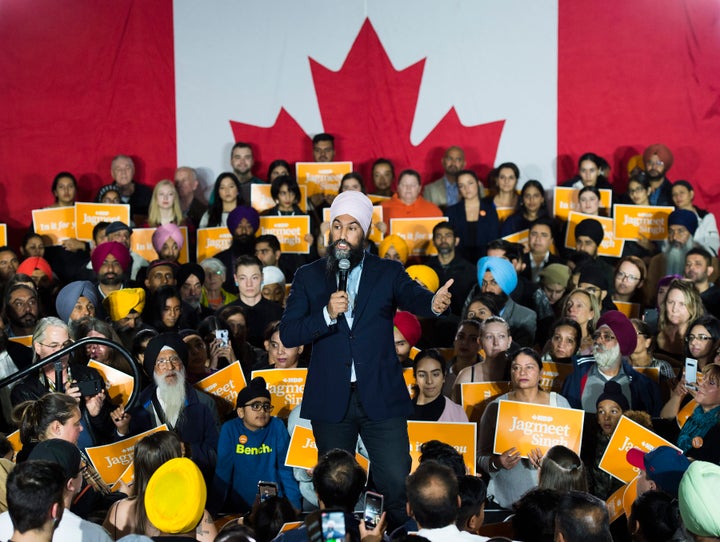 In 2008, the Liberals and the NDP sparked a backlash by attempting to defeat Stephen Harper's Conservative minority government with Bloc support.
Singh, whose party is enjoying a bump in the polls following his positive debate performances last week, is trying to ensure would-be NDP voters do not fear casting a ballot for New Democrat candidates will increase the odds of a Tory government.
With polls suggesting the Liberals and the Conservatives are neck-and-neck, the Greens and the NDP are both fighting the possibility that progressive voters may feel they need to vote strategically for the Liberals to keep Andrew Scheer from becoming prime minister. Singh has said he believes Scheer is worse than Trudeau, but earlier on Sunday he said people should vote for the change they want.
"In any scenario that happens, whatever Canadians choose, I'm going to make sure Canadians get the best deal. I'm going to make sure we fight hard for the things that are our priorities, I'm going to make sure we deliver those things," he said.
"And I've made it really clear, I'm going to fight Conservatives because they cut and make services worse for people. And with more New Democrats, you are going to be assured that we [will] change things."
Singh has laid out his list of six "urgent priorities" in the event of a coalition government:
universal pharmacare and national dental care,

investments in creating affordable housing,

lower cellphone bills,

waiving interest on student loans,

reducing greenhouse gas emissions and an end to subsidies for the oil patch,

a "super wealth" tax for those with wealth of more than $20 million.
He has also said he cares about electoral reform and opposes the twinning of the Trans Mountain pipeline, calling those "priorities" too. He has been careful, however, not to use the word "conditions" when speaking about his priorities in the event of coalition negotiations.
When asked for a comment Sunday, the Liberal campaign team did not say whether Trudeau would engage Singh in talks.
"We are campaigning hard to stop Conservative cuts, and elect a progressive government," spokesperson Carlene Variyan wrote in an email.
UPDATE - 10:48 p.m. ET: This story has been updated with a statement from the Liberal party.