HAMILTON, Ont. — NDP leadership contender Jagmeet Singh defended himself Saturday against comments from a caucus MP who suggested his turban would make him unappealing to Quebec voters.
NDP MP Pierre Nantel told Radio-Canada that Singh's religious symbols were incompatible with the province's values.
"We don't want to see any ostentatious religious symbols. We think that is not compatible with power, with authority," he told journalist Louis Blouin on the sidelines of the party's regional caucus meetings Saturday in Hamilton, Ont.
Nantel, a self-described nationalist, said he didn't want to say Singh would hurt the party's chances in Quebec; he just wanted to stress that Quebecers wouldn't recognize themselves in Singh.
Singh told reporters it was the first he had heard of Nantel's views but that he doesn't think most Quebecers will be bothered by his turban or his kirpan, a ceremonial Sikh knife he wears.
"I think the evidence doesn't make out what he's saying. The evidence shows that that issue is not a single issue in Quebec," he said. "The people of Quebec have a rich history and heritage of being open-hearted and open-minded, one of the most progressive provinces on a number of issues," he added, citing cheaper post-secondary tuition, subsidized daycare, and the treatment of the LGBTQ community.
"I'm confident that I'll be able to reach out on the issues that matter."
Nantel described Singh as a "rock star" and, referring to a now viral video, said the entire country is now aware of his "beautiful reaction" in front of an Islamophobic protester, who was accusing him of supporting Shariah law.
"I still think that as charismatic as he may be, there are incompatibilities with what Quebecers want to see in their public leaders, in their politicians," Nantel added.
Singh's campaign has tried to make Quebecers comfortable with their candidate. In a French video, he is shown putting his turban on and explaining that as a child he learned Quebecers' language struggles were similar to his Punjabi parents' fight for language rights in India. The parallel spurred him to learn French.
I've never said that I want people to accept the way I look.Jagmeet Singh
Singh said he has tried to show that he has "a deep respect for Quebec," its language and its culture. "I've worked very hard at demonstrating that," he said, noting that he had signed up a third of the province's 4,900 NDP members.
"I've never said that I want people to accept the way I look. I want people in Quebec to accept that I have the values and the beliefs, the social democratic and progressive beliefs that will benefit the people of Quebec," Singh added.
"I grew up with people telling me that I would never become a provincial member of Parliament, that I would never have the chance to be a leader of a national party, so I've been told that something is not possible, and that's never stopped me in life," he said.
Nantel said he was moved to speak out this week, first in an open letter in the province's Le Devoir newspaper after hearing some of the party's leadership candidates suggest that Ottawa could inject itself into a provincial debate on secularism.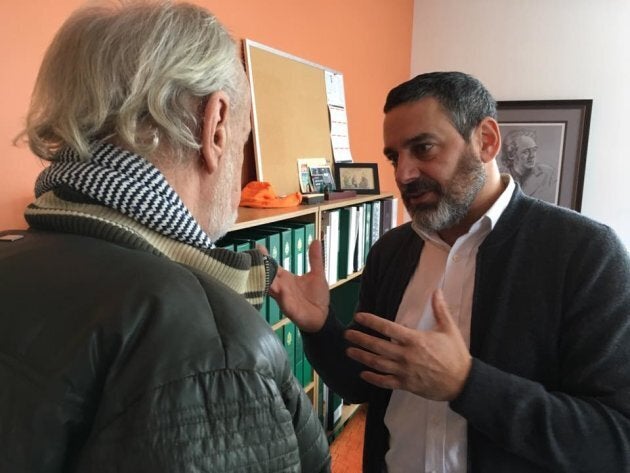 "It is absolutely out of question that as a representative of Quebec I would let Parliament inject itself in decisions that belong to the National Assembly," he said.
Nantel didn't name them, but Charlie Angus, Niki Ashton and Singh have all suggested they are uncomfortable with legislation proposed by the provincial Liberal government that has all-party support. Bill 62 would prevent women who wear the niqab, burka, or any other face veils, from providing or accessing government services.
Singh told HuffPost Canada, earlier this summer that if Quebec adopts Bill 62, he might consider helping local groups appeal the law — if it came to that. Angus and Ashton have been more muted in their commentary, and Singh has not repeated those comments publicly.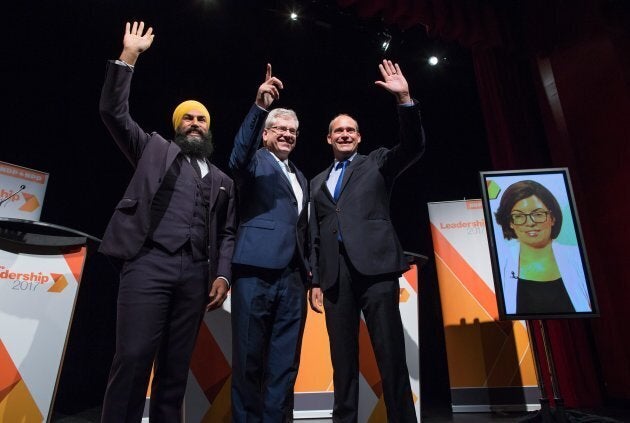 Mulcair says he hasn't changed his mind
NDP Leader Thomas Mulcair told reporters Friday that, while he shares Nantel's general concerns about the NDP's ability to attract people in Quebec, he is uncomfortable with Bill 62 and the Quebec government's inability to tell its citizens if the law would prevent veiled women from using public transit, for example.
"I haven't changed my mind that people who are elected are there to defend principles, basic values that we have in society, and defend the rights of religious, and ethnic and linguistic minorities," he said. "That is part of my basic values, and I have never changed my mind."
Mulcair noted that several years ago during discussions on the Parti Québécois's proposed charter of values, he had offered to defend for free anyone who lost their job because of their religious garb.
If you have personal values of defending individual rights, don't back down from that, even when the going gets tough.Thomas Mulcair
The departing leader said it wasn't up to him to decide how the party should respond to Bill 62, but he urged the leadership candidates to be very clear with their positions and stick to them once taken.
"If you have personal values of defending individual rights, don't back down from that, even when the going gets tough," he said.
Nantel said he feels that the partnership that Quebec social democrats struck with the New Democrats of Canada back in 2008 when he took out his membership is now at risk.
He would be unable to follow Singh — if he's elected party leader next month — unless Singh changes his tune regarding respect for Quebec's legislative sovereignty, he said.
"He is extremely active.... We love seeing him go, [and] he's bringing a lot of members to the party, but it's very clear to me that he has big adjustments to make, otherwise I don't understand. I can't follow that."
Popular in the Community