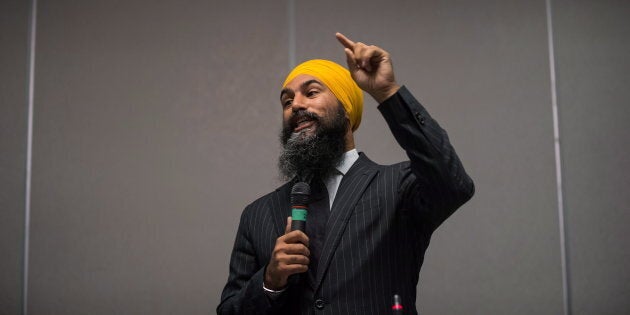 Doug Ford's government in Ontario proves the prime minister's excuse for rejecting electoral reform doesn't hold up, NDP Leader Jagmeet Singh says.
The NDP leader made his case in a speech to his caucus in Surrey, B.C. Wednesday. He took aim at how Prime Minister Justin Trudeau warned that changing Canada's first-past-the-post voting system could embolden "fringe," far-right parties.
"First past the post didn't stop Doug Ford from coming into power in Ontario," Singh said, sparking laughs. "It didn't stop him from using the notwithstanding clause to continue a petty vendetta against the City of Toronto, to abrogate our charter rights to continue this vendetta."
The NDP leader, a former Ontario MPP, was referencing how Ford is invoking Section 33 of the Charter of Rights and Freedoms on legislation to slash the size of Toronto city council days after a judge deemed the law unconstitutional.
Even though Ford did not mention the plan during his campaign, the premier has pointed to his recent electoral mandate — in which he won a majority government with 40 per cent of the popular vote — to justify the move.
Trudeau had promised the 2015 election would be the last under the first-past-the-post system, which gave Liberals a majority government with 39 per cent of the vote.
A special all-party committee later recommended switching to proportional representation (PR), so long as it had the support of Canadians in a national referendum.
New Democrats have long advocated for proportional representation because it means a party's share of seats in the House of Commons would more closely reflect its share of the popular vote.
But Singh appeared to reference that issue, too, with swipes at federal Conservatives and renegade MP Maxime Bernier who quit the Tories last month to launch his own party.
"First past the post didn't stop Andrew Scheer from appointing a Rebel Media former head as his campaign director. It's not stopping that," Singh said.
"And first past the post didn't prevent Maxime Bernier from launching an anti-immigrant political party."
Hamish Marshall, who will serve as the Tories' campaign chair in 2019, was once listed as a director of Rebel News Media. The controversial right-wing site is a known purveyor of anti-Muslim stories.
Scheer distanced himself from The Rebel last year over coverage of a white nationalist rally in Charlottesville, Va. that was widely seen as sympathetic to organizers.
The Rebel was banned from covering the most recent Tory policy convention in Halifax, N.S., but The Globe and Mail sparked chatter by reporting on how Marshall was spotted talking to members of the outlet on a restaurant patio.
Current system 'encourages' fringe parties: Singh
Bernier, who finished a close second to Scheer in last year's Tory leadership race, is expected to reveal more about his party this week. But the NDP leader evidently already believes that it will be the exact extreme party that Trudeau feared could come along under a different system.
"The reality is that when our electoral system allows the views of the minority to win out over the views of the majority, it doesn't stop fringe political parties, it encourages them," Singh said.
"And that's why we've got to stop it. We've got to bring in electoral reform to give power and voice to people."