OTTAWA — He is the candidate many New Democrats hope will take the federal leap — a bright light who represents the future of the party, and a leader who could potentially compete against Prime Minister Justin Trudeau, say supporters.
Outside of the Greater Toronto Area and NDP circles, however, few have heard of Jagmeet Singh.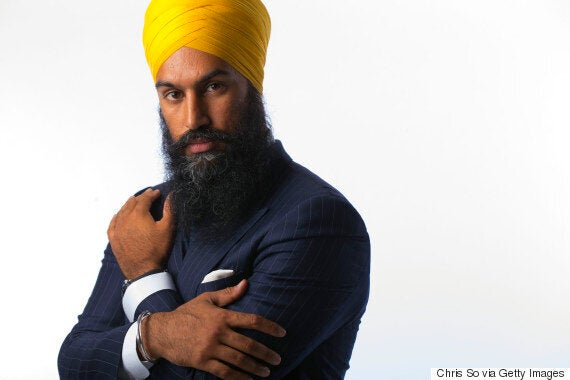 Singh, 38, is a confident, charming, political organizer who currently serves as deputy leader of Ontario's NDP. With a provincial election around the corner in 2018, Singh has an important decision to make.
Does he jump into the federal leadership race — a contest many high-profile New Democrats have eschewed? Or does he stick around provincially, and line himself up to take over from current leader Andrea Horwath if she loses the next election, or a senior cabinet portfolio if she wins.
In an interview with HuffPost Canada, Singh acknowledged the dilemma.
"I'm considering all the options. What would be in the best interest of Canada. What would be in the best interests of the progressive movement... these are some of the factors that I'm thinking about as I chat with folks."
Provincially, it's an exciting time to be a New Democrat, he said. Pointing to the 1990s, when then provincial NDP leader Bob Rae won a surprise majority government, Singh said the party has "an amazing opportunity to really shine." The governing Liberals under Kathleen Wynne are deeply unpopular and the New Democrats' platform will differ substantially from that of the Progressive Conservatives. The party also has a popular leader in Horwath, Singh noted.
Still, Singh — who speaks English, Punjabi and a remarkably high level of French — is testing the field. Supporters are calling to encourage him to enter the federal leadership contest. He is gauging interest, fundraising capacity, and organizational strength.
"I'm definitely keeping the doors open, listening to what people have to say. I'm really honoured by my position, like I'm really excited with what I'm doing provincially as well, so I will definitely continue to listen to what people have to say," he repeated.
"How's that? Did I skate it well, or what?" he added with a laugh.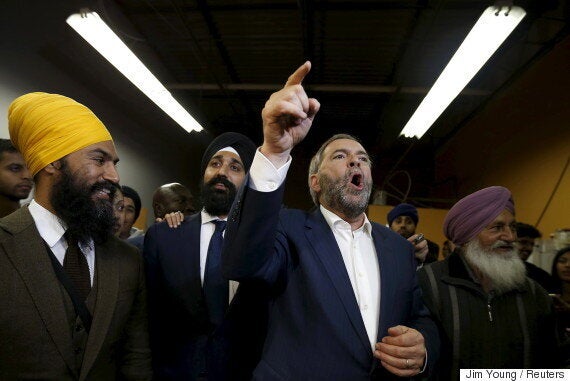 Singh has ready answers to the current problems facing the federal party, but he has little to say, so far, on what policies he might champion.
On the controversial Leap Manifesto, which split party members at the Edmonton convention last April, Singh argues that New Democrats don't need to choose between leap or no leap.
"If you get New Democrats together in a room and you ask every single one of them ... if they believe we need to do what we can to address climate change and we need to tackle the problem of our impact on the environment, you would have everyone's hand up," he said. "All New Democrats believe Canada needs to transition to a sustainable economy."
While his language may help bridge both sides of the party, it glosses over the manifesto's radical call to leave oil in the ground by not building new pipelines and for the shift to care for the earth to "begin now."
"There is no longer an excuse for building new infrastructure projects that lock us into increased extraction decades into the future," the manifesto states, for example.
... you have to be in a position of power to influence change, and you can see how much amazing change can be brought when you are in power.
Singh is clear on what he wants the NDP to be. The party needs to compete to win. And, he said, he sees a possibility in 2019 — much as he believes one exists in Ontario in 2018.
"I firmly believe that you have to be in a position of power to influence change, and you can see how much amazing change can be brought when you are in power," he said, pointing to Rachel Notley's NDP government in Alberta. "Within a year, they froze tuition fees, they implemented a change in the way electoral financing happens, they brought in $15 minimum wage. They brought in so many epic things."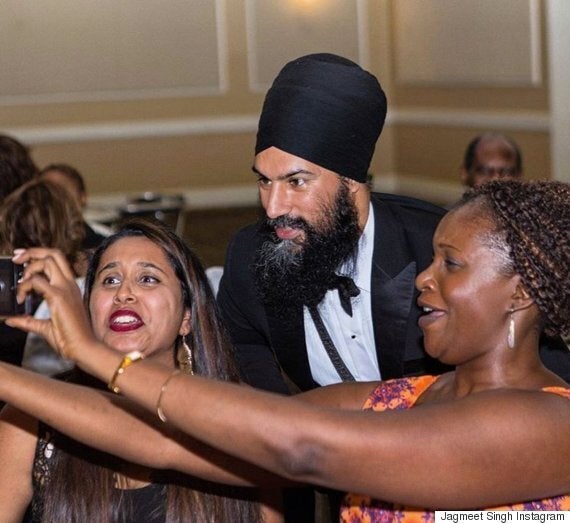 Those who know Singh describe him as a young politician who is the complete package. NDP organizer Robin MacLachlan described him last year as someone who has the "royal jelly."
Dan Harris, a former NDP MP for Scarborough, Ont., notes that Singh is the only elected New Democrat in the 905 area around Toronto.
"There are just as many ridings in that part of the GTA [Greater Toronto Area] as there is in Toronto proper, and somebody like Jagmeet could potentially do very well in those areas. And with 50 seats in the GTA, nobody is winning government without a plurality in that area," Harris said.
Singh's popularity with young people could also help swing them from Trudeau to the NDP, Harris hypothesized.
Singh is active on social media, with a strong following. He tweets and Snapchats. The bachelor's Instagram feed is filled with glamour shots of him posing in different coloured turbans and three-piece suits — some of which he designed himself — with his hipster Gazelle bike, epitomizing urban life in Toronto.
In a statement similar to Trudeau's own foreign affairs faux pas, Singh tweeted that Castro "saw a country wracked by poverty, illiteracy & disease. So he lead [sic] a revolution that uplifted the lives of millions"
At Queen's Park, Singh recently garnered a bit of attention for a statement condemning Republican president-elect Donald Trump. Trump's misogynistic language and divisive message of creating fear by pitting communities against each other was xenophobic, anti-Muslim, racist and bigoted, Singh told HuffPost.
"That message offended me, and I wanted to denounce that and also kind of inspire a bit of hope that we can build up a better society that doesn't require us to tear others down."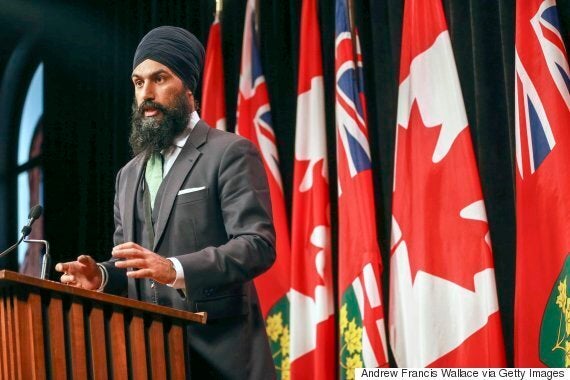 Singh genuinely appears unsure of what his next career move should be.
Asked if he thinks the country is ready for a young, brown Sikh prime minister, he laughed.
"I would not have thought we were ready for a brown Sikh defence minister, and that turned out pretty good, so who knows? Maybe."
In a conversation a week later, he said: "I'll treat [my run in politics] like a sprint and try to do the maximum amount of good in the time I have, and then figure out what to do afterwards."
Politics isn't a career, Singh added. "It's an amazing opportunity. It's a gift but not something you can take for granted.... I want to do something epic, that I enjoy, and that leaves the world a little better than I found it."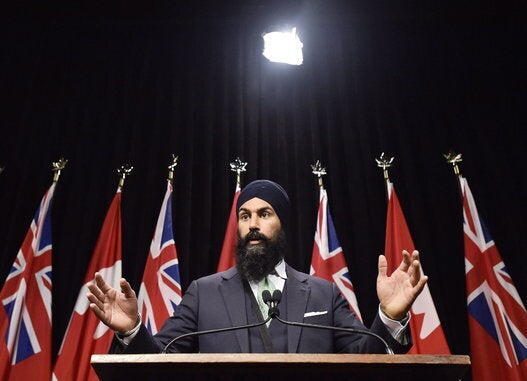 NDP Leadership Race 2017: Candidates