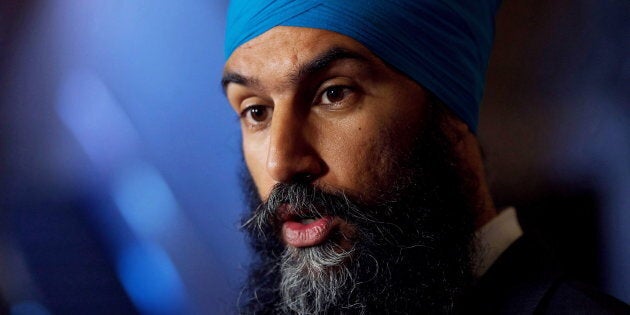 Of the NDP's 43 members in the House of Commons, only four are members of the Canada-Israel interparliamentary group. Peter Julian and Gord Johns are members, while Murray Rankin and Randall Garrison serve on the group's executive.
None were available for phone interviews. In an email, Rankin wrote that the Canada-Israel interparliamentary group is "one of nearly 100 interparliamentary groups." (It is actually one of approximately 20 groups).
"As a New Democrat, I am committed to advancing peace and justice, and a two-state solution, which can only be achieved through open dialogue with Israelis and Palestinians," the Victoria MP wrote.
Nasha Brownridge, the caucus press secretary, said no NDP MP would be leaving the group.
"Members of Parliament from our caucus are members of both the Canada-Israel Interparliamentary Group and the Canada-Palestine Parliamentary Friendship Group," she noted.
Ryan, the former Ontario president of the Canadian Union of Public Employees (CUPE), said he's not surprised the NDP won't follow the will of many of its grassroots members and embrace a more pro-Palestinian stance.
MPs are afraid to speak out, he said.
"The Israel lobby is extremely powerful. I found that out when I supported the BDS [Boycott, Divestment, Sanctions] campaign — they mounted a campaign to try to have me ousted as the leader of CUPE Ontario."
Ryan told HuffPost Canada he was branded an anti-Semite and a racist. People called his office telling his staff they were Nazis. "I can understand that the MPs are pretty cognizant of this type of behaviour and they don't want to subject themselves to it."
New Democrats don't want to call out Israel and be singled out as the only party not supporting Israel, he said. "It's a bit cowardly actually, to be frank about it, not being willing to speak out about human rights violations."
"I just don't think the NDP is consistent with NDP policy," said Ryan. "Israel... in the last few months alone, they basically murdered a hundred Palestinians on the Gaza border, where they were shot by snipers, and maimed a couple thousand."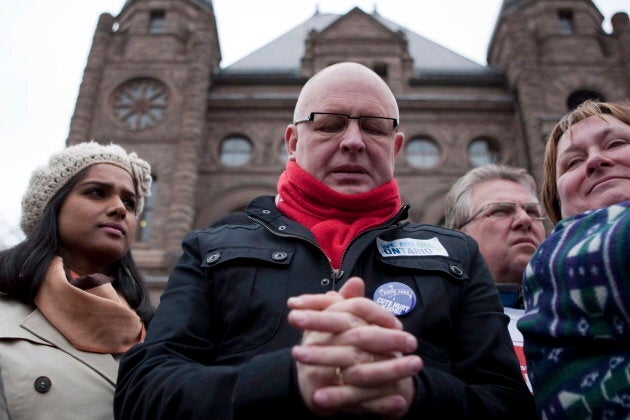 Israel said it was responding to violent protests organized by Hamas, the Islamist group that controls Gaza. It said the protesters were trying to storm a fence between Gaza and Israel, that they threw rocks and Molotov cocktails and were being incited to conduct terror attacks.
The NDP policy book states that the party believes in respecting United Nations resolutions, supports peaceful co-existence in viable, independent states with agreed-upon borders, an end to Israeli occupation of Palestinian land, and an end to violence targeting civilians.
Wednesday, NDP Leader Jagmeet Singh said he is a strong defender of human rights and will continue to speak out wherever human rights violations occur.
"I believe in a two-state solution and I believe in open dialogue. I don't believe you can get to peace without having open dialogue so I believe it's important to have an open line of communication (and) we'll continue to have that," he said.
Open dialogue, he said, means maintaining relationships and dialogue and communication with Israel.
I believe in a two-state solution and I believe in open dialogue. I don't believe you can get to peace without having open dialogue.Jagmeet Singh
Larry Hannant, an adjunct history professor at the University of Victoria and another signatory to the letter, said Israel's mistreatment of Palestinians has gone on for so long that it is time for a new step to be taken.
"Members of the Israeli Knesset need to understand that the world does not accept these violations and breaches of international law," Hannant told HuffPost.
NDP MPs leaving the interparliamentary group, would send a clear message that what Israel is doing is unacceptable, Hannant said.
The Canada-Israel interparliamentary group was established in 1981 with the goal of working towards "greater friendship and goodwill" between parliamentarians of Canada and Israel and encourage cooperation between the legislatures.
According to its website, the group rarely engages in parliamentary diplomacy and meets only once a year. The last relevant event occurred in 2014 when the then chair of the group, Conservative MP David Sweet, hosted a dinner in honour of the visiting speaker of the Knesset of Israel and his accompanying parliamentary delegation.
Ryan said he hopes this open letter puts a little bit of pressure on elected representatives to send the message: "we are watching and we don't approve of what you are doing."