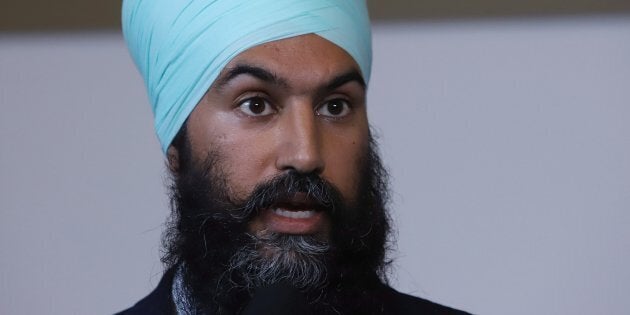 OTTAWA — NDP Leader Jagmeet Singh thinks a controversial CBC interview in which he was asked repeatedly to denounce the veneration of alleged Air India mastermind Talwinder Singh Parmar was racist.
"Should I just say 'yes' directly? I think there was definitely some sort of clear problematic line of thought behind that question, so I'm definitely concerned with it," he told reporters Sunday when asked if he felt the questions were racist.
Earlier this month, CBC journalist Terry Milewski, who spent much of his career following the Air India investigation, asked Singh to denounce those in the Sikh community who hang pictures of Parmar — a man believed responsible for the worst terrorism act affecting Canadians — and who celebrate him as a martyr.
Parmar, a naturalized Canadian citizen from British Columbia, was identified by an inquiry into the botched RCMP and CSIS investigation as the leader of the 1985 Air India bombing that killed 329 people, most of them Indo-Canadians. Flight 182 exploded on June 23, after Sikh extremists fighting for an independent state from India planted two bombs on the plane. Parmar was killed by Indian police in 1992.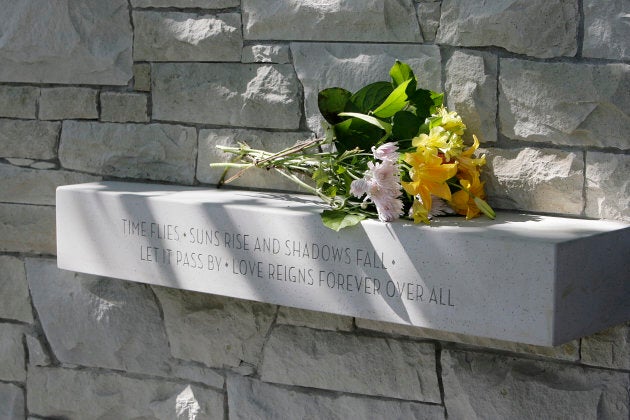 During the CBC interview on the "Power & Politics" show, Singh did not address Milewski's question directly. He denounced the violence but did not denounce the posters of Parmar. Milewski asked him five times.
"I don't know who is responsible," Singh told Milewski. "But I think we need to find out who is truly responsible, we need to make sure that the investigation results in a conviction of someone who is actually responsible. And we need to, as a society, collectively, unequivocally denounce any time innocent lives are lost. That is something unacceptable.
"All Canadians stand together united against any forms of violence, terror against Canadians, and, in fact, against anyone around the world."
Singh said Sunday that he wasn't sure what Milewski was asking about when the CBC interview veered towards Parmar.
The question, to me, was very troubling.

Jagmeet Singh
"At the time, I didn't know who he was referring to," the NDP leader said in response to a HuffPost question about why he had not denounced the posters. "But I made it absolutely clear, unequivocally, that I condemn any violence against anyone in the world.... It was offensive to me that that was even a question. It is so obvious, that any Canadian would unequivocally denounce anyone who is held responsible...
"The question, to me, was very troubling. He put that question forward with such an obvious response [expected]. I responded very clearly. I denounce anyone, anyone held responsible for any act of violence perpetrated against any innocent lives. It is just unacceptable. It is, fundamentally, something that we all denounce."
Watch Singh's full answer:
In the Air India inquiry's final report, Canadians learned that CSIS, the RCMP, the Department of External Affairs, local police forces and Transport Canada collectively possessed information before the bombing that:
Sikh extremists in B.C. were planning to bomb one or possibly two Air India planes;
Parmar's group, Babbar Khalsa, was working on a "highly secret project" in the spring of 1985;
Parmar was assessed as the greatest threat in Canada to Indian diplomatic missions and personnel;
In early June, Parmar and his associates conducted experiments in the woods that involved a loud explosion.
Singh said Parmar's pictures were not an issue with which he was familiar. "There is not an issue around this in Ontario, so it is not something I've ever faced...
"I didn't know about the specifics of what [Milewski] was asking about," Singh said, further explaining his response. "Air India happened when I was about five years old, but I'm very clear on, and have been clear on — I've attended memorials with respect to the victims and their families, survivors of this horrible and heinous act.
"I've talked about how everyone denounces it.... At the time, I didn't know what [Milewski's] goal was, what he was trying to achieve, I made it very clear, I denounce anyone held responsible. We've had inquiries, we've had courts, anyone held responsible needs to be denounced and, in fact, there are still a lot of questions that are unanswered, and people have questions about this. People need to have justice."
Milewski told HuffPost that Parmar's photo was also displayed for years in the dining hall of a large gurdwara, a Sikh temple, in Mississauga, Ont.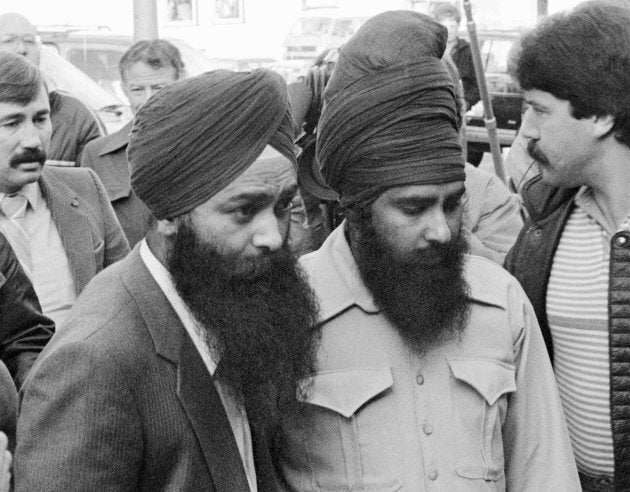 Asked Sunday if posters are appropriate, Singh responded: "I'm not here to tell what a community should or shouldn't do.
"I can tell you as a leader of a party that I'm fundamentally opposed to violence, fundamentally opposed to any innocent lives being taken, fundamentally opposed to any violence being perpetrated against people.
"The fact that this is something that I have to say is troublesome. The fact that that is not an obvious question to you, or anyone asking the question, why would you assume otherwise? It's obvious to anyone that's a leader in this country that they would denounce acts of violence.
"It's obvious that anyone would denounce something as heinous and as tragic as that incident. The fact that that question is even being raised makes me wonder why it is being raised."
The fact that this is something that I have to say is troublesome.Jagmeet Singh
He added that he felt the "premise" around the question was racist.
In an emailed response, Milewski said the questioning that Singh finds offensive never happened.
"Nobody asked him to condemn the Air India bombing. Instead, he was asked whether it was '"appropriate' to celebrate Canada's worst mass-murderer with 'martyr' posters. He declined to answer then and declines to say now whether the posters should come down because, 'I'm not here to tell what a community should or shouldn't do.'"
During his press conference, Singh declined to say whether he personally supports an independent state for Sikhs.
"It's a choice of the people in the community, so it is not [up to] me to determine."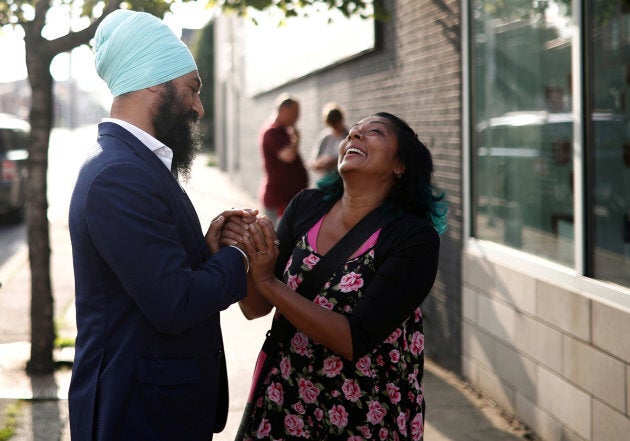 Describing himself as a "human rights champion," Singh said he supports the right of self-determination and "the peaceful exercise of that right."
"So whether it is in Punjab, for the people of Punjab, or whether it is in Catalonia, for the people of that region, whether it is in Basque, wherever that is, whether it is in Quebec, it's a basic right. Everyone should be able to do that."
Singh spoke with reporters after addressing a crowd of approximately 450 New Democrats gathered in an Ottawa convention hall to celebrate their new leader and project momentum as he heads off on a six-week cross-country tour, from St. John's to Victoria.
He is scheduled to speak at NDP conventions in Regina later this month and then B.C. in November.
Describing his tour, Singh said he is a "high-risk, high-reward" candidate who will be pursuing voters in suburban areas of the country with a message of progressive politics.
The NDP leader said he is on a two-year campaign to win the next election in 2019.
"They are fundamentally important to building a coalition of folks to form government," he said of the vote-rich areas. The NDP leader said he is on a two-year campaign to win the next election in 2019.
During his 20-minute speech, he spoke of the Liberal government and Prime Minister Justin Trudeau as a party and person who cannot be trusted, who are out to privatize public infrastructure assets and to look out for the very rich while claiming to work for the middle class.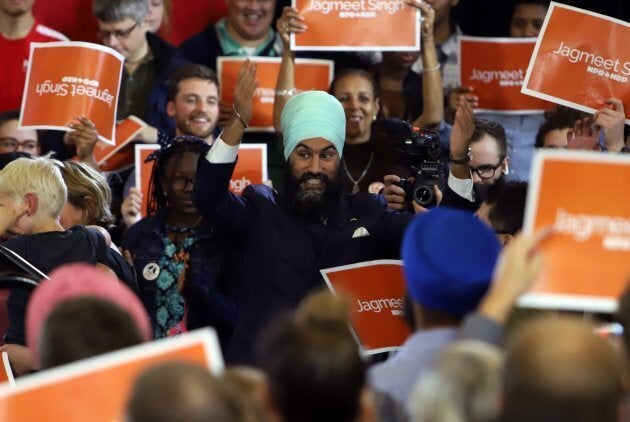 While the 38-year-old new leader is charismatic, some have expressed doubt that he can carry his party into government in such a short time.
"If this was 2016, I think we could have. I think we're pushing it to say 2019," said Barbara Zarboni, president of the Ottawa–Orleans riding association.
But others suggested that if anyone call pull off the feat, it is Singh.
"I never voted until I met Jagmeet, because I never thought it was worth it. You know? He is transformational, really," said Mandeep Singh, who has been volunteering for Singh since his last provincial run in 2014.
The NDP leader's skill in connecting with people could propel him to government in 2019, he added, comparing him to former U.S. president Barack Obama. "I think Jagmeet is going to do it. I really truly believe that."
Singh has yet to quit his current job as an Ontario MPP for Bramalea–Gore–Malton. He said he expects to do so in the coming weeks.
UPDATE: This story has been updated to include comments from Terry Milewski.
Popular in the Community