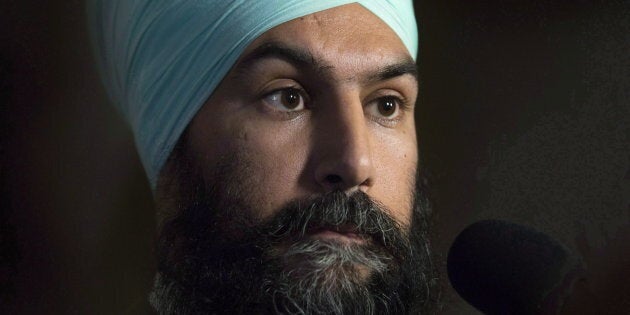 OTTAWA — Jagmeet Singh says Canada's next election will be its last under the first-past-the-post system. That is, if his party wins government.
The NDP leader made the promise in front of a live audience at an event hosted by Maclean's magazine at Ottawa's National Arts Centre Tuesday. When the interview moved onto questions from the audience, Singh jokingly exclaimed "Yes!" when the topic of electoral reform came up.
Singh was asked for his thoughts on proportional representation, an electoral system in which a party's share of the vote yields a roughly equivalent share of the seats. "What is NDP policy on this?" interviewer Paul Wells asked, reading the question submitted by a Twitter user.
Singh responded that the query isn't an "academic" one. Under the current system, in which a candidate with the most votes in a riding wins the seat without requiring a clear majority, people don't think their votes count, he said, and it may deter people from going to the polls.
"That to me doesn't make sense," he said. "We've got false majorities that happen when, you know, less than 40 per cent of people vote for a party, but then it gets 100 per cent of the power."
It's a concept that "doesn't sit well with people as a fairness piece," Singh said.
When asked by Wells if 2019 will be the last election fought under first past the post, Singh said, "If I win, yes."
He said he's a fan of the mixed-member proportional model, one that's adopted in nine countries including Germany and New Zealand.
Same same, but different
Prime Minister Justin Trudeau famously made the same promise about the 2015 election being the last under first past the post. But that pledge imploded last year.
The Liberal government received much criticism after it abandoned electoral reform — one of the party's marquee election promises. Trudeau had even repeated the pledge in his first throne speech.
The prime minister has repeatedly defended the decision to drop electoral reform, saying Canadians didn't show a consensus or a clear preference after cross-country consultations. He has also suggested proportional representation, the system recommended by an all-party committee studying electoral reform, would destabilize the country and amplify extremist voices.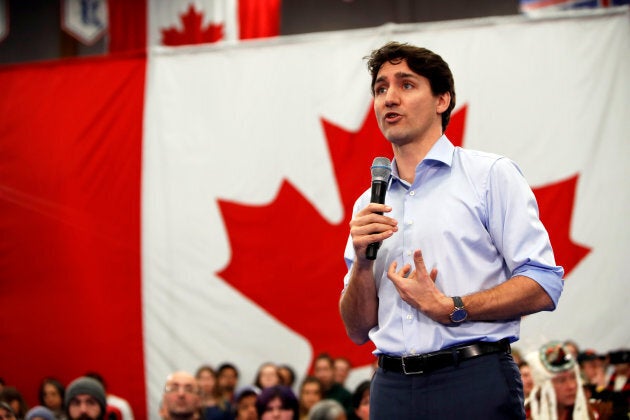 After the prime minister shuffled Karina Gould into democratic institutions, replacing Maryam Monsef, he tweaked the language in her mandate letter to specify that electoral reform would not be on her to-do list.
In an interview CBC Radio's "The House" last week, Trudeau told host Chris Hall that "nobody supporting proportional representation was able to convince me it would be good for Canada."
But if other federal parties form a consensus on a specific system other than proportional representation, the prime minister said he'd be open to having that discussion.
Singh teases 'exciting things'
In a room with tall glass walls and a backdrop of an unobstructed view of Parliament Hill, Singh showed comfort with the selected audience questions.
The topics ranged from his recent engagement to the #MeToo movement's effect on Canadian politics. There was no mention of the military during the hour-long discussion.
Singh has yet to announce plans to run in a byelection anytime soon. The federal leader still does not have a seat in the House of Commons.
I don't want to give it away.NDP Leader Jagmeet Singh after being asked about his party's platform
When asked on Wednesday where the government went wrong on their electoral reform promise, Singh called the Liberals' change of heart a "cynical move" that let Canadians down.
"They got in power and realized that this is not to their benefit anymore," the NDP leader told reporters.
The former Ontario MPP is set to host his first federal NDP convention in just over a week. Singh was coy about specifics when asked how much of the convention will be devoted to showcasing pieces of an election platform.
"I don't want to give it away," he said. He teased there are "exciting things" coming that could help Canadians understand the party's values more clearly.
Singh circled back to underline the party's message on inequality, saying it's important to make sure the NDP "have policies that address those issues, those struggles, those concerns that people have."
That sounded familiar, too.
Popular in the Community