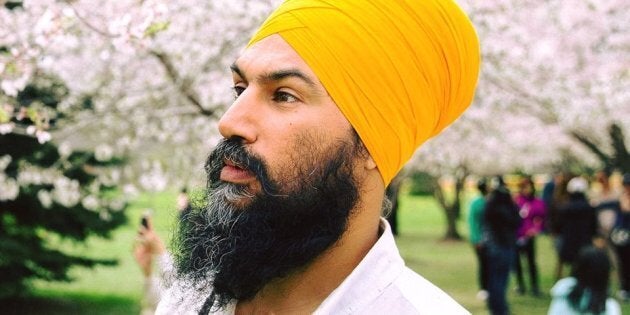 An NDP leadership candidate who is proposing a federal ban on racial profiling says his idea isn't just a shiny Twitter graphic — he actually has a plan to end the controversial police practice known as carding.
Jagmeet Singh stepped down as deputy leader of the Ontario NDP in May to take a shot at replacing Thomas Mulcair at the federal level. The self-annointed "growth candidate" used social media last week to sell a new-again idea to party supporters.
In a series of abbreviated personal anecdotes, Singh laid out a case why the ban is needed. But in those 17 tweets, there wasn't a clear explanation for how he would do it.
In an interview with HuffPost Canada on Tuesday, the NDP leadership candidate said that in his second year of law school, he experienced his "most shocking" brush with racial profiling.
It happened about 15 years ago. Singh was driving around in warm weather when he decided to pull into Toronto's Casa Loma for a brief stop. Leaning on a fence on the crest of a hill, he noticed two police officers biking up the road near the landmark attraction.
He was curious if they would make it up the steep hill.
"So I was kind of staring at them as they were going up the hill, and I continued to stare at them as they turned the corner," Singh recalled.
As he was on his phone at the time, Singh turned his attention back to the call. In the meantime, the officers he had watched earlier surrounded him. "I looked up and they were there," he said. They started questioning him.
"Do you have a problem?" Singh recalls one asking.
"Well, you were staring really hard."
Then the officers asked to see his ID, Singh said. They both stepped closer.
In that moment, Singh's law training kicked into gear. He knew he had the right to be free from arbitrary detention. He knew he had cover because he wasn't advised he was under arrest. He wasn't told that he was a suspect in a crime. Check, check, check.
"So I stood up and said, 'Sir, I don't want to show you any identification. I don't want to answer your questions. This conversation is over.' Then I turned around and walked away."
Singh got in his car but couldn't leave the parking lot, because the officers had blocked his path with their bikes.
"One of the officers came over to my window and said, 'Well, you seem to know a lot about your rights. You must know that under the Highway Traffic Act, now you must provide ID."
Accordingly, the police ran Singh's plate, name, and car through, but nothing came back. Then the officers called for backup.
The responding officer was a turbaned Sikh man, Singh said. The Sikh officer explicitly told Singh that the carding incident wasn't racial profiling — he called it routine procedure.
Carding (also known as street checks) occur when an officer randomly stops someone for questioning, including asking for personal identification, despite not being suspected of a crime. That information is then entered into a database.
Critics say the practice unfairly targets non-white communities at a disproportionate rate.
The current government doesn't have the courage to take on this issue.Jagmeet Singh
According to Legal Aid Ontario, 8.1 per cent of Toronto's population identified as black between 2008 and 2013. Carding data collected in the same time period shows 24.1 per cent of those stopped were black. (Read more in Toronto Star's ground-breaking Carding Controversy investigations.)
"The fact that they had to call a Sikh man to tell me that it wasn't [carding] just really highlighted how much it was," Singh said.
The confrontation left the Toronto-area raised law student demoralized.
"I've done all this work academically — getting my degree in science in undergrad, was in law school, about to become a lawyer — and all that work was erased in a moment where I was made to feel like I was not as worthy, I didn't belong to my community."
It's been over a decade since that encounter, and Singh believes he can end the dubious practice in a few steps.
The first would be to define "once and for all" what racial profiling means, and to ban it across federal enforcement agencies. That includes the RCMP, border control, and immigration screening.
Next would be to establish a national task force to review data on carding and street checks collected from municipalities. It would provide centralized data to extrapolate how racial profiling is affecting specific communities.
Anecdotal evidence can then be replaced with hard data, proposes Singh.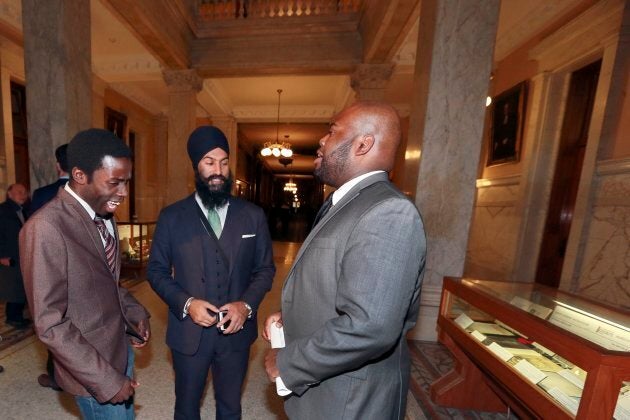 The last piece to Singh's plan stems from his own interaction with police at Casa Loma all those years ago: to require officers to notify people of their rights off the bat, and to offer people "receipts" for every street check or carding interaction.
"So I should say to you, 'Hey, you are being stopped right now. But you don't have to talk to me if you don't want to. You can leave. This interaction is voluntary'," Singh explained.
The documentation would allow people to try and prove an official pattern if they feel they're being unfairly targeted.
"So you get stopped four times, you have receipts. You can say, 'Well, why do I keep on getting stopped if it's supposed to be specific investigations'."
Pivot Legal Society, a Vancouver-based legal advocacy group, suggests other remedies as well including mandatory body cameras for patrol officers, and disciplinary proceedings and suspensions for officers who breach a carding ban.
'Not just an idea or a slogan'
The proposal to introduce a federal racial profiling ban isn't a new one.
Former NDP MP Libby Davies tabled a private member's bill in 2004 to introduce the exact same thing. But the bill failed to pick up the support it needed from Paul Martin's Liberal government to become law.
As a member of the Ontario legislature, Singh tried to end carding in 2015. But the province "didn't go far enough" to actually make it happen, he said.
Singh doesn't think the current Liberal government lead by Prime Minister Justin Trudeau has the "courage" to take on the issue of racial profiling.
"It's an issue that is devastating the lives of people. It's directly impacting racialized people across this country. It's an issue that I've experienced personally. And there's a concrete way to stop it," said the Brampton MPP.
Rival accuses Singh of acting like a Liberal
At an NDP leadership debate earlier this month, Singh called himself the only candidate who could grow the party with new members and volunteers. But he was called out by fellow leadership contender Charlie Angus for having a saviour complex, and acting like a Liberal who adopts "big image" and "big spin" to win.
"That's what Liberals do; that's not what New Democrats do," Angus said.
When asked about that political attack and if the pledge to end racial profiling plays into a "big spin" strategy, Singh deflected and swiped at Trudeau's government instead, bringing up the Liberals' broken promise over electoral reform.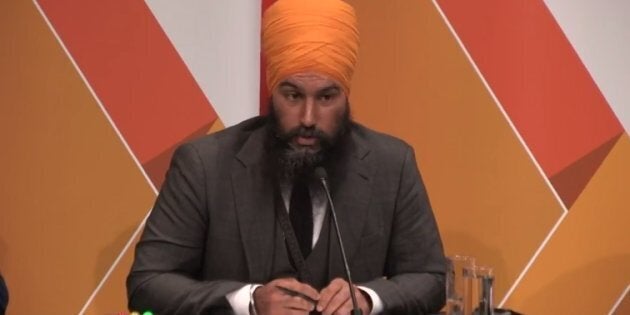 "The current government doesn't have the courage to take on this issue," Singh told HuffPost Canada. He defended his proposal as one with "definitive steps that would actually help us achieve the goal of ending racial profiling."
He asserted those "definitive steps" differentiate him from the Liberals, referencing Trudeau's campaign pledge that 2015 would be the last federal election under first-past-the-post — without having a distinct plan of what system would replace it.
"Then they don't propose any clear solutions. They don't propose an alternative."
The Liberal government conceded earlier this year that electoral reform wouldn't happen before the next election.
"I'm not just saying that we need to end racial profiling, but I'm also backing it up with clear policy that would actually achieve that result," Singh said.
It's "not just an idea or a slogan."