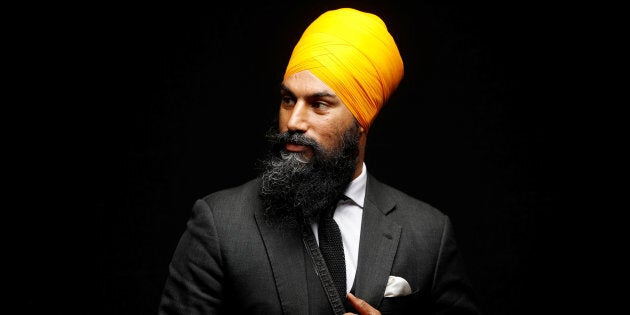 OTTAWA — NDP leadership contender Jagmeet Singh says he's firmly opposed to Quebec's current efforts to legislate secularism and hopes Bill 62 is struck down in the courts.
"I am opposed to Bill 62. I think it contravenes individuals freedoms and in fact it also contravenes the Quebec Charter of Human Rights and Freedoms," he told HuffPost Canada Saturday.
The legislation prevents women wearing face coverings — effectively Muslims who wear the niqab or burqa — from delivering or accessing government services. Yet, Singh wouldn't go so far as to call the bill Islamophobic.
"I think it is important to acknowledge that there is going to be a disproportional impact on people of different faiths, and, specifically, it is going to disproportionately impact Muslims. ... That is why, as an act of solidarity, I think it is important to acknowledge that the Muslim community is facing a very significant amount of hate and Islamophobia, and it is up to all of us to stand in solidarity with the community," the Ontario NDP MPP said.
"That is part of why I am opposed to it," he added. "This is disproportionately going to impact Muslims. That is not cool."
If he were prime minister, Singh said, he wouldn't be quick to take the province to court but he would stand behind other groups that sought to protect their rights.
"I'm very confident that Quebec's own Charter of Human Rights and Freedoms would be able to tackle this issue, ... There are clear protections that exist under that Charter, and I'm confident in the legal system seeing this through and protecting religious freedoms," he said. "So, I would express my opposition and then express my confidence in the legal system in ensuring that laws that contravene human rights are struck down."
"...If there is a point where another decision needs to be made, I'd look at it then," he added.
Singh said that while he strongly believes in a secular state, as in the separation of church and state, he doesn't believe the state should prevent people from exercising their personal freedoms.
He doesn't believe, for example, that individuals who dress like him — Singh wears a turban and carries a kirpan as part of his Sikh religion — should be prevented from holding positions of authority in government. Quebec's opposition parties, the Coalition Avenir Québec, Parti Québécois, and Québec Solidaire, support legislation that would prevent those wearing religious symbols from holding visible positions of provincial authority, such as a police officer or a judge.
Singh's position is at odds with fellow NDP contender and Quebec MP Guy Caron.
Earlier this week, Caron said that while he personally believes the state should not legislate on what people should or shouldn't wear, he feels that Quebec's majority consensus on secular matters — Bill 62 is supported by all four parties in the National Assembly — should be respected.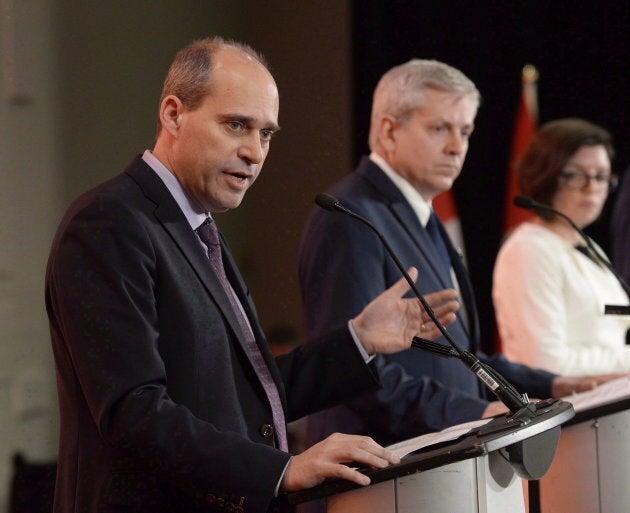 "I mean if in the Sherbrooke declaration we are recognizing Quebec as a nation within Canada, those are not only words, so we need to actually implement that notion that it is a nation allowing it to make those decisions," he added.
The Sherbrooke declaration is NDP policy that recognizes Quebec's "national character" and its "right to self-determination."
Singh said Quebec should be allowed to make decisions about its nation, but that, as NDP leader, he wouldn't shy away from criticizing any laws the National Assembly passed that he felt were improper.
"I think it is important to say that I don't think this is appropriate. This contravenes human rights, and this is not something I support."
New numbers in battleground Quebec
While the vast number of the 1,002 surveyed, 80 per cent, either said they didn't know whom they preferred to lead the NDP or declined to state a preference, Caron was the preferred candidate of 10 per cent of respondents, followed by Singh at four per cent, Ontario MP Charlie Angus at three per cent, and Manitoba MP Niki Ashton with two per cent.
In a statement to supporters, Caron's team noted that he had more than twice the support that his nearest competitor had.
Big debate in Montreal
Singh said he isn't concerned by the numbers.
"I'm confident that when it comes down to it, the people of Quebec really care about values, and I share values that will connect with the people of Quebec," he told HuffPost. "People care about social democracy in Quebec, progressive values, and I share those values and I am committed to fighting for them.
"I also share a deep love for the French language, and I understand the importance of language, and culture and identity. And because of these unique things that I bring to the table I will be able to connect with the people of Quebec in a really profound way."
The four leadership contenders go head-to-head in a French language debate Sunday in Montreal. In 2011, the NDP obtained official Opposition status after winning 59 seats in Quebec. The party now holds 16 in the province.
Popular in the Community