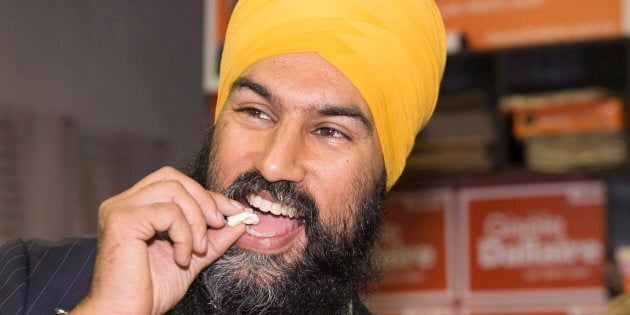 OTTAWA — Campaigning in a byelection in sovereigntist territory Tuesday, NDP Leader Jagmeet Singh suggested he would be comfortable if Quebecers decided to split from the rest of Canada.
Speaking to reporters in Alma, Quebec, in the riding of Lac-Saint-Jean where residents twice voted to separate — by an almost three-to-one ratio during the 1995 referendum — Singh was asked what he would do if residents voted a third time to go.
"We will immediately help people," Singh started to say, before asking the reporter to repeat his question so he could think about how to answer.
'I, personally, would love us to stay together'
"We will respect the decision of the people, without fault, without doubt, because it is a right that is so important, a human right. We are talking about the right of self-determination," he said, on his second attempt. "I respect that right, I respect all human rights. I believe that we cannot choose between one right and another right.
"It is a right that is so fundamental and if people choose their future, I am completely in agreement with their decision. I, personally, would love us to stay together, but at the same time I respect the decision without fault."
Earlier: Singh taps Quebec MP to pinch hit in House:
"I am someone who supports the right of self-determination, so if a nation decides its future, it's up to us to respect it," he said.
On Tuesday, local journalists were fascinated with Singh, his religion and his turban. They peppered him with questions, in French, which he responded to with patience and humour.
Several reporters wanted to know how many people had asked about his turban.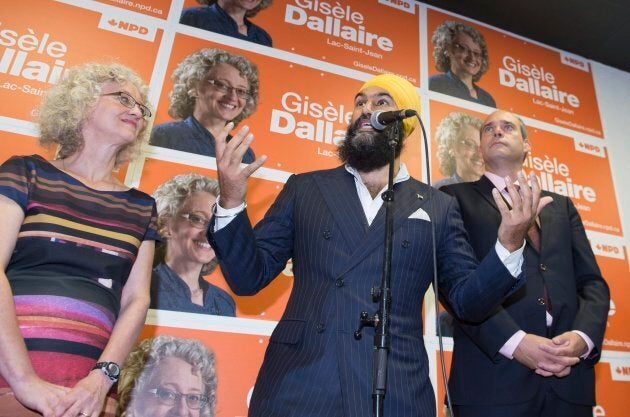 "It's not the first question [they ask]," Singh answered. "Many people greet me saying: 'Ah you're the new leader! How are you doing?' And many people ask, 'Have I seen you on TV?' I say, 'Yes, it's me, it's me.' But if people have other questions, no problem, they can ask whatever they want."
"There was a time when people asked: 'What is in it?'" he said, pointing to his turban. "I said: 'Lots of hair.' I have hair that is very long and I will show it, but I will decide when I want to do it, in a way that is interesting."
"But if people like hair — people talked about someone else's hair," Singh said, referencing Prime Minister Justin Trudeau's locks.
"I have more hair, and it's longer, and it's more beautiful," the NDP leader said laughing.
Trolling Trudeau?
Singh enjoys the Trudeau-like comparison and is asking for them. The hair-reference is his latest attempt. The NDP leader has also joked that "socks are out," referring to Trudeau's colourful and animated sockwear that's drawn international attention. Singh's unofficial theme song, Bunji Garlin's "Differentology," seems to include a sly reference to the Tories' attack on Trudeau, that he was "just not ready." The chorus of Singh's song is: "We ready, we ready, yeah, we ready, ready, ready, ready, ready, ready."
The normally self-assured New Democrat suggested the byelection race in Lac-Saint-Jean, which is scheduled for Oct. 23, might not be the best barometer of his ability as a campaigner.
"If I had been elected before the byelection [was called], I could have really shown my capacity to campaign in this region, [but] I was only elected a week ago so it is difficult to show my capacity. That is the reality," he said, standing next to the NDP's candidate Gisèle Dallaire.
Listen to HuffPost's "Follow-Up" interview with Singh:
The byelection is shaping up as a tight race between the Liberal candidate, local mayor Richard Hébert, and Conservative Rémy Leclerc, an aide to the former Tory MP Denis Lebel. The Grits haven't held the seat there since Pierre Trudeau was prime minister in the early 1980s. But the younger Trudeau campaigned in the riding this summer, Liberal MPs held their regional caucus in Alma, and the federal government recently announced funding for high-speed internet in Lac-Saint-Jean.
Dallaire, who was the NDP candidate in 2015, came in second last time with 28.5 per cent of the vote. Lebel won with 33.3 per cent and the Liberal and Bloc Québécois tied for third with 18.4 per cent. Several Bloc MPs have held the riding, including former party leader Lucien Bouchard.
Singh wasn't sure if he'd be back to the region before the vote. The NDP leader said he is scheduled for knee surgery on Wednesday to address a recurring sports injury.