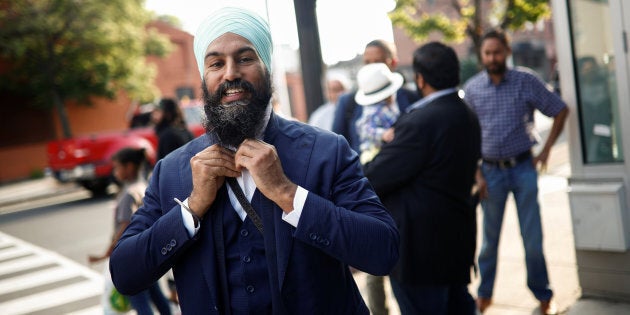 OTTAWA — Ontario MPP Jagmeet Singh may find it more difficult to win the NDP leadership race than he had hoped.
His campaign released a breakdown Tuesday of their membership sign-ups, saying 47,000 of the party's 123,798 members had been sold by Singh's team.
In 13 weeks, according to a campaign press release, more than 30,000 memberships were sold in Ontario — 25,000 in the Greater Toronto Area alone — and more than 10,000 new members came from British Columbia.
Singh team wants to win on first ballot
His campaign demonstrated strength in those vote-rich provinces, as well as in Alberta, Manitoba and even in Quebec. They said nearly 1,500 of the party's 4,907 supporters in Quebec were Singh's sign-ups.
But this NDP leadership race isn't based on a weighted regional ballot, such as this year's Conservative leadership race, in which 259,010 members were eligible to vote. This is a pure one member, one vote race.
Singh's camp told HuffPost they hope to win on the first ballot. Their pathway to victory relies on outselling their opponents on memberships and — this cannot be overstated — getting their vote out.
On the first part, Singh appears well ahead of his opponents: MPs Niki Ashton, Charlie Angus and Guy Caron. Caron's and Angus' campaigns declined to release their membership numbers. Ashton's camp didn't reply to requests for comment.
But Singh's numbers may not be enough for a first-ballot win unless he dominates among the old rank-and-file members (the party had 41,000 members in March) and wins some of his opponents' sign-ups as well. The 2003 Jack Layton type victory, where the Toronto city councillor swept his parliamentary challengers away, may not be in the cards.
If recent leadership races — in any party — are any indication, only about 50 per cent of members bothered to vote.
During the 2012 NDP leadership race that elected Thomas Mulcair as leader, there were 128,351 members, but only 65,108 voted in the first round — a turnout of approximately 51 per cent.
Encouraging day for Angus, Caron
Earlier this spring, 54.6 per cent of Conservative party members, 141,362 people, cast a ballot. (Only 118,137 voted in the 13th round, which elected Andrew Scheer as leader).
For Caron and Angus, for example, who hope to build their campaigns on second-ballot support, Tuesday may have been an encouraging day.
Voting in the NDP leadership race will begin on Sept. 18. The first result will be announced on Oct. 1. If no candidate obtains 50 per cent plus one votes, a new round of voting will take place. The process will go on weekly until someone wins a majority of the votes cast.
Breakdown of NDP membership across the country:
Alberta: 10,188

British Columbia: 31,974

Manitoba: 10,134

New Brunswick: 737

Newfoundland and Labrador: 1,260

Nova Scotia: 3,595

Northwest Territories: 56

Nunavut: 21

Ontario: 52,200

Prince Edward Island: 140

Quebec: 4,907

Saskatchewan: 8,083

Yukon: 503
The party said it has a number of members who live abroad and some whose addresses are still being verified. They are not included in the above figures.
With a file from the Canadian Press