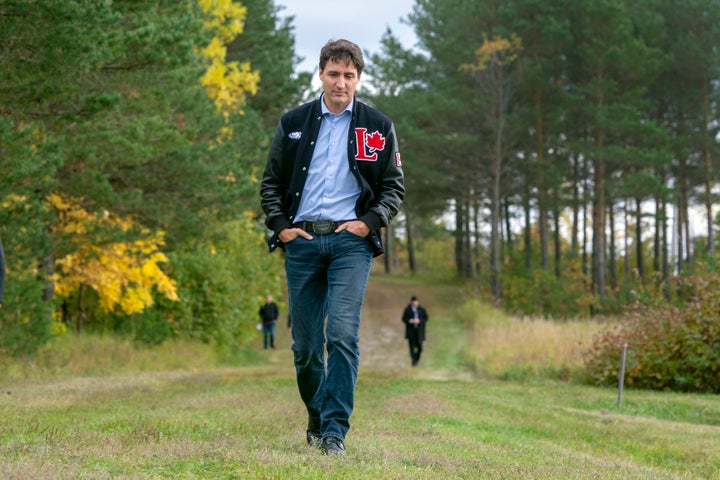 OTTAWA — Prime Minister Justin Trudeau was asked Sunday if his own history with blackface undermines his ability to turf Liberal candidates for past indiscretions.
Trudeau faced multiple questions from reporters for why his party is standing by Liberal candidate Jaime Battiste after the Toronto Sun revealed his history of sexist, homophobic, and racist social media posts.
"We recognize that Jaime Battiste took responsibility for his actions and has apologized," Trudeau said after a tree planting photo-op in Plainfield, Ont.
Trudeau was asked to share his personal thoughts on a comment Battiste made in February 2012 asking, "Why do I assume every skinny aboriginal girl is on crystal meth or pills?" Battiste has since apologized and called his remarks "crude jokes" that he recognizes now to be offensive.
"They were unacceptable," Trudeau said, adding that he is "pleased" that Battiste has "apologized unreservedly."
Battiste is a 2004 law graduate from Dalhousie University and was named a national Aboriginal Role Model the following year. He is a treaty expert and a member of the Eskasoni and Potlotek First Nations, and won the party's Sydney–Victoria nomination in July.
Liberal incumbent Mark Eyking, who represented the riding for nearly two decades, announced earlier this year that he would not re-offer. Sydney–Victoria is one of two Cape Breton ridings that Conservatives believe they have a shot at winning in Nova Scotia.
Tories dump candidate for past offensive remarks
Conservatives urged Trudeau to drop Battiste as a candidate Saturday.
"These comments are disgusting and inexcusable. An individual who makes this many disparaging comments is not worthy of sitting in the House of Commons," read a statement from the party.
The Conservative push comes a day after the party dropped Heather Leung as its candidate in the B.C. riding of Burnaby North–Seymour, following renewed controversy over her past homophobic remarks.
"Recent media reports have brought to light offensive comments made by Ms. Leung saying 'homosexuals recruit' children, and describing the sexual orientation of the LGBTQ community as 'perverted,'" read a statement from spokesperson Simon Jefferies Friday evening.
"There is no tolerance in the Conservative Party for those types of offensive comments."
The Vancouver Sun had a column last week that included a 2011 video of Leung claiming LGBTQ people "recruit" kids, and a similar clip originally published by Burnaby Now in 2013. She was a vocal member of a parents group that was opposed to the Burnaby school district's gay- and transgender-positive policy at the time
"The school board and the people behind this are digging a big dark pit for the next generation because these homosexual people cannot produce the next generation," she said in the Burnaby Now video.
Leung was confirmed as Conservative's candidate for Burnaby North–Seymour in May, beating out three others for the nomination.
It's a contested race that includes Liberal incumbent Terry Beech, former veteran NDP MP Svend Robinson, and Green candidate Amita Kuttner.
Though her Conservative party signs are being pulled from the ground, Leung has indicated she intends to continue running for the House of Commons seat.
Conservatives will be unable to replace Leung since she was dropped from the party after the Sept. 30 Elections Canada deadline for final nominations and withdrawals.
Despite the party turfing her from its roster of federal candidates, Leung's name will remain on the ballot as a Conservative.