Shot by photographer Jeff Hahn, the pic shows the 32-year-old flex his model muscles in a grey t-shirt while giving the camera a sexy stare.
When asked about how he prepared to play businessman/bondage master Christian Grey in the upcoming film "Fity Shades of Grey," the "Marie Antoinette" star revealed that he visited a sex dungeon. (All in the name of research, of course.)
"I went there, they offered me a beer, and they did…whatever they were into," Dornan told Elle. "I saw a dominant with one of his two submissives."
The experience wasn't exactly what he expected. "I was like: 'Come on guys I know I'm not paying for this but I am expecting a show.' It was an interesting evening. Then going back to my wife and newborn baby afterwards... I had a long shower before touching either of them."
Dornan, whose wife Amelia Warner gave birth to their first child this year, also stars in the hit BBC TV series "The Fall," in which he plays sexy serial killer Paul Spector.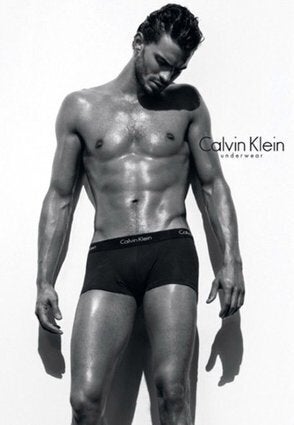 Jamie Dornan's Hottest Moments