Fitness guru and political activist Jane Fonda says Canada needs to listen to the concerns of Indigenous peoples when it comes to the oilsands.
"We don't want these two new pipelines (Kinder Morgan and Energy East) and we don't want any future agreements between Trump and Trudeau to go back into the issue of the Keystone XL,'' Fonda told reporters during a visit to the oilsands hub of Fort McMurray on Tuesday.
"It's not to the benefit of anyone except the oil companies.''
"First Nations people are again telling us, 'You can't keep doing this, because it's going to destroy everything, not just human beings, all different species," Fonda said.
The timing of her visit has some local oilsands supporters upset.
Alberta energy booster group OilSands Strong has launched an aggressive anti-Fonda campaign on its Facebook page, arguing Fonda should stay away from a region that continues to suffer after last year's raging wildfire.
"Hey Jane Fonda the city has been through enough with the Fort McMurray wildfire we really don't need you here to bash us right now!" reads one meme created by the group.
Fonda took an aerial tour of the oilsands and met with aboriginal leaders on Tuesday. On Wednesday night, she's set to speak at a University of Alberta event hosted by Greenpeace Canada.
The Greenpeace Canada website says Fonda's trip will "push the Canadian government to live up to its commitments to Indigenous peoples."
The founder of another pro-oilsands group, Canada Action, told CBC News he hopes Fonda will take some time on her trip to learn about environmental progress made in the oilsands, as well as meet people in the area who benefit from the energy industry.
Fonda said she's aware some First Nations support pipeline development and that many families depend on the industry for a livelihood.
"When people are very poor, they're very vulnerable,'' she said.
"I don't pretend to be an expert, but I do listen carefully. And I come here with tremendous compassion for people who work in the tar sands and who will be laid off when the work is done or when the price of oil drops even more."
She suggested that renewable energy developments offer much greater economic spinoffs than what she calls a fossil fuel industry on its way out.
Fonda is no stranger to protesting on Canadian soil. In 2015 she made headlines when she declared "I hope I get arrested" while attending an Greenpeace event protesting pipelines and oil tankers in B.C.
"I'm going to commit the rest of my life to stopping global warming by preventing fossil fuels from being extracted," she said during that trip.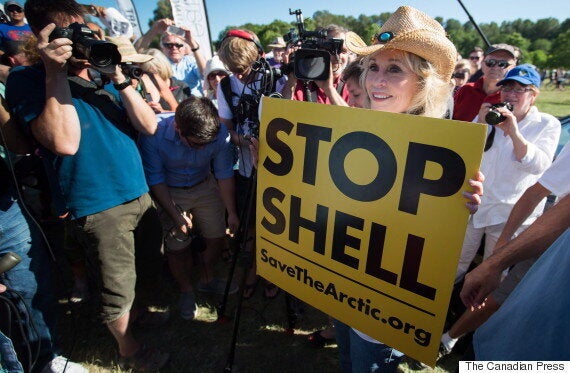 "Committing the rest of my life is no big deal, I don't have that much left," she quipped.
Fonda has long been a political activist, and has worked to bring attention to issues of American civil rights, feminism, indigenous people's rights and the Vietnam War.
She's the latest in a string of Hollywood celebrities to visit Alberta's oilsands — a list that includes Neil Young, Neve Campbell and Archbishop Desmond Tutu.
Most recently, Leonardo DiCaprio made headlines for his 2014 visit to Fort McMurray — a trip which he later used in his 2016 climate change documentary "Before The Flood."
Fonda said despite the online backlash, she felt her visit was still worth it.
"As a celebrity, there's always the contradictions — I flew here on an airplane — but our lives are rife with contradiction. Does my coming and speaking out outweigh the use of carbon to get me here? I feel that it does. We have to spread the message.''
— With files from The Canadian Press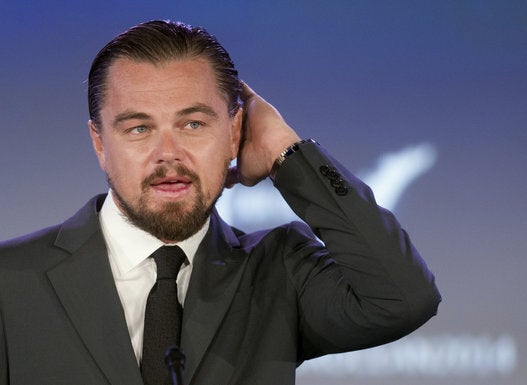 Celebrities Who've Visited The Alberta Oilsands